Poker and Comedy: Kevin Hart Among the Super High Rollers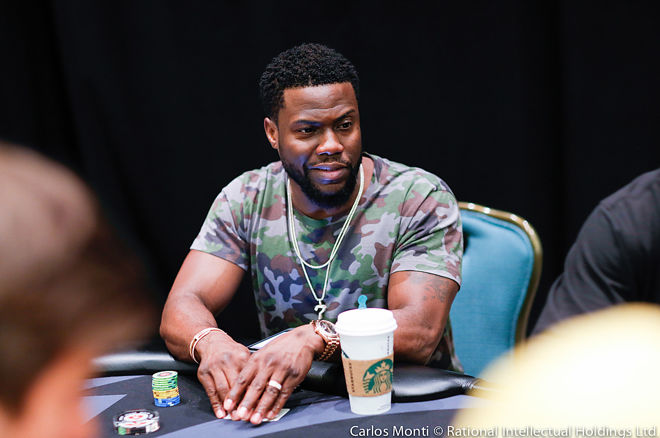 "You guys have no idea what you're dealing with."
So said actor, comedian, and mega-star Kevin Hart to his table on Day 1 of the $100,000 Super High Roller, the kickoff event of the PokerStars Championship Bahamas series, earning some grins in response.
For all of that first day and part of Day 2, Hart kept his table laughing pretty much nonstop — not unlike happens among those going to see his hugely popular films and standup shows. Hart also held his own poker-wise for much of that first day, lasting into the final level before busting and reentering, then making it through part of Day 2 before being eliminated and going on to enter the PokerStars Championship Bahamas Main Event yesterday.
As Hart explained to PokerNews, he was happy to have done as well as he did against a field comprised of many of the world's most formidable tournament players.
"Just being able to compete, being among them and being here all day, I take that as a pat on the back for myself," Hart explained at the end of that first day.
Playing the Joker
It was less surprising to witness Hart compete even more successfully when it came to table talk.
Hart started out joking that he was prepared to reenter 22 times if necessary. The hilarity continued from there, with many others taking turns playing the "straight man" amid Hart's routines.
As reported on the PokerStars blog, Hart responded to Daniel Negreanu's talk of food options around the Atlantis saying "I'm just trying to eat these chips," kidded Dan Shak about his rain jacket ("I've got that same coat"), and boasted to Joe McKeehen that he'd "outplayed the sh!t out of him" in a hand in which a short-stacked Hart had gone all in with pocket fives and survived versus McKeehen's queen-jack.
Many more laughs were to be had for those at or near Hart's table. I also realized as the day wore on that watching Hart go up against such a talented group was actually kind of inspiring.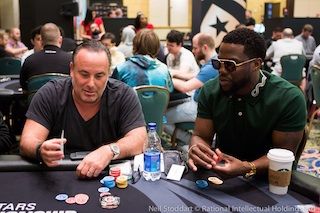 At one point I heard Hart referring to his opponents as a "bunch of computers," which seemed an appropriate read given how relentlessly optimal all of them seem to play nearly every single hand.
Just look at the line-up from yesterday's finale featuring the seven players who cashed the event — Bryn Kenney, Connor Drinan, Byron Kaverman, Daniel Dvoress, Daniel Colman, Charlie Carrel, and eventual winner Jason Koon. As you might imagine, the play among such a group was at about as high a level as it gets.
Hart told PokerNews how it was "good to come, step in, be accepted and treated well," adding how the fact that "people actually are giving me credit" during hands was also "a good thing."
Not that most of us are going to be jumping into $100K tournaments any time soon, but it isn't that unusual for a lot of players to find themselves having to deal with a table full of challenging opponents. But Hart — who does play in some high-stakes home games — wasn't at all rattled.
There were 54 entries total in the event, with Hart responsible for two of them. Some standard 52-card decks come with a couple of jokers, wild cards that add a bit of uncertainty to the typical game. As the "you guys have no idea what you're dealing with" line up above suggests, Hart was aware as well that he represented a different kind of challenge to others as an unknown quantity.
Performance, Timing, Surprise
From a strategy perspective, Hart also got me thinking (in between the laughs) about parallels between being a successful comedian and being a winning poker player.
Both realms involve putting on a kind of performance as part of a strategy to evoke particular kinds of response. The comedian says and does things in order to elicit laughter, while the poker player does the same when trying to get opponents to call value bets or fold to bluffs.
Timing is important in both comedy and poker as well. When delivering a joke, the teller's pacing and use of pauses can greatly add to the humor, or destroy it altogether. Similarly in poker, finding the right moments for your check-raises, bluffs, or all-ins can greatly affect the success of those moves.
Finally, I think the element of surprise — or at least keeping one's "audience" off guard a little — is relevant in both contexts, too. A lot of times a comedian will earn a laugh by saying something unexpected, or by getting an audience to think about something that is familiar in a different way. There's a kind of pleasure that comes from being shown new things, or having familiar things explained to us in new ways, and often we laugh in response.
Poker players also thrive when they can mix up their play and avoid being predictable, surprising opponents with certain lines and/or decisions. In other words, if you really can make it hard for opponents to know what they are "dealing with," that's likely going to be good for you.
There are probably more ways comedy and poker overlap, including the fact that being smart and observant often helps a person be more witty, and better at poker. What other skills do successful comedians and winning poker players share?