Patrick Serda Explains Kassouf Chop, Gives Tips on Deals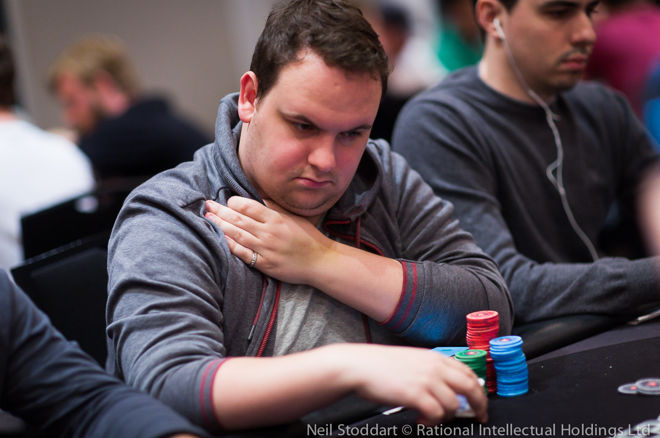 At the end of 2016 in the European Poker Tour Prague €10,300 High Roller, Patrick Serda and William Kassouf made one of the most talked-about deals in recent poker history. Despite Serda going into heads-up play with a huge chip lead, the two struck a deal that saw Kassouf officially take first place and the trophy while Serda walked away with the lion's share of the prize pool.
Many criticized the chop, but each player made the deal that he saw as being best for himself at the time, and that's the essence of what deals are all about. Each player has his or her own goals in poker, and Kassouf and Serda decided this deal best helped them advance toward those goals.
Serda showed up for PokerStars Championship Panama with his newly-boosted bankroll and wasn't afraid to put it in play, as we found him there playing events that included the $10,300 High Roller. We caught up with him on break during the $5,300 Main Event to ask him about the chop with Kassouf and deal-making in general, and he was happy to share his thoughts.
PokerNews: First off, what was the experience like playing with Will at the final table?
Patrick Serda: I think overall it was really good. I think the way he was personified during the WSOP put him in a really bad spot. I had a great time playing with him and I think he's great for the game overall. I know a lot of people don't have that impression, but I think [the way he acts] is within the realm of reasonable.
Can you give a little detail on how the lead-up to the deal went down? Refresh us on the situation and what had been developing at the table.
We looked at numbers three-handed. I think both myself and (Tue Ullerup Hansen) wanted more money, so it was just never going to get done. When we got to heads up, I had a pretty substantial chip lead. We ran [independent chip model] numbers, and I was supposed to get $709K against $542K. Obviously, I felt like I had a little bit of a skill edge, so I wanted to get a little bit more.
At first, they said the person with the most chips had to take first. But, obviously, that wasn't something I was overly interested in. I was more than willing to make some type of deal to get more money.
What was the chip situation at that time?
I think I had right around 16 million, and he had right around 4.5 million. I think we were going into a 250,000 big blind, so he had under 20 big blinds. But, there weren't too many chips in play. We ran some numbers afterward as well, and if we got a coin-flip situation, we were going to be flipping for about $63,000 in chip equity. But, I could only win about another $45K if I had won, so any type of coin-flip situation is not a good thing for me in that spot. So that was another factor in getting a deal done.
As far as ICM goes, the thinking is that it usually favors shorter stacks, right?
It does. ICM and chip chop is the same when it's heads up. When it's three-handed, it then favors the short stack. Generally, [ICM] doesn't take into account the chip leader's position in being able to manipulate the table.
I think that was something, when we looked at the numbers three-handed, Tue wanted more. And that was a spot where he was super-close in chips. I was able to exploit the fact that I was able to play more pots with Tue and give a little bit more leeway when Will was raising.
Ed. note: Kassouf doubled through Hansen and then Serda eliminated him in third. At that point, Serda and Kassouf made their deal.
Does the ultimate deal, with you getting the money and Will getting the trophy, reflect each of your respective motivations in poker?
I don't think that's necessarily completely true. Obviously, titles and stuff are nice. I just have a lot of friends who have titles and aren't doing as well financially. To me, if you play well, those will come. I've talked to a lot of friends. I definitely feel like I've gotten some backlash, but I also think a lot of people have never played for that amount of money, so it's hard to put yourself in that spot. Hopefully, it comes up again in another spot, but I think in this situation, it was very reasonable for what we were both looking for so it worked out.
I ended up getting $10K over ICM, which I thought was a fairly good deal for me. I feel like it worked out for him, too, because he didn't have to play any more, and it works out well with what his goals are in poker at the moment. I also had a really big piece of myself, so it was a substantial amount of money. So, I was super happy to lock up the huge amount rather than play for an extra $40K.
Your previous high cash in a live event was around $40K and you had about $170K in total cashes. This was massively over that, so how does that change the calculus of the deal? If you had a previous big score in this vicinity, would you be less inclined to take a deal like this?
I think it depends on the percentage of the tournament that you have. A lot of players will play a $10K and have 25 percent of themselves. I had substantially more than that. I generally keep very large percentages of myself.
I come from a cash game background, playing cash games live. I had a pretty successful WCOOP — I ended up winning one for like $200K. Obviously, scores like that don't come around very often. It's important to try to lock up equity in spots like that. It's different than chopping where first is $50K and second is $38K or whatever. This is something that's pretty substantial and probably a little bit life-changing for me in terms of being able to travel and play the live circuit a little bit more and focus more on tournaments.
Ed. note: Serda noted he plays under the name "prepstyle71" on PokerStars. That account won the $2,100 Six-Max Pot-Limit Omaha Championship during the 2016 World Championship of Online Poker for $202,930.
Do you have a lot of experience making deals online?
I've made a couple of deals online. My WCOOP [victory] didn't work out to any deals. We looked at numbers a couple of times, but it didn't really fall into place. I don't usually make deals, but if it's the right situation, I'll do it.
Now, let's get into the art of actually making a deal. What tips do you have for that?
I think it's important just to evaluate where you are financially. It's also important to make sure you have someone in your corner to make sure you aren't getting a bad deal. Obviously, you should always try and ask for more if you feel you have a skill edge. I think that's something that isn't factored in enough, or it's factored in too much where people feel they have too big of a skill edge. There are certain ways to mitigate those things, and I think that's not considered enough in smaller buy-in tournaments.
So, it's critical to have an honest assessment of yourself relative to the other players.
Yeah, have an honest assessment of the situation. I think some people are keen to chop, and some people can be a little bit less keen. If you can pick up kind of where everyone is at... for example, I never want to be the first one to say what I'm thinking. Unless it's obvious that I'm going to want more, I usually am not going to give my opinion before I hear some other opinions.
Obviously, you were dealing from a position of strength since you had all of the chips. How does it change if you're in a lesser negotiating position?
I think I'd probably be more inclined to take closer to ICM. Or, I'd chop up some of the money and leave some of the money to play for. When we chopped the full amount and didn't leave anything [in the Kassouf deal], it was so favourable to me, it made sense not to play for the trophy. If we were closer, think we would have ended up chopping some of the money and leaving $30-40K and the trophy to play for.