Open-Face Chinese Poker by Isabelle "No Mercy" Mercier, Part 5: Being Observant in OFC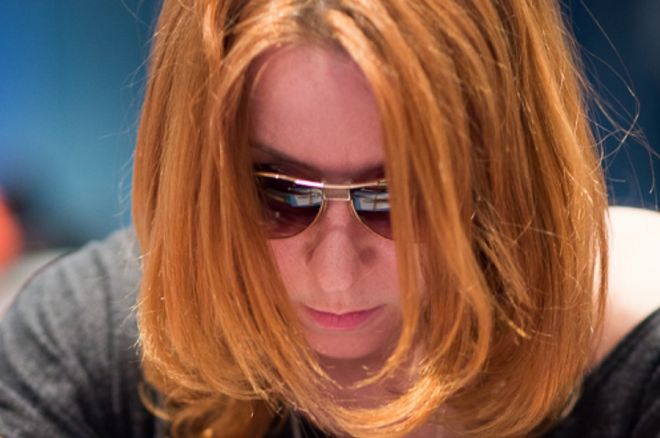 Tonybet Poker ambassador Isabelle Mercier returns with more tips and advice for playing open-face Chinese poker.
Hello all, and welcome back again to my "Open-Face Chinese No Mercy Little Guide"! So far we've gone over the history of OFC, basic rules and variants, and last time covered a couple of pieces of advice for OFC Pineapple. Let's continue today with three more recommendations to help you elevate your OFC Pineapple game!
Advice #3: Know Your Opponent
As we covered last week, the initial placement of your first five cards will be the whole foundation of your OFC poker hand. Therefore, this first setting will be one of the most important decisions you'll make in any given OFC hand.
Sometimes the cards will speak for themselves, but often you'll have more than one option when it comes to positioning those first five cards. This is where your knowledge of your opponent will come into play. As you play hands with a given player, methodically observe how he decides to place his first five cards. Ask yourself each time if you would have done the same, and remember his basic tendencies of play.
For instance, what does he do when he receives a pair of queens to start? Does he systematically place them on top, risking fouling, or does he play more conservatively and prudently? Your opponents' tendencies, as far as you can observe them, should influence your own decisions when setting hands. Against certain players, you'll rarely have to take some big risks, but against others it will be the opposite.
In the end, despite the fact that the placement of your first five cards is sometimes essentially predetermined, it is precisely in those cases where you'll have different options when setting your hand that your placement of the cards should be guided by the knowledge you have of your opponent. When you're first to act, you'll have absolutely zero information about live cards or how to counterattack, so it is this awareness of your opponent's tendencies that will help you "guess" the best strategy of play. Adapt to everyone!
Advice #4: Know your Live Cards
I just mentioned "live cards" — in truth, knowing about live cards is fundamental in OFC poker, especially if you are playing against more than one opponent in which case there will be a lot more cards visible. Your live cards are the ones you have yet to see turn up in your own hand or in those of your opponents.
As a way of addressing this topic, look at the following example:
It is Thomas's turn. He has been dealt three cards and must place two of them on his board.
The first impulse that amateurs usually have is to place their biggest cards on the board, which would mean putting the

and the

in the middle here. The problem is one of these two cards — the king — is completely dead. Tony has all three of the other kings showing, so there is no way in the world Thomas will pair his king in the middle here. Placing the king on top will do Thomas no good either, as Tony is already showing an ace on top in his hand.
However, both sixes and fives are completely live, so Thomas will have a much better chance at making two pair in the middle by putting the

and

there instead of playing that lonely king.
Always observe your opponent's board, and place your cards according to what cards are still live for you!
Advice #5: Take your Time
This advice may sound as obvious as "know the points and bonuses," but trust me — too often we tend to play too fast, inevitably making some mistakes in the process.
You'll always be allowed time to think about your hand before placing your cards, so use it wisely and double-check your board before clicking or discarding your last cards. I remember once playing too quickly and placing a straight flush in the middle, only realizing too late it obviously was not beaten my "regular" ace-high flush in the back and so fouled my hand by my own fault.
That's kind of an extreme example of the pitfalls of playing too fast, but let's take a look a little deeper at the same idea with the following hand:
Again, it is Thomas's turn. Instinctively, many players in Thomas's position will act quickly and try to make the best hand possible, in this case by placing the

in the middle to make two pair and sticking the "garbage"

on top.
Well, in this particular case, if you look more closely, putting the king in the middle does Thomas no good at all. His pair of aces is already beating Tony's jacks in the middle, and making two pair in the middle doesn't earn any bonus points. Plus, the Q-8-5 on top would be beaten by Tony's Q-9-7.
However, if you take a moment to think about it first, you'll see that placing the

on top instead of in the middle helps Thomas win both of those lines. In the end, instead of losing one line by putting the king in the middle, Thomas can scoop Tony simply by placing it on top!
This makes a big difference. If Thomas lost the top line, he'd get just 1 point for the lines (i.e., 2 minus 1), plus 6 points bonus for the full house on the bottom, minus 4 points for Tony's flush — that's a total of 3 points. But if Thomas puts the king on top, he gets 3 points for all of the lines plus 3 more points for scooping, plus the 6 for the full house and minus the 4 for Tony's flush — that's a total of 8 points! If they were playing for €100 per point, that's a difference of €500 — in other words, it definitely can pay just to pause a moment to think before hastily placing your cards.
Remember to take your time, analyze the boards of your opponents, and never forget that the goal is not always to make the best possible hand on each line, but to earn a maximum of points!
Rendez-vous next week for more of my "OFC No Mercy Little Guide."
Start playing OFC today by downloading Tonybet Poker and using the bonus code NOMERCY to receive 100% bonus up to €500 and a free ticket for a weekly Pineapple NoMercy Ride tournament!
Get all the latest PokerNews updates on your social media outlets. Follow us on Twitter and find us on both Facebook and Google+!