Nikolai Yakovenko on the State of Open-Face Chinese Poker, Part I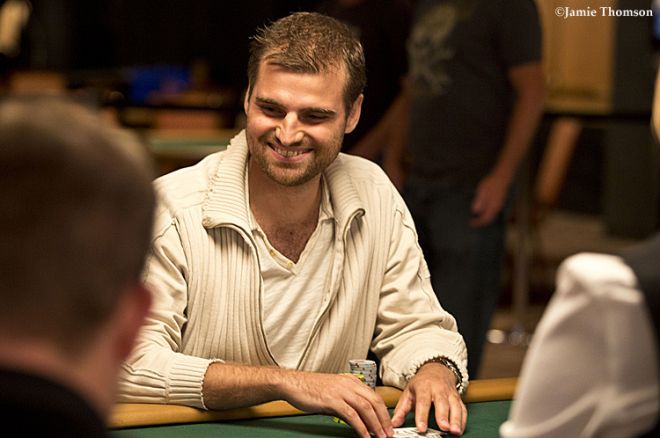 Open-face Chinese has become one of the most popular games in poker. Top pros like Jason Mercier, Barry Greenstein, and Shaun Deeb have become unofficial ambassadors for the game, while dozens of other pros can be found playing OFC either late into the night or on their tablets. One of those players is Nikolai Yakovenko, who helped create the ABC Open-Face Chinese Poker iPhone app.
Yakovenko, also known as "Googles," is originally from Moscow, Russia and is now a poker player and software developer residing in Brooklyn, New York. After several years at Google New York working on ranking algorithms, he's been developing independent software projects ever since in between making both World Series of Poker and World Poker Tour final tables. Here Yakovenko offers his expert opinion on the current state of OFC.
Open-Face Chinese Poker isn't dead. Far from it.
Since launching Pineapple OFC to the public on Thanksgiving 2013, we've had millions of rounds played on my ABC Open-Face app. Because of privacy concerns, I don't know exactly who is playing, but we have sizeable daily audiences in America, Russia, Hong Kong/China/Macau, England, Brazil, Germany, the Netherlands, Australia, and many other countries.
Anecdotally, these are mostly poker players & their friends, playing never-ending matches against each other, and posting big hands, bad beats, and difficult decisions on social media, for brags, commiseration, or a combination of the two.
Despite the World Series of Poker declining to include OFC as a bracelet event this year, there were a dozen Open-Face tables, mostly OFC Pineapple, running throughout the Series at the Rio. Although this doesn't rival the 1,000-player fields that they were getting for weekend no-limit events and for the Main Event mega satellites, that's still a dozen tables of action, more than for any other non-hold'em game. All this for a game that many players have still never heard of, many dealers don't enjoy dealing, and which the casinos struggle to rake as effectively as hold'em.
As an American resident, I'm not allowed to participate, but TonyBet has been running real-money OFC for almost as long as we've had free-to-play Pineapple on the ABC app. They have players from around the world, playing games from micro-stakes to high stakes, as well as OFC tournaments.
So OFC, and especially the Pineapple variant, is enjoying moderate success in poker and keeps spreading live and online.
This is no simple feat. Count the poker games that have emerged since hold'em, and which have enjoyed close to the same level of popularity. Omaha is certainly one, and stud, which pre-dates hold'em, is the Major League Baseball to hold'em's NFL. I guess that makes Omaha the NBA. But that's it. That's the list.
I love triple draw and all of its variants, but couldn't imagine launching a self-sustaining poker site or popular game app based exclusively on triple draw.
The unique turn-based mobile experience is what sets OFC apart from other card games. For me, internet hold'em was so much fun because of multi-tabling. For me, that meant firing up half a dozen sit-and-gos, flipping on the game, and cracking open a beer, circa 2005. At the end of the month, I'd be about even, or down a bit (always in the green, minus the rake, I would tell myself). It was a not-terribly-expensive form of entertainment, and a good way to unwind from my Manhattan office job.
The world has changed. Online poker is now legal in the U.S. again — at least in certain states — but not in Brooklyn where I live. And while my friends "in the know" keep telling me that online poker will be legal in California right after the next legislative session, the same can't be said for the Empire State.
Moreover, if I could play online tomorrow, would I still want the same experience?
Nothing makes me happier than hearing from fellow poker players how much they enjoy playing OFC on my ABC app. A close second might be seeing the pictures of their wives, girlfriends, and at least a couple of babies, dragging cards while poolside on an iPad.
By creating a pretty good experience, and by being the first to offer OFC Pineapple, we got a critical mass of players, many of them poker players who know each other. So a new player with some connection to the existing player pool can start playing against multiple friends and poker acquaintances right away. Most OFC players I know always have room for a newbie opponent.
Is OFC Really Poker?
Certainly not $ maker, so would be on for players, something fun/different during long summer. Interesting argument no bluff = no poker.

— Ty Stewart (@wsopSUITd)
Perhaps WSOP's Ty Stewart had it right. Open-Face Chinese isn't poker, at least not in the narrow sense of being a betting game similar to Texas hold'em. In the broader sense, it's an addictive card game, with a good mix of luck and skill. The best players feel confident enough in their long-term edge to risk thousands of dollars on random swings, with the expectation of winning a point a hand, or a fraction of a point a hand, over the long run.
There's no betting, no folding, and very little bluffing, so maybe it isn't poker. But Open-Face Chinese appeals to the gamblers, both to the pros and to the enthusiasts, in a way that only a game with the joint characteristics of poker and blackjack could. Which is more or less the way I've grown to see it.
So that's where we are now. Tens of thousands of people are playing Open-Face Chinese, mostly online, but also in casinos, and whenever a big poker tour comes to town. Tournaments for OFC have been a work in progress, but it's demonstrated staying power as a ring game, especially for long heads-up matches played over weeks and months online.
OFC will never be as popular as Texas hold'em, but new players are getting into the game every week. Meanwhile, the old audience is showing no signs of putting down the touch screen. I was encouraged to see most of the Rio's OFC games running for pretty reasonable stakes. Games ranged from $5 a point to $100 a point, but mostly Pineapple for $10 a point. It's become a game that the poker "middle class" feels comfortable playing for enjoyment, and a little bit of profit.
Of course there were still games running at the Bellagio for $200 a point, and I'm sure even bigger ones behind closed doors. Seeing tens of thousands of dollars swinging on every draw makes for great entertainment, and it contributed to the early excitement about Open-Face, but I'm happy to see the game going mainstream.
And in the mainstream, the game still has further left to grow. I'd estimate that 80% of high-stakes poker players are well-versed in Open-Face, but that drops to perhaps 50% of mid-stakes no-limit regulars, and probably less than 10% of the poker population who played at least one event at this year's World Series. At the tables, there were still more people playing Candy Crush between hands.
Will the game keep growing? I, for one, am optimistic. Let's see where we are, same time next year.
Get all the latest PokerNews updates on your social media outlets. Follow us on Twitter and find us on both Facebook and Google+!