Learn.PokerNews Weekly: Poker Pain, the Noble Hustle, and Studying Seat Draws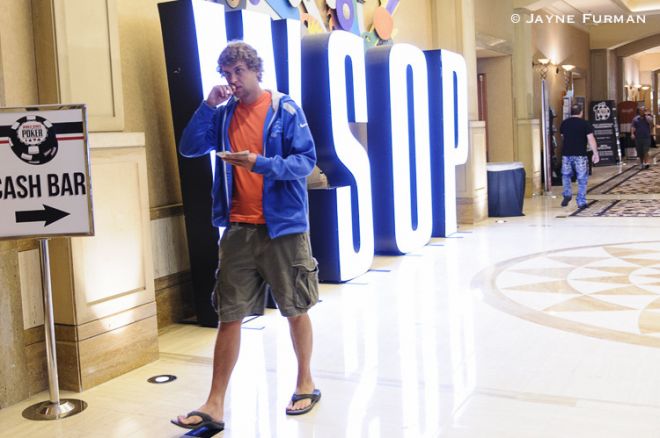 There's a growing collection of strategy advice, features, interviews, and more at Learn.PokerNews, including articles targeting both novice poker players and those with more experience. New items from Learn.Pokernews' many contributors are posted regularly, and each Sunday the Learn.PokerNews Weekly focuses on a couple of the more popular articles from the previous week while also sharing a "call back" to an earlier item you might have missed.
The 2014 World Series of Poker Main Event is underway, and everyone is trying to follow the footsteps of last year's champion Ryan Riess to win the title and a first prize that this year has been guaranteed to be at least $10 million. This week we're highlighting two articles related to the WSOP. One offers advice for keeping serene amid all the surrounding stress at the Rio All-Suite Hotel and Casino. The other reviews a recent book chronicling the story of one WSOP Main Event player's recent experience trying to do just that.
We also point back to an article offering advice to players about studying upcoming table draws, something those making it through to Day 2 of the WSOP Main Event this week should most certainly keep in mind.
An Island of Peace in an Ocean of Pain
Poker author and coach Tommy Angelo has been spending the summer at the Rio sticking to the cash games as is his usual habit this time of year.
Tommy has a lot of experience coaching pros — including many playing at the WSOP this week — often advising them how best to handle the many stressors of poker. He's seen a lot of evidence of the latter while at the tables, and in a new article shares a simple trick for how to keep calm when no one else seems able to do so.
Negatively Fifth Street
A few weeks back an new nonfiction poker narrative hit the shelves, this one by award-winning novelist Colson Whitehead titled The Noble Hustle: Poker, Beef Jerky, and Death. The book chronicles Whitehead's experience playing in the 2011 WSOP Main Event, and our own Jim Dixon has offered a thoughtful review of it for Learn.
Dixon highlights the humor and occasional lyricism on display in Whitehead's narrative while also exploring themes of self-loathing and existential doubt that encouraged one early Amazon reviewer of the book to call it "Negatively Fifth Street" — a reference to James McManus's earlier WSOP-related work, Positively Fifth Street, that served as a template of sorts for the approach and subject of Whitehead's book.
Take a Look at Table Draws and Know Your Opponents
Finally, just before this year's WSOP got going Rich Ryan pointed out how much players can benefit from looking over their table draws should they make it past the first day of a WSOP event. It's a lesson all of those making it through one of the Day 1 flights this weekend or Monday should follow closely.
In the article, Rich shares the story of 2012 WSOP Main Event champion Greg Merson's experience in last year's Main Event when he didn't pay much attention to the backgrounds of those with whom he was seated to start Day 5 last year — an omission he ultimately realized cost him.
Get all the latest PokerNews updates on your social media outlets. Follow us on Twitter and find us on both Facebook and Google+!