Learn.PokerNews Weekly: A Roundtable of Rounders Discuss How to Play Heads-Up Poker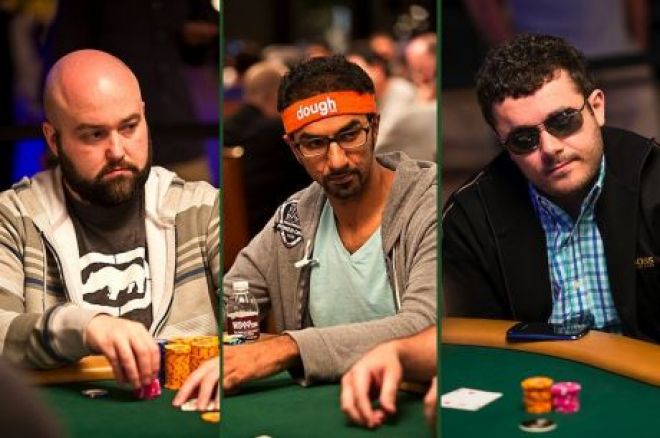 Every week Learn.PokerNews offers a variety of strategy advice, player interviews, and other features geared toward anyone with an interest in poker, but in particular to those just getting started with the game. New articles by Learn.PokerNews' staff of contributors are posted regularly, meaning every week brings more new material worth checking out to help with your game.
The Learn.PokerNews Weekly highlights recent items on Learn while also pointing back to earlier pieces you might have missed.
Among the offerings this week were two different articles featuring players at the 2014 World Series of Poker discussing their play while providing tips for players of all skill levels. As the Event #40: $10,000 Heads-Up No-Limit Hold'em Championship played out this week, we caught up with three pros to discuss heads-up strategy. We also spoke with an amateur player taking a shot by playing a WSOP event with a buy-in a bit higher than what he usually plays. Finally, this week we reach back to share an earlier discussion of the role of luck in poker and the importance of not just understanding it, but accepting it, too.
A Heads-Up Roundtable
Brock Parker, Faraz Jaka, and Anthony Zinno have all proven themselves as successful high-stakes pros with a host of significant scores and accomplishments. Also three also have lots of relevant experience when it comes to heads-up poker, a favored format online that calls upon special skills that in many cases differ from those employed in full-ring or even six-handed games.
Those three pros shared their thoughts with Jonathan Zaun regarding how they each prepare for heads-up matches, what kind of style and strategy each employs, and how they each will mix things up and change gears when circumstances dictate doing so.
Moving Up and Taking a Shot
Meanwhile, amateur Steven Kerr found himself facing players like Parker, Jaka, and Zinno this week at the Rio All-Suite Hotel and Casino when he decided to take his chances playing in Event #35: $5,000 Eight-Handed No-Limit Hold'em.
Kerr had played at the WSOP before, cashing a couple of times in $1,500 NLHE events. But this year he decided to "take a shot" at a higher buy-in event and against higher-caliber players. It proved an exciting challenge for Kerr, who spoke with our Chad Holloway about how things went for him as he found himself surviving Day 1 then getting deeper and deeper into the event.
Learn.PokerNews Call Back: Getting a Handle on Luck
Anyone who has played poker at all seriously understands how the better-skilled player will often be rewarded, but not always. A hand played perfectly can still yield unfavourable results if the cards don't cooperate. Being able not only to understand this truth of the game but accept it can be the most important skill a poker player can learn.
In an article for Learn, Jim Dixon addressed how letting luck get the best of you at the poker table can often lead to one of two highly negative consequences: "(1) good players will exploit these signs of weakness, defeatism, and resignation; or (2) your own weakness, defeatism, and resignation will cause you to donk off your remaining chips."
But it doesn't have to be this way.
Get all the latest PokerNews updates on your social media outlets. Follow us on Twitter and find us on both Facebook and Google+!