Keep Studying, Keep Improving Advises LAPC High Roller Champ Maria Ho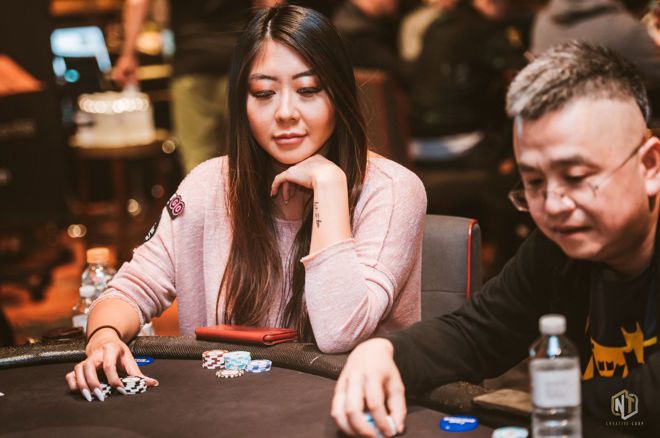 Last month, Maria Ho captured the title in the 2019 $25,000 World Poker Tour Los Angeles Poker Classic High Roller. Ho earned $276,690 for topping the 28-entry field, her second largest career cash behind the $540,020 she earned for finishing runner-up in the 2011 World Series of Poker $5,000 No-Limit Hold'em event.
Her many career highlights also include twice being the "Last Woman Standing" in the WSOP Main Event (2007, 2014) and twice also in the WSOP Europe Main Event (2011, 2017).
Over the past few years, the L.A. native has also become a mainstay in the poker media, having initially started out doing commentary with the Heartland Poker Tour. She can be found currently working closely with PokerGO and ESPN during their WSOP summer coverage.
I interviewed Ho about her memorable LAPC High Roller win for a recent episode of The Bernard Lee Poker Show, and she shared some general advice for poker players looking to improve their games. She also gave some more specific tips to those looking to play the WSOP Main Event and for players who find themselves on TV tables.
PokerNews: Congratulations on your recent victory in the LAPC High Roller. And the win happened on your birthday, right?
Maria Ho: Thanks Bernard. That's right, the final table continued past midnight and when it ended, it was officially my birthday. Typically I'm playing on my birthday, but not a final table. It was so nice to win on my birthday and it was definitely one of the best presents I have ever gotten.
What advice would you give players to help improve their games?
One thing I would highly recommend to these players is to take advantage of all of the videos that are available online, especially on outlets such as PokerGO. Watching these videos will help players learn new concepts by watching the best players in the world execute them and potentially understand leaks in their own game. Set aside time every week to watch and fully analyze these videos to improve their game.
Do you watch these videos yourself to help improve you own game?
Absolutely. When I watch these videos, the commentary helps me reinforce what I already know... [and also consider] aspects of my game that need work. You have to be honest with yourself and keep learning, because you realize that is what you have to do to keep up with everyone else in the world of poker.
Which videos do you like to watch?
I personally like to watch the High Roller tournaments because you are often watching some of the best players in the world with hole cards. To me, it is truly the best way to learn.
After I watch these videos, I try to absorb what I've learned from these players and bring these moves to the tables, trying to implement them into my own game.
Having just won a high roller event, what are the key differences between high rollers and other tournaments, such as the typical Main Event?
The big difference is that during a Main Event, when you get down to the last few tables, the players are all solid ones, but there will be several players that you won't know. You don't necessarily understand their style and you will have to play against them accordingly.
However, in high roller event, when you are down to the last few tables, all the players know each other and know how each other play against other players. Thus, you need to adjust your mindset that these players know who you are and know how you play.
You have had such tremendous success in both the WSOP Main Event and WSOP Europe Main Event. What advice would you give a player considering playing in the WSOP Main Event for the first time?
The WSOP Main Event is such a unique event and after playing in it so many times, I definitely feel I can give solid advice on how to play in this event.
First, players definitely need to pace themselves. The structure is so incredible with two-hour levels and most beginner players don't realize just how much time you have to accumulate chips. Also, you want to make it through each day to play another day.
Secondly, don't force the action. You are definitely going to be excited, but let the game come to you. Let the other players make the mistakes, instead of you wanting to be overly involved in many pots because that will give you more opportunities to make mistakes.
Finally, you have to be prepared for players of all skill levels. When you sit at a table with other players, you don't have to get involved with the best player at the table. Sometimes, you have to put your ego aside. If there are a few softer spots at the table, you should take advantage of them. Go after these players and stay out of the way of the better players. There is no shame in utilizing this strategy.
If a player is fortunate to get onto a televised table, what advice would you give these players?
The first time it happened to me, I definitely felt a little nervous and distracted, which is normal.
However, you want to maintain a level a focus and calm. You want to continue to make the best decisions and don't let the lights and cameras affect your decisions.
Finally, some of the televised tables have 30-minute delays. After seeing the hole cards half an hour later, players not only know what cards their opponents had but also begin to worry about how they are perceived by the other players.
Therefore, the one piece of advice I would give is not to overadjust your game. Many players begin to overthink the situation and radically change their game. Don't overthink the situation and just continue to make solid decisions using the additional information.