Jonathan Little's Weekly Poker Hand: Bluffing in an Inopportune Situation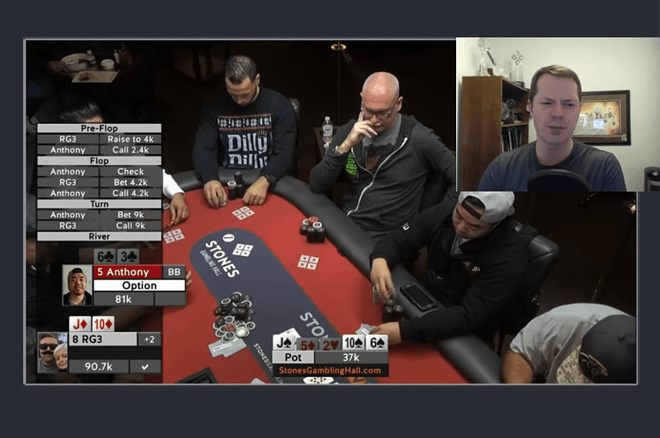 Poker pro and coach Jonathan Little has been producing a wide variety of strategy content for poker players for some time, including authoring multiple books and sharing videos and articles on his website and elsewhere, much of which is free to players of all levels seeking to improve their games.
Little started his popular "Weekly Poker Hand" series on YouTube several years ago, and recently he decided to switch up the format to begin featuring footage from live small- and medium-stakes cash games and tournaments.
In the episode shown below, Little is back at the Stones Gambling Hall in California to review another hand played during a $1,000 buy-in sit-n-go.
In this hand the blinds were 800/1,600 when the player RG3 opened for 4,000 from middle position with


. Just one player called, Anthony in the big blind holding


. Both players began the hand with stacks of around 100,000.
The flop came



, Anthony checked, RG3 bet 4,200, and with his gutshot draw (and no backdoors) Anthony called — a bit optimistic, perhaps, but as Little explains in the video below probably still okay.
The turn was the

, and at that point Anthony decided to get creative and led for 9,000 into the 19,000 pot. As Little points out, this turn isn't necessarily a great card for him to bet (never mind the fact that as it happens, RG3 turned two pair).
RG3 decided just to call, and the river brought the

, putting a third spade on the board. Anthony chose to barrel again, bluffing for 13,500 and getting called. Little notes how after betting the turn, Anthony probably had to bluff the river, although his sizing here was small.
Some of the concepts discussed in the hand analysis include:
blind defense
bluffing
bet sizing
slow playing
pot odds
Take a look:
Jonathan Little is a professional poker player and author with over $6,800,000 in live tournament earnings. He writes a weekly educational blog and hosts a podcast at JonathanLittlePoker.com. Sign up to learn poker from Jonathan for free at PokerCoaching.com. You can follow him on Twitter @JonathanLittle..