If You Have Chips, You Have a Chance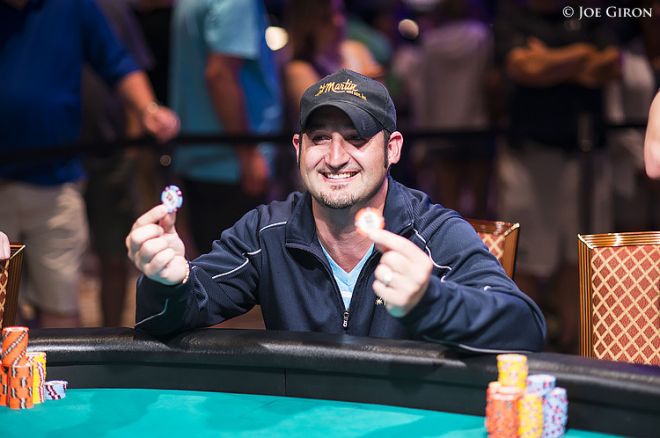 This year the World Series of Poker Circuit cancelled its scheduled stop in Cincinnati, but a year ago the series did visit the Horseshoe Cincinnati and I took part. The WSOP-C has stops all over North America throughout the year, with a dozen "ring" events with buy-ins ranging from $365 to the $1,675 Main Event and sometimes a lot of other even lower buy-in non-ring events from which to choose, too.
During my time at the Horseshoe, I played a wide variety of events on the schedule. One of my most notable experiences, however, occurred in a $150 satellite tournament to the Main Event. It was through this experience that ideas of patience and relentlessness were truly enforced for me.
There came a time in the satellite where all hope seemed to be lost — where the hours I put in at the tables seemed to be for nothing. It was persevering past this mentality that ultimately awarded me a seat to the Main Event. Let's have a look at the situation in question.
This Game is Easy… I Love Poker!
I played in this satellite with a couple of my friends, and I began the day running hot. I trended upward from the first hand I played and never dipped below the starting stack. As the day wore on, both of my friends happened to fall in hands against me and I considered myself a lock to win a seat to the $1,675 Main Event.
The satellite earned enough participants to give away 12 Main Event seats. My memorable moment came with just 14 players left, just a couple more eliminations away from the bubble bursting and those seats being won.
After cruising along for most of the day, my stack took a few hits as play wore on. That's when I suffered one of the worst beats that I've ever taken.
This Game is Cruel… I Hate Poker!
I opened for a min-raise from middle position with


and received a call from the player in the big blind. I observed this player to be quite tight and was a little surprised that he called at all.
The dream flop of



then hit the felt and my opponent checked to me. Given the quick nature of these satellite tournaments and my perceptions about my opponent, I simply moved all in hoping to take it down right there and hang on until the two short stacks — one on each table — busted. Conversely, if my opponent called, I would have him crushed unless he held


or


.
Much to my surprise, my opponent snapped me off. I triumphantly tabled my ace-jack and sure enough was crushing his


. I was primed to reduce the field by one and bring the remaining players that much closer to winning a seat to the Main Event. But in an instant, a

struck the turn, meaning that we both held jacks full of sixes and would chop the pot. This card instantly deflated me but at least a chop was better than losing.
Then, without warning, the dealer slapped down a

on the river, giving my opponent jacks full of nines and the best hand!
I would be lying if I said I was anything other than absolutely mortified. I watched in shock as the dealer cut down both of our stacks, shipped my chips across the table, and began to shuffle for the next hand.
Losing the hand left me with just 5 big blinds. Suddenly I was the one everyone was hoping to bust at the table to bring them closer to those Main Event seats. I felt like giving up. I felt like the entire day had been spent for nothing. In that moment I hated poker. I felt the urge to simply jam in the next hand regardless of my cards and chalk the experience up as a loss, having collecting another bad beat story to tell.
But something in me told me to move past that. Something told me now was the time to be more focused than ever.
Never Give Up
It took an immense amount of will power, but I directed all of my energy toward trying to exploit the cracks in the table. The blinds and antes were especially high because of the turbo-styled structure of the tournament, and no one wanted to lose chips. I managed to pick my spots wisely and play position, moving my stack back up to over 10 big blinds without a showdown. From there I continued to put pressure on the medium stacks when the opportunities arose, all of whom were wanting to fold their way to the Main Event.
Before I knew it, I was back in the game. One elimination occurred and then the field began to talk about a deal. After that discussion a 13th seat was added to the prize pool, and before I knew it I was the proud owner of a voucher for a seat to the Main Event.
This was an important moment for me as a player because it truly reinforced ideas that we've all heard for years. The old "chip and a chair" adage is one of the most clichéd phrases in poker, and yet there still remains something to be learned from it. A bad beat can leave you with little to no chips and an even smaller amount of hope, but dwelling on these negative aspects will only make matters worse.
A successful poker player needs to be able to deal with both the highs and the lows of the game. Succumbing to negative thoughts will only force you to make incorrect choices because you will not be thinking clearly. After suffering a bad beat, fully face the current situation rather than being blinded by circumstance. In this case, I was suddenly forced to figure out exactly how to play a 5-BB stack. Rather than writing myself off as dead, I made note of the current situation and worked relentlessly to figure out how to make it work for me.
How did the Main Event go? Not as well, I'm afraid, as I busted during the 7th level. But despite failing to cash there, I still profited from the experience in the satellite by having that lesson reinforced to me that you should never give up.
Get all the latest PokerNews updates on your social media outlets. Follow us on Twitter and find us on both Facebook and Google+!