How to Play the Nut Flush Draw on a Monotone Board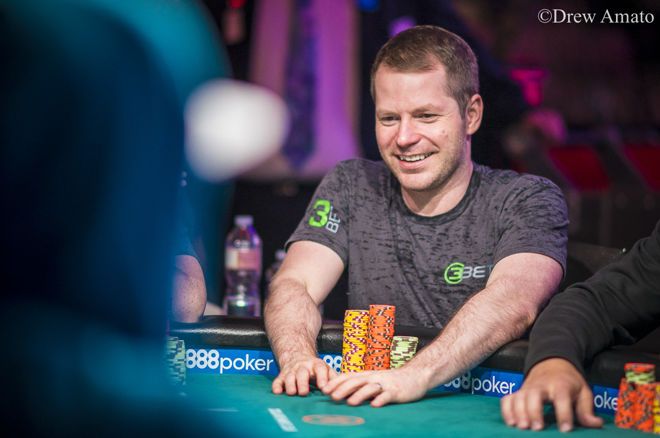 In my previous strategy column here on PokerNews, I explored a hand involving one of my students and basically asked whether you value bet certain turns or check hoping to get to showdown. This week, I look at another hand where my student flops the nut flush draw on a three-flush board and gets check-raised. In such instances, do you usually see a turn or do you jam all in on the flop?
The hand took place in a live $550 buy-in World Poker Tour event when action folded around to my student, who we'll call the "hero," and he looked down at the


sitting on a 110 big blind stack. He raised to 2.2 bb and the players on the button and in the big blind, who had stack sizes of 98 bb and 50 bb respectively, called to see the



all-diamond flop.
I would bet here. Whenever you do make a continuation-bet in this scenario, you're going to get a lot of hands with equity to fold. Even if you do get raised it's not the end of the world as you have the nut flush draw.
"Realize that you probably don't know as much about your opponent's strategy that you think you know about your opponent's strategy."
The hero does bet 6.8 bb, the button folds, and the big blind woke up with a check-raise to 18.6 bb. It's here that you always want to think about pot odds. Here we have to put in 11.8 bb into a pot that is going to be 45 bb. That means we need to get there on the turn about 26 percent of the time to justify a call. There are nine diamonds left in the 45-card deck, so that's 20 percent.
We're not quite getting the right pot odds, so if we think that there's no way to get more money in the pot when a diamond does come, we should fold. However, given we have the nut flush draw and our opponent's stack size, we're just not folding in this scenario. But should we bluff all in?
I think it's a very player-dependent situation and whether or not you think you can get your opponent to fold. Realize that you probably don't know as much about your opponent's strategy that you think you know about your opponent's strategy. Realize what you know and don't know and adjust as necessary.
Here, based on how he played, our opponent isn't going to fold to a jam after committing 40 percent of his hand. Do you really want to get it in on a draw? I think calling makes the most sense.
The turn is the

and our opponent moves all in. We need to win 28 percent of the time to break even and we're going to get there about 18 percent of the time on the river. We have an easy fold and that is what our hero does.
For a more thorough breakdown of this hand, check out my thoughts in the following video:
Jonathan Little is a professional poker player and author with over $7,000,000 in live tournament earnings. He writes a weekly educational blog and hosts a podcast at JonathanLittlePoker.com. Sign up to learn poker from Jonathan for free at PokerCoaching.com. You can follow him on Twitter @JonathanLittle.