How To Attack the WSOP, Part 1: Planning What To Play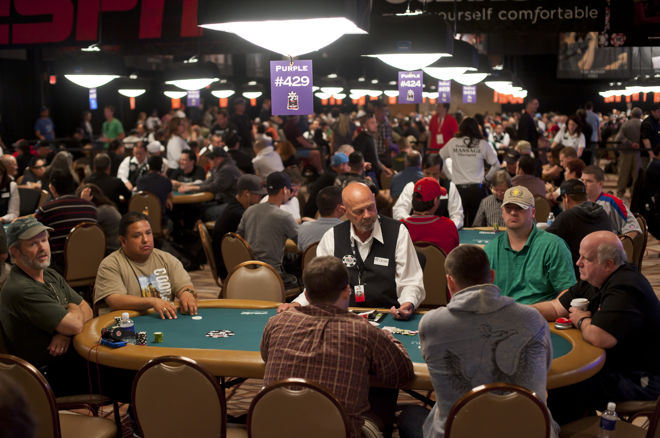 With the World Series of Poker schedule having long been released, the clock is officially ticking towards the 2016 iteration of poker's biggest event. In this 10-part series, How To Attack the WSOP, we'll go through a variety of topics that players eyeing the WSOP should be thinking about as they plan their trips to Las Vegas.
There's an old poker saying that goes something like this: you can be the 10th-best player in the world, but you're still the sucker if you're seated at a table with the nine who are better than you.
The implication, of course, is that game selection is a crucial skill for a poker player, arguably just as important as things like having a technical understanding of the game and emotional control. In terms of making money, game selection has a huge impact on a player's bottom line.
When it comes to tournament poker, players aren't allowed to choose their opponents, since they're randomly drawn to tables until only one competitor is left with all of the chips. However, what you can control is planning out which tournaments you play, with an eye toward a variety of factors that determine what constitutes value.
For example, one player may put a premium on big starting stacks and a slow structure, while another may look to play only in the softest of fields. Still another might look for tournaments with the lowest rake or one with the biggest prize pools. What a player values in a tournament is ultimately up to him or her, but the beauty of the sprawling WSOP schedule is that it offers a little something for everyone — unless you're a pot-limit hold'em enthusiast, that is.
What Should You Value?
What should you value when looking at which tournaments to play?
Again, that's up to you, but one thing I do want to point out is there are often tradeoffs to be made.
Someone looking to play in very soft fields, for example, is going to be looking for smaller buy-ins. Since the general rule of thumb is that smaller buy-ins mean higher rake, this player is going to pay more rake than someone willing to pony up a little more money.
Another important tradeoff to keep in mind comes in tournaments with slower structures. Slower structures might be nice on paper because they provide more "bang for the buck," but if you're a newer player, it likely reduces your chances of winning the tournament. But also, faster structures have more variance, and variance can be your friend when you are looking to outduel more experienced players — given an infinite number of hands, they will always come out ahead.
One other thing to look at is surrounding events on the WSOP calendar. What else is on the schedule around that time in case things go awry and you bust out early but still want to play for a bracelet? Also, is there a premier event that will draw a big chunk of top professionals going on at the same time, potentially helping create a softer field in the events you're looking to play?
Massive prize pools are probably the No. 1 thing players yearn for when deciding on a tournament, and the WSOP has a number of incredible offerings when it comes to their smaller-stakes events. The Colossus, the Millionaire Maker, and the Monster Stack are all amazing events with their own perks — the Colossus is the cheapest to enter, the Millionaire Maker has what I would consider the best surrounding schedule, and the Monster Stack gives extra starting chips.
These tournaments pretty much sell themselves, but they do have one major drawback. Each one will last five or more days, making them untenable for a number of players who have real-life considerations keeping them from playing poker for a week at a time. According to the WSOP, the average length of a trip to play there is just 3.2 days.
Travel considerations may also be a factor. Going to Las Vegas on a weekend has the obvious benefit of access to more non-poker events that may be appealing. Plus, games in general are likely to be softer and more widespread. On the other hand, you will likely be paying more for airfare and accommodations, plus you'll deal with more headaches like traffic and long lines.
With all of that in mind, I picked out below a few stretches of the series that stand out for different reasons.
Great Stretches of the Schedule To Target
Are you a fan of mixed games? The Colossus might be a small-stakes no-limit hold'em player's dream, but the days following it are tailor-made for the small-stakes mixed player. Sunday, June 5 features the $1,500 Dealer's Choice event at 3 p.m., Tuesday, June 7 has the $1,500 H.O.R.S.E. at 11 a.m., and in between, there's the $1,500 No-Limit 2-7 Single Draw event on Monday, June 6 at 3 p.m.
Hold'em players looking to travel during the week could do worse than June 14-15, a Tuesday and Wednesday with both $1,500 and $2,000 events on tap. As an added bonus, they're surrounded by a couple of $10,000 championship events and a $3,000 six-max event that will surely be popular among pros.
I'd say the block of events that's best-suited for a player looking to get heaps of value on a short trip begins Saturday, July 2. That day, there are two flights of the Crazy Eights, an $888 buy-in event with $888,888 guaranteed to first. The following day, there's a standard $1,500 event, and Monday the 4th has a $1,000 turbo with 30-minute levels that lasts just two days. And if you're traveling with a couple of buddies, there's also the $1,000 Tag Team No-Limit Hold'em starting on July 6. That's a tough stretch to beat when looking for max value at the WSOP.
Stay tuned for more to come from our How To Attack the WSOP series.
Get all the latest PokerNews updates on your social media outlets. Follow us on Twitter and find us on both Facebook and Google+!