Hold'em with Holloway, Vol. 97: Big Hands From the WSOP-C Potawatomi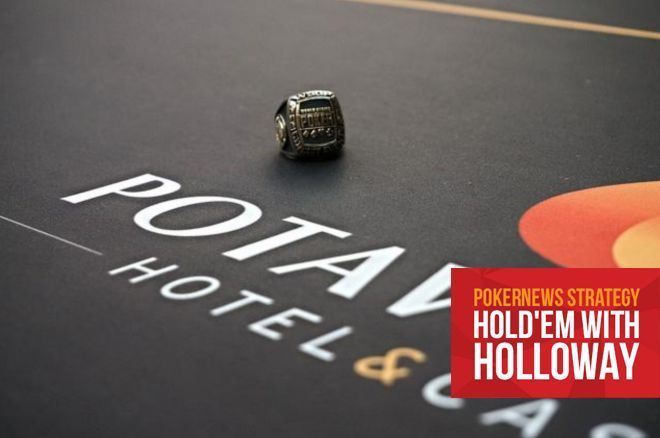 A few weekends ago, I had the opportunity to play some tournaments at the World Series of Poker Circuit at Milwaukee's Potawatomi Hotel & Casino. That included Event 2: $400 NLH Multi-Flight, a tournament offering a $200,000 guarantee and four starting flights.
I was prepared to fire multiple bullets in my attempt to make Day 2, but much to the benefit of my bankroll it only took one entry to get the job done. Upon busting Event #1: $400 Double Stack after the dinner break, I late registered Event #2 with the plan of spinning up a stack.
Instead, I found myself nursing a short stack most of the night and testing the extremes of my patience. Still, as I sat there the field whittled down from 152 entries to around the final 30. That is when things got interesting for me, and for this week's column. I've decided to share four of the most interesting hands I played from that point forward.
Hand #1 – Getting Lucky to Quadruple-Up
At the 1,500/3,000/500 level I was sitting with 26,000 and looking for a spot to improve my situation. With the top 18 getting paid, I wasn't going to be able to fold my way to the money.
Knowing that, I opted to shove all in from middle position after looking down at


. I wasn't too thrilled when the big stack called from the cutoff with what turned out to be


, and even less so when the button and big blind, who both had similar stacks to mine, called off with nines and eights, respectively.
The



flop didn't do much for me, but the

turn did as I paired my jack to take the lead. I held it, too, when the

bricked the river to essentially give me a quadruple-up. Suddenly I went from grinding a short stack for hours to actually having some chips with which to play.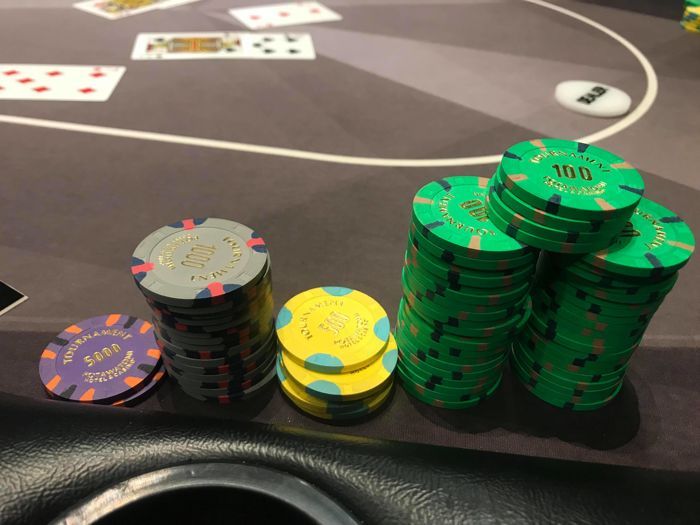 Hand #2 – Sucking Out in the Money
I used that stack not only to make the money but the final 13. Play was slated to stop once we were down to 5 percent of our starting flight field, or eight players. Unfortunately, I was once again short when I got it in bad.
We were playing six-handed at our table when the player on the button with a pile of chips opened for 18,000 at the 3,000/6,000/1,000 level.
"I went from being a short stack to being in the thick of things."
From the small blind I jammed my last 85,000 holding


, and the player in the big blind flatted. The button then moved all in over the top, chasing the big blind out of the hand.
I had a chance to triple-up in a heads-up pot, but I'd need to crack his


to do it. Fortunately, that's exactly what I did when the flop came down



. Neither the turn nor river changed a thing, and once again I went from being a short stack to being in the thick of things.
Hand #3 – Losing Last Hand for the Chip Lead
With nine players remaining, just one more needed to go before we were done for the night. That is when the short stack, who had 99,000, opened for 18,000 at the 3,000/6,000/1,000 level. I looked down at


next to act and three-bet to 40,000. The player in the cutoff then moved all in for 139,000 and action folded back to the original raiser, who called off.
Based on my experience with both players and how they acted I didn't expect either to have aces or kings, so I called. I was right, as the short stack rolled over


and the other player


.
The



flop gave me a flush draw to go with my overs, but I missed when the

turn and

river both bricked. The cutoff took down the monster pot while the short stack busted to end the night.
Had I won that pot I would have finished the night with the chip lead — an incredible thought given how card dead and short-stacked I'd been most of the day. Instead I finished with the short stack of 85,000 coming back to 4,000/8,000/1,000. The good news is I had $1,207 locked up.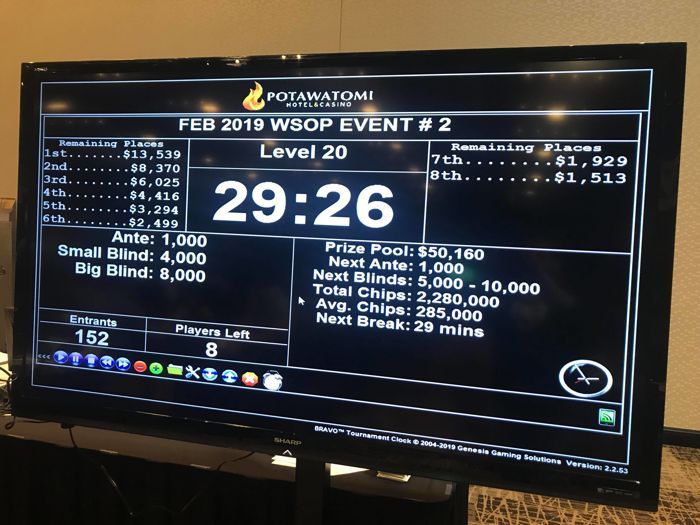 Hand #4 – Bustout
The other flights brought the total field up to 1,098 entries and only 74 were returning for Day 2. I had the sixth-shortest stack among the returners, and given the fact that we were already in the money (and the payouts were extremely flat), I went in with a freeroll attitude. I was going to play loose and fast in an attempt to build a stack.
"I should've gone back to the patient grind I exhibited on Day 1 and found a better spot."
My plan worked well as I picked up several aces in the first orbit, shoved my stack, and swiped the blinds and antes. I then looked down at pocket aces, pushed my stack of about 125,000, and doubled up when an opponent picked up kings. Again, I was back in it.
Unfortunately, that is when my "freeroll" attitude got the better of me. With the blinds at 6,000/12,000/2,000, a big stack in the cutoff opened for 30,000 and I decided to try to steal with a three-bet jam for 200,000 holding


in the small blind.
"I don't think I can lay this hand down," my opponent said when it got back to him. He was giving me credit for a big hand (my tight image was working), but did call with


, which he obviously had to do.
I failed to get lucky and busted in 44th place for $1,500. Not a bad result given where I started the day, but I did have regrets. I should've gone back to the patient grind I exhibited on Day 1 and found a better spot. There were easier targets to pick on at the table, but I went after a good player with a big stack holding a weak ace.
Lesson learned.
Lead photo courtesy of WSOP.