Hold'em with Holloway, Vol. 86: Matt Stout Develops a Limp Dynamic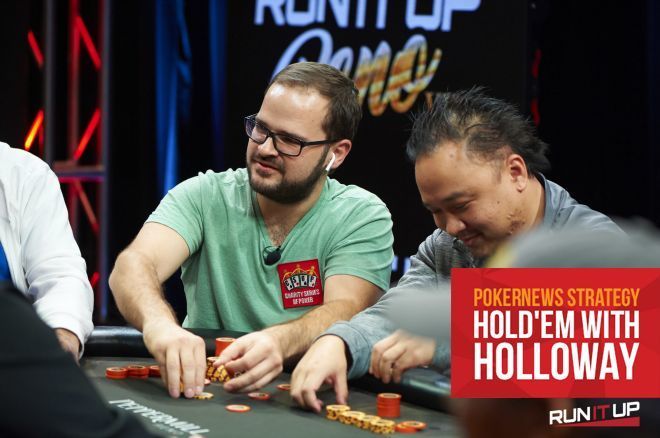 Matt Stout is going to be a father soon, but before his bundle of joy arrives, he and his significant other, Brittney Barnes, decided to take a road trip from Las Vegas to Reno for Jason Somerville's Run It Up Reno VII. It proved a wise decision as Stout ended up topping a field of 687 entries to win the Main Event for $70,000.
Stout, the founder of the Charity Series of Poker, defeated Run It Up Ambassador and Big Brother Canada winner Kevin Martin in heads-up play to claim the title.
After his victory, Stout discussed some of the strategy that came up during the latter stages of the final table.
"Kevin had been using ICM to put me in a lot of bad spots at the final table and he did it really well," Stout explained. "He put me in a lot of situations where I know there's a good chance I'm getting bluffed, but that the downside of being wrong and getting stack was sort of ICM suicide."
"I had to let him get away with a lot. When someone is three-betting you a lot you have to either open your four-bet range, start limping or open tighter so you don't have as many raise-folds in your range," he continued.
"One of the things I decided to do to counter his aggression was to start limp-reraising more. I had already started developing the limp dynamic. I'd already limped in with a weak hand on the button, bet flop and they both folded. There was another where I limped and folded to a flop bet."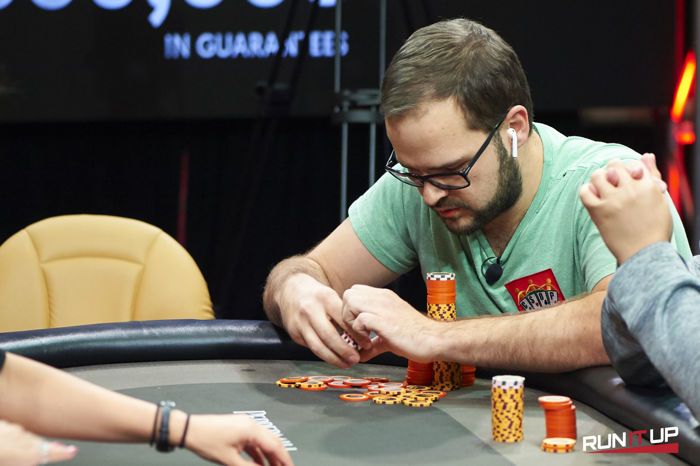 With three players remaining, Stout continued his strategy by limping the button with


.
"This was the third or fourth time I'd limped the button," he explained. "Because of the stack depths, it made more sense to limp in and play postflop. When I do start limping it also creates a dynamic where I need to have some limp-reraises in my range to protect my weaker limps. My plan when I limped was to protect my weak limps by limp-shoving if either of my opponents raised."
Neither of his opponents raised, but instead, Martin came along from the small blind and Sok Chean checked his option from the big with what turned out to be


. When the flop came down



, Martin checked and Chean did the same with top and bottom pair.
Stout, who had flopped top two, bet 325,000 and only Chean called to see the

turn. Chean checked and Stout bet again this time 420,000. Chean woke up with a small check-raise to 925,000 and action was back on Stout.
"Someone who is watching that hand in a vacuum, it looks like his check-raise is so small he's obviously super strong and I can just three-bet and get it in," Stout explained. "What they didn't see, including in unstreamed hands before the final table, [was that] he made some wonky small check-raises in similar situations and folded to a shove."
Stout: "There was no way in a million years I was going to check-raise that turn against this specific player."
"I would not have been surprised if he has a naked gutshot or some other weak draw he was check-raising as a bluff even for that size," Stout explained. "So, I was in full trap mode. There was no way in a million years I was going to three-bet that turn against this specific player. I thought the benefits of trapping him for an extra bet if he was bluffing far outweighed the risk of him getting there or having a value hand."
Stout did just call and the

completed the board on the river. Chean bet 600,000 and called when Stout moved all in. After the hand, Stout had doubled to 59 big blinds while Chean dropped to 15 BB. Chean ended up busting in third place for $33,330 and Stout went on to claim victory due in no small part to the limp dynamic he had established.
Images courtesy of RIU Reno.