Hold'em with Holloway, Vol. 4: Punish the Satellite Bubble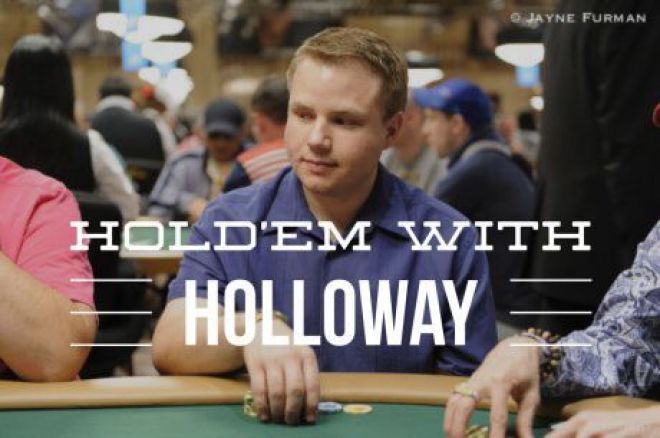 Earlier this month, I launched Hold'em with Holloway, my weekly strategy column here on PokerNews, by talking about making reads and trusting them. As an example I explored a $65 qualifier for the Mid-States Poker Tour (MSPT) Ho-Chunk Gaming Wisconsin Dells, which will host a $1,100 Main Event this weekend at my home casino. I failed to win that qualifier — which advanced the top 20% — but I recently did well in an even bigger $250 qualifier to win a seat into the Main Event.
These $250 qualifiers are great value for those looking to get into a MSPT Main Event at a discount. Players start with 12,000 in chips and each level lasts 30 minutes. On this particular day, the qualifier attracted 99 entrants, meaning the top 20 finishers would win a $1,100 seat into the Main Event.
It's important to note that satellites are different than your everyday tournament. In the latter there can only be one winner, but in the former there are numerous players walking away with the same prize — a seat into a bigger tournament. In those instances, there is no difference between advancing as the chip leader or short stack, it's all the same. As such, you must adjust your strategy accordingly.
For example, let's say you were sitting on an average stack of 60,000 on the bubble, meaning just one more player needed to bust before everyone else won a seat. You're first to act and look down at


, which of course is the best hand in poker. Do you play it? In a regular tournament the answer is irrevocably affirmative, but in a satellite scenario the right play is to ditch them. That's right, fold aces.
With an average stack you're not in danger. Why put your life on the line when there are short stacks out there that have their backs against the wall? Of course your aces are going to be a favourite to win, but there's always that chance that they get cracked. By not playing at all, there is absolutely no chance of shenanigans, you preserve your chip stack, and you can fold your way to a seat. The wise choice is to just get rid of your hand, but it never ceases to amaze me how some players just can't throw away them aces.
Case in point, the final hand of the $250 MSPT qualifier that I played. With 21 players remaining, we were on the bubble and I had a ton of chips. I'd run extremely well and amassed 200,000 or so, which was about 20% of the chips in play. Usually I'd take my own advice to sit tight and coast to a seat, but I had so many chips that I was afforded a little fun. You see, the next biggest stack at my table had about 70,000, meaning I could double any of the shorter stacks up and still be a massive chip leader. With no credible threat to my stack, I could wreak havoc by punishing the bubble.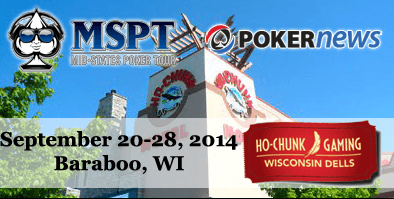 My plan to do so was to move all in every hand without looking at my cards. Sounds foolish, but take a moment to think about it. With so many chips I could dictate the action and put everyone to the ultimate test. Most of the players had an average stack, meaning the right play for them was to fold every hand in the hopes that either one of the two short stacks at the table or someone at another table would bust. Even if someone called me, I had more than enough chips to absorb the hit.
Granted, I could have sat tight and waited, but with so many chips I was guaranteed a seat no matter what. If I ended up taking a small hit, I would have downshifted and waited for the bubble to burst on its own, but until that happened I intended to speed along the process.
I stuck to my plan of raising all in blind every hand, and eventually one of the short stacks called off from the big blind holding, you guessed it,


. While I advocated for the folding of aces earlier, that was for players with an average stack. As one of the shortest stacks in the tournament it only made sense he'd go for the double. He could have folded and hoped one of the other stacks busted first, but instead he took his fate into his own hands. I respect that.
Anyway, I flipped over my two blind cards –


. According to the PokerNews Odds Calculator I had a 12.19% chance of cracking the aces, while the short stack would double 87.45% of the time. I managed to find a queen and two spades on the flop, and then a third spade on the turn gave me a flush draw. In other words, I had plenty of outs. Much to the dismay of my opponent — and relief to the other 19 players watching the action — a fourth spade spiked on the river and my lowly

gave me the flush for the win. I had cracked aces to burst the bubble.
This was clearly a unique situation, and one I likely won't find myself in again anytime soon. However, the point is, when it comes to tournament poker, you need to constantly identify the situation in which you find yourself and act accordingly. If you find yourself flush with chips, I recommend you punish the bubble with relentless pressure whenever possible be it in a normal tournament or satellite (Note: don't go all in blind every hand in a regular tournament). It's a lot of fun and a great way to pick up some valuable chips.
Get all the latest PokerNews updates on your social media outlets. Follow us on Twitter and find us on both Facebook and Google+!