Hold'em with Holloway, Vol. 121: How I Wound Up Buying a WSOP Circuit Gold Ring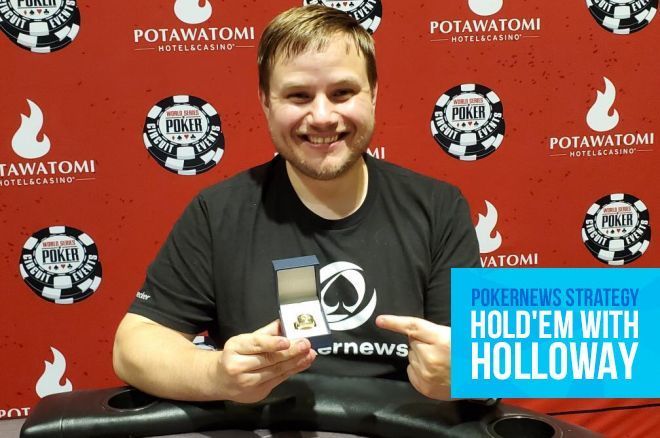 The World Series of Poker Circuit recently paid a visit to my home casino in Milwaukee, Wisconsin. During the stop I watched friends of mine win rings at Potawatomi Casino including Nick Pupillo, Craig Trost, and Josh Reichard.
I was keen to get a ring myself, which I managed to do, though I didn't win it.
How I Bought a WSOP-C Ring
The first tournament I had the opportunity to play after returning from the 2019 Borgata Poker Open was Event #8: $1,125 No-Limit Hold'em. Given I'd just spent 18 days working in Atlantic City, I was quick to unwind with some cocktails, especially after I busted my first bullet and re-entered.
One of the players in the 121-entry field was two-time Mid-States Poker Tour champ Hao "John" Sun, who a couple of days before had topped a 166-entry field to win Event #6: $400 Pot-Limit Omaha for $14,190 and his first gold ring. As fate would have it, I got moved to Sun's table and promptly congratulated him on his victory.
"I was flabbergasted Sun was willing to part with the ring, but then again not every player values them equally."
I've known Sun ever since he shipped the 2016 MSPT Iowa State Poker Championship and always enjoy shooting the shit with him. I'm not sure how it came about (I'd downed a few cocktails by that time), but somehow we got on the topic of his ring, and as I recall it was something I envied but he didn't value much.
Again, the details of how it transpired are fuzzy but I eventually agreed to buy his ring for $200. I didn't want the ring to pass off as my own — except to trick a few friends with the photo above — but rather to add to my collection of poker memorabilia. I was flabbergasted Sun was willing to part with the ring, but then again not every player values them equally.
True to his word, he retrieved the ring and delivered it to me. I gave him the cash, which he'd talked me up to $220 by this point, and just like that I had a myself a ring. I told Sun that he might regret it, but he said no chance. Even so, being the nice guy that I am, I gave him a standing offer to buy it back — at double the price!
On a side note, the tournament paid 19 spots and ground my short stack to a 19th-place finish, good for $1,649. Given I was in for two bullets, I was down $601 plus the $220 I dropped on the ring.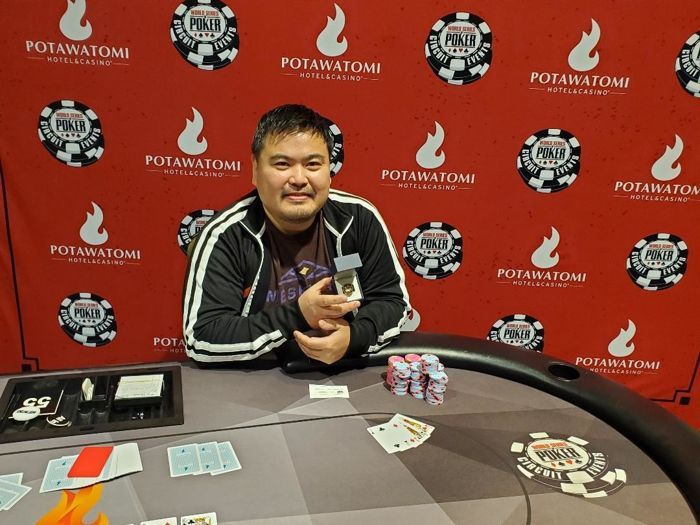 Busting the Main Event
Speaking of firing two bullets, that's exactly what I did on Day 1a of the $1,700 Main Event the following day. The first missed its mark when I held ace-king on a king-high flop against an older gentleman who just called a raise and three-bet with pocket kings preflop.
On the second, I tightened up and nursed a short stack late into the evening. In the last level of the night (Level 16: 2,000/4,000/4,000), I was down to 61,000 with the blinds about to hit me. We were 60 minutes or three players away from bagging, and I looked down at the


under the gun.
I'm not a big fan of shoving small pocket pairs from early position since if I do get called I'm either dominated or racing. Still, it seemed too strong to fold with the blinds about to hit me.
According to Max Silver's SnapShove app, which I love to use in between hands at the table, pocket fours isn't a shove here. In fact, it suggests open-jamming just the top 9.8 percent of hands which includes 6-6 and better pairs as well as J-Ts+, A-9s+, A-5s, A-4s, and A-Qo+.
I suppose I could have opened with a small raise, but I opted to shove for two reasons. First, I had been playing extremely tight, so I knew I'd get credit for a much bigger hand. Second, I didn't want to bag a small stack, so I wanted to either spin it up or go home.
One by one my opponents folded and it looked as if I'd swipe the blinds, which was my goal. Unfortunately, WPT champ Ravi Raghavan looked down at his cards in the big blind and liked what he saw. He spiked in a pile of chips to call and his


held after a dry runout.
Given pocket fours wasn't a shove here according to SnapShove, I was curious to know what sort of stack warranted an under-the-gun shove with fours. The answer surprised me at 10.5 big blinds, which was lower than I expected. As I had 15.5 big blinds at the time, I certainly wish I had opened for 2-2.5x and tested the waters instead of putting my tournament life on the line.