Hold'em with Holloway, Vol. 11: When Will You Finally Break Through?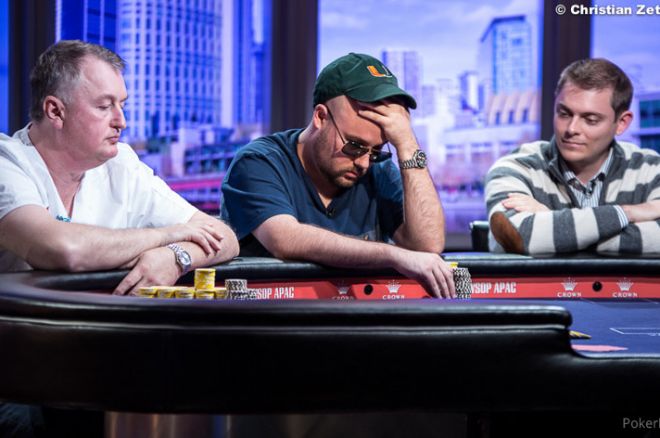 Moving up in the world is hard to do. It's probably even harder in poker. To do so one must exhibit patience, determination, and possess the rare ability to take a beating while coming back for more. Even then, success is not guaranteed. To put it in poker terms, all you can do is put the money in good and pray.
The trials and tribulations of poker recently crossed my mind after interacting with two men — Scott Davies and Victor Doka. The former is a known poker pro who broke through in 2014 by winning over $1 million — most of which came from his victory in the World Series of Poker Asia-Pacific Main Event — while the latter is currently a college student with poker aspirations.
Let me start with Davies (pictured at right). He is literally living the life tens of thousands of players dream of. He's traveling the world, winning tournaments, and making a fortune. His success is both inspiring and a cause for envy. After leaving a lucrative law career and turning pro in 2010, Davies was able to notch yearly tournament winnings in the five figures with his best being $70,330 in 2012. Combined with $1/$2 and $2/$5 cash game success, Davies was grinding out a respectable living, though fame and recognition eluded him.
Then, seemingly out of nowhere, Davies caught fire. It started when he finished third in the ANZPT Perth Main Event back in February for $51,807, and then in June he made it all of the way to the semifinals of the WSOP $10,000 Heads-Up Championship for $111,942. He had several cashes in between and after, but as previously mentioned his big break came when he topped a field of 329 players to win the 2014 WSOP APAC Main Event for $737,907.
As Davies explained to me, those successes were the culmination of much hard work and spending a lot of time studying poker. They also came after he finally developed a long overdue willingness to take a shot.
"I spent a lot of time at the lower stakes because I was content playing in easy games that I was over-rolled for," Davies told me. "I don't think it's a mistake that I've had so much success ever since I started really working harder. If you aren't doing something to continue to improve, there is a hungry up-and-coming player that is willing to, and he or she is going to pass you by unless you are willing to work even harder to fight for your place. Poker is not getting any easier, but there is still plenty of room to make money in this game for those who are willing improve."
As far as the up-and-comers are concerned, Davies could very well have been speaking of Doka, who attends the University of Denver where he is a member of the golf team, an NCAA Division I program. In preparation for his June graduation, Doka recently reached out to me for my advice on making it in the poker world, especially as it relates to the poker media side of things.
Like many poker players, Doka has aspirations of becoming a successful professional, but instead of strictly playing he's looking to break into the community via an unconventional route. That's exactly what led me to the poker media years ago, so I could certainly relate. Despite playing poker since he was 16, Doka opted to explore different avenues after he grew discontent.
"I'm frustrated," Doka explained. "I want to move out of the boring low-limit poker world and strive to become the best player I can. However, there is one problem in order for me to rise to the top. I cannot beat the lower-limit games and build up a bankroll big enough to move up."
From what I could tell, Doka didn't lack skill or ambition, but had it in his head that he was overqualified for smaller stakes like $1/$2 no-limit hold'em. By that I mean he wished to play at a level you can only find in higher stakes. As he pointed out, most players at the lower levels don't think the same as top pros, play shorter sessions, bluff as much, and so on. For the most part he's right.
Once again I can relate. Having grown accustomed to playing bigger tournaments, I almost have to "dumb down" my game when playing the nightly at my local casino. That's because my opponents don't have as much experience as me, so if I over think things (e.g., four-betting too light) I often get in trouble. I hate to say it, but in such games it's probably best to just play your cards. Conversely, at the high levels of the game your abilities have to be more expansive and refined.
Doka feels he's at the higher level, but that he doesn't have an outlet to test his game. No wonder he's frustrated. Of course, the argument could and should be made that a truly great player would be able to adapt his or her game no matter the stakes and competition. But that's easier said than done. People want to move forward, so plateaus can leave one feeling unfulfilled.
My advice to Doka and those like him is to stay on your grind. Davies grinded for years, never gave up, and took it to the next level by constantly striving to improve. It took him years before things went his way, but right now he's reaping the rewards. He is proof that hard work pays off. Likewise, I struggled for years playing $1/$2 no-limit hold'em and $50 buy-in tournaments before breaking through and winning a WSOP gold bracelet. I also suggest you be willing to take a shot every now and then. Don't go busting your bankroll, but if the right tournament or cash game presents itself, give it a whirl.
All that said, be forewarned — no matter how much you achieve in poker, it will likely never be enough. Hunger for poker success is a good thing, and while a big win will whet your appetite, it's only a matter of time before you want more. When I spoke to Davies a couple weeks after winning his first gold bracelet, he told me the only thing on his mind was winning another. I've felt the same way ever since my win, and my guess is that one day you will, too.
Get all the latest PokerNews updates on your social media outlets. Follow us on Twitter and find us on both Facebook and Google+!