Hold'em with Holloway, Vol. 109: Blake Whittington on Running Hot in a WSOPC Main Event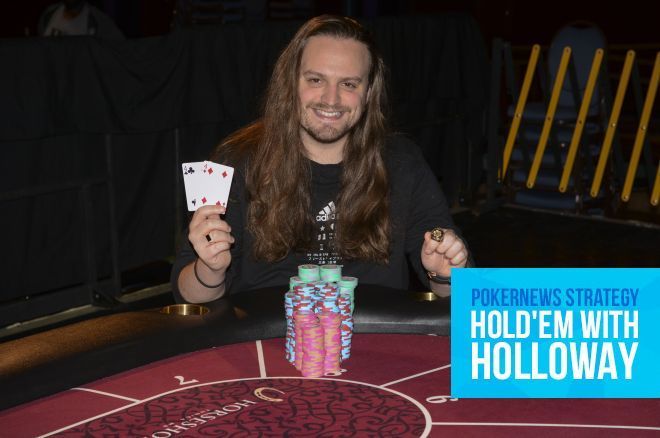 At the beginning of this month, Blake Whittington accomplished a remarkable feat, winning back-to-back rings at the World Series of Poker Circuit Horseshoe Tunica stop. That included topping a 466-entry field in the $1,700 Main Event for his fifth gold ring, a career-high $151,789, and a seat into the 2019 Global Casino Championship.
I'd been familiar with Whittington since February 2016 when he won the MSPT $350 Regional Event at bestbet Jacksonville. It was clear back then he was a talented player, so to see his recent successes didn't come as a shock.
I reached out to Whittington after his latest victory and asked if any big hands stood out from the tournament, and there was one. Before he shared it, he was quick to clarify that he was on a heater for most of the tournament.
"I got off to a hot start from the very beginning of the tournament and throughout the day I somehow seemed to keep clashing with the other big stacks at my tables," Whittington told me. "Fortunately for me, I was winning all of these huge hands. It was easily the smoothest, steadiest climb I had ever experienced on a Day 1 of a Main.
Quack, Quack
The hand he recalled took place in Level 16 (2,000/4,000/500) at the tail end of the Day 1a flight. It began when Whittington, fresh off winning Event #9: $400 No-Limit Hold'em (1 Day), limped under the gun holding


and Michael Ledford, winner of Event #1: $400 NLH Double Stack Big-Blind Ante, did the same from the small blind with


.
"Given that I have bottom set, I elected to bet and start trying to get value."
"I was mixing it up all day with raises and limps from all positions, and I look down at deuces and decided to limp," Whittington explained.
"My table was deep enough that even given my poor position it felt justifiable to limp here and avoid raising and facing a possible three-bet. Because I had been limping from all positions sporadically, I felt that my range was well protected which would me to find more ways to win postflop other than flopping a set."
He continued: "At the time I was unaware of who Michael Ledford was, but he actually won the opening event of the stop. He had just been moved to the table less than two orbits prior, but had already shown a propensity to push the issue and force people into big pots."
As it happened, Justin Harvell checked his option from the big and the trio saw a flop of



, giving Ledford top two pair and Whittington bottom set. Both Ledford and Harvell checked and Whittington bet 5,000.
"I decide to go ahead and start building a pot so I flick in 5K," said Whittington. "I briefly considered checking back and if I somehow found myself in this spot with


or


, I would be quite a bit more likely to check since I have the board completely smashed. But given that I have bottom set, I elected to bet and start trying to get value."
Ledford Gives Action
Ledford woke up with a check-raise to 20,000, Harvell folded, and Whittington just called.
"Given the action preflop, I was not at all worried about pocket queens, but I do believe that there was a non-zero chance that he could have nines here given he was the small blind and might not want to bloat the pot versus another large stack pre," Whittington elaborated.
"I figured he may have


or


, even though he theoretically shouldn't raise those. But I am really just praying that he has


or the occasional


or


. I elected to call for the sake of under-repping my hand and allowing him to pile in more of his stack with a hand I likely have drawing thin."
Ledford then bet 100,000 on the

turn and Whittington moved all in.
"This is where the hand gets insane," Whittington admits. "Now we can really start to narrow his hands down after this turn card. It is quite unlikely that he ever has


for a turned top two pair given the preflop action. However, I do still believe it is a non-zero chance. Once this turn hits I think that his most likely holding is a flopped two pair that just doesn't quite know what to do on this scary turn and is just trying to take down the pot here and now."
"I ultimately decided that the time was here and now to try to play for stacks."
Ledford called off with the 230,000 or so he had behind.
Whittington continued: "At this point, if he happens to have pocket nines, so be it. It would be a massive cooler considering the action in the hand when also considering his aforementioned proclivity to fire huge bets from the little action I had seen. I ultimately decided that the time was here and now to try to play for stacks against what is vastly more likely to be a two-pair hand, so I jam. He snaps and my heart sinks a bit, but lo and behold he flips over two pair."
The dealer burned one last time and put out the

. Ledford missed and hit the rail while Whittington went on to bag the Day 1a chip lead.
Pivotal to Success
"When the river was dealt, I was in shock at how absurdly massive the pot became after such innocent preflop action," Whittington concluded. "As I was stacking the chips I just kept saying to myself, and to my roommate, Eric Salazar, who happened to be sitting on my left, 'This day doesn't feel real. I have never run like this in a Main Event.' This hand was pivotal in my success in this tournament."
With that, Whittington went on to get the six-figure monkey off his back and collect the biggest score of his burgeoning career.
Images courtesy of the WSOP Circuit.