Hold'em with Holloway: Lessons To Be Learned When You Hit the Big Stage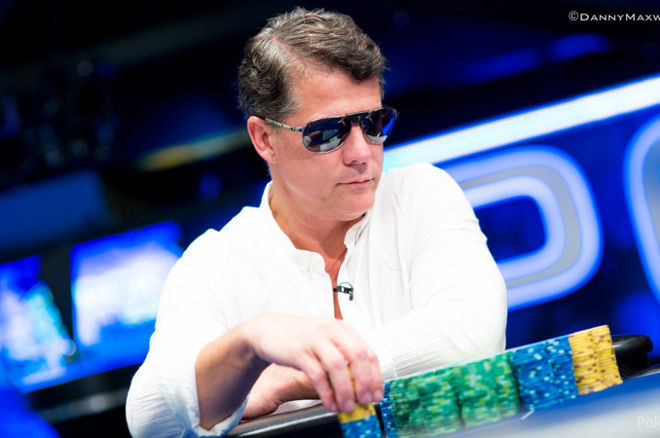 On Days 2, 3, and 4 of the 2016 PokerStars Caribbean Adventure Main Event, a little known Brazilian named Leonardo Pires finished as chip leader, his lead becoming more massive with each day. Heading into Day 5 with just 19 players remaining, Pires held 4.566 million, nearly twice as much as his next closest competitor.
Chip-wise, Pires was the favourite to capture the $833,260 first prize and secure his spot in poker history. However, given the level of competition — which included poker pros Mike Watson, Vladimir Troyanovskiy, and Matt Waxman, just to name a few — and the Brazilian's unconventional style of play, there weren't many who gave him much of a chance.
Unfortunately for him, he proved the naysayers right as he crashed and burned on Day 5, ultimately busting in 13th place for $45,860. It took just four hours for him to go from overwhelming chip leader to the rail, but in reality his demise came over the course of one level.
Pires actually got off to a good start when he played kings to perfection and got poker pro Fabian Ortiz to put his last chips in badly to finish 17th. But then things quickly turned around for Pires.
In Level 24 (12,000/24,000/3,000), a



flop saw Pires fire out 214,000 into a pot of 224,000. Watson called from the hijack, two other players folded, and it was heads-up action to the

turn.
Pires bet 500,000, Watson called, and the

completed the board on the river. Pires moved all in and Watson hit the tank before calling off for 1.01 million.
"Six," Pires said confidently while rolling over the


. Watson then showed the better hand with the


. Pires took a hit on the hand, but still had 5.49 million and remained in front.
Then in Level 25 (15,000/30,000/4,000), Pires lost the chip lead for the first time in days when he raised to 100,000 from early position and Troyanovskiy called from the cutoff. The



flop saw Troyanovskiy call a bet of 150,000 from Pires, and then both players checked the

turn.
When the

completed the board on the river, Pires led out for 350,000 but snap-folded when Troyanovskiy raised to 750,000. With that, Pires dropped to 3.817 million, which means the new chip leader was Watson with 4.16 million.
Pires next lost a big pot to Ken Demlakian, then took another huge hit when he overplayed pocket tens, a hand that left him steaming heading into a break.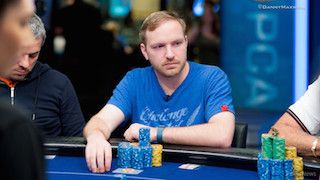 "Anyone smell a meltdown?" Matt Broughton asked on the EPT Live stream. Everyone wondered whether Pires would be able to recover after the break, and he didn't make the crowd wait long to find out the answer.
In the first hand back, Watson raised to 90,000 from the hijack and Demlakian called from the cutoff. When action reached Pires in the big blind, he just moved all in for 1.65 million. Watson shoved all in over the top and Demlakian got out of the way.
Watson:



Pires:


Pires opted to shove with a weak hand, but he got a sweat when the



flop paired his three. Unfortunately for him, the

spiked on the turn to leave him drawing dead to Watson's set.
The meaningless

was put out on the river, and Pires' meltdown was complete. Those watching erupted in disbelief that a player could fall so quickly with so much money on the line.
For me, there were two lessons to be learned from Pires.
When You're Up Against an Unexperienced Amateur, Find Spots to Play
The poker pros at the table were practically salivating as Pires began to bleed chips, and they were looking for any opportunity to mix it up with the Brazilian, who was clearly tilting and overplaying hands. That meant if they caught a part of the flop against him, they were likely to win some chips.
Take the last hand, for example. Watson picked up tens and put in a standard raise. Demlakian just called, and then Pires blew up by shoving all in. Of course he could have held a good hand, but history suggested otherwise. Watson knew it, and that's why he was willing mix it up with the tens. Fortunately for him, no bad beat materialized and he pulled out to a big chip lead.
Players like Pires are wild cards and can be difficult to play against. Some just aren't willing to mix it up with a crazy player, but if you hope to chip up in a poker tournament, you'd better be willing to take advantage when these rare spots creep up.
If You're the Unexperienced Amateur, Tighten Up
Despite losing all the pots that he did — aside from the last one — Pires still had plenty of chips with which to play. He didn't need to shove with four-three, but by that point he'd clearly lost control. Had he just kept his emotions in check and tightened up, he likely would have laddered up the payout structure. He might have even caught a rush of cards to put him back in contention. Instead, he threw away a great opportunity, which was being deep in a major poker tournament with life-changing money on the line.
It's hard to cope when you go from chip leader to short stack (I've experienced it a time or two myself), but if you ever hope to recover, trust me when I say you must tighten up. Playing loose and fast isn't going to earn you back those chips. They're gone. You can't change the past. Realize it, accept it, and get back to playing the best poker you can.
Pires didn't, and now the poker world will remember him as the guy who blew up deep in the 2016 PCA Main Event.
Get all the latest PokerNews updates on your social media outlets. Follow us on Twitter and find us on both Facebook and Google+!