High Stakes Poker Reviewed: Big Hands for Jerry Buss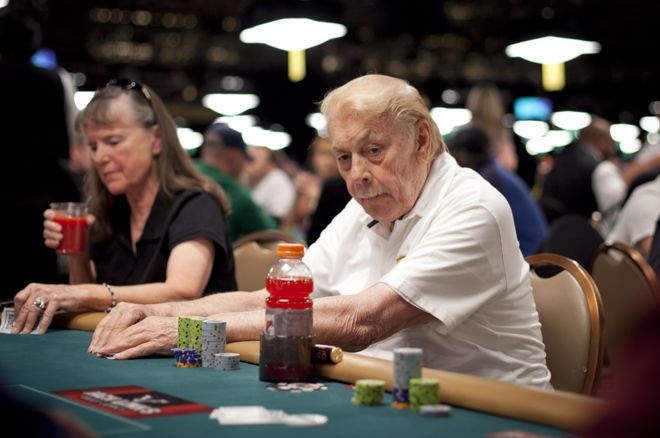 The popular show High Stakes Poker debuted in early 2006, with the first season lasting 13 episodes. Throughout the show's run, episodes were culled from multi-day sessions, so often the same players would be sitting around the table from week to week, although new players were frequently rotated in to change the makeup of the game.
Years later the shows remain highly entertaining, and can even be educational. For new poker players they introduce the game while illustrating many strategic concepts, while those with experience can watch and recognize how certain strategies have evolved over the years since the shows aired.
We've been reviewing those first season shows, with the previous episode highlighted by clashes between Sam Farha and Daniel Negreanu.
Continuing with Season 1, the episode featured below continues with the same line-up. In his opening commentary, co-host Gable Kaplan divides the players into "three distinct groups" — the "volatile" group of Farha, Sean Sheikhan, and Todd Brunson; those "just having fun" like Negreanu, Jennifer Harman, and Eli Elezra; and the quieter Barry Greenstein and Jerry Buss.
This time Buss, the well-liked Los Angeles Lakers owner and avid poker player who passed away in 2013, sees more action than usual while making some big hands. A short profile (around the 24:00 mark) introduces Buss who humbly describes the thrill of being an amateur getting to compete against the pros.
You'll want to stick around for the last hand of this one, too — the biggest of the night, and at the time the biggest shown on High Stakes Poker.
High Stakes Poker: Season 1, Episode 5
| | |
| --- | --- |
| Originally aired: | February 13, 2006 |
| Location: | Golden Nugget, Las Vegas |
| Players: | Todd Brunson, Jerry Buss, Eli Elezra, Sam Farha, Barry Greenstein, Jennifer Harman, Daniel Negreanu, Sean Sheikhan |
| Commentators: | A.J. Benza, Gabe Kaplan |
| Game: | no-limit hold'em cash game, minimum $100,000 buy-in |
| Stakes: | blinds $300/$600, ante $100 |
Strategic Concepts
Check-raise — in the first hand, Buss flops a set in a multi-way pot and check-raises the turn — 2:00 mark
Overpair — Farha and Negreanu get involved in a potentially big hand when the flop comes six-high and both players hold overpairs (i.e., pairs higher than the highest card on the board) — 13:00 mark
Hollywood — after Sheikhan goes all in on the flop, Farha engages in a lengthy sequence of "Hollywooding" (i.e., acting and talking in an exaggerated way) before he acts — 17:00 mark
Big Hand Alert
in the very last hand of the show (and the night), Greenstein and Farha manage to pick up pocket aces and pocket kings, creating a $361,800 pot — 36:00 mark