Hand Analysis: Valentin Vornicu Goes for the River Raise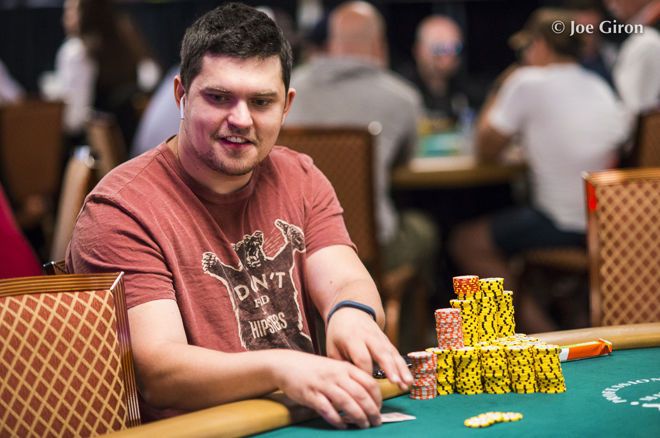 Fans of the World Series of Poker will recall Valentin Vornicu from his frequent appearances during ESPN's coverage of the 2016 WSOP Main Event where he finished 23rd. Meanwhile those who follow or play the World Series of Poker Circuit know the Romanian player better for his 12 WSOP-C rings, the current record.
Vornicu is at this year's WSOP where he's already picked up a couple of cashes. Recently he spoke with PokerNews' Sarah Herring about an interesting hand he played early on Day 1 of Event #17: $1,500 No-Limit Hold'em 6-Handed.
The hand illustrates several important no-limit hold'em concepts, in particular how studying both board texture and bet sizes can help significantly narrow a player's range.
The blinds were 50/100 with no ante. The hand began when Vornicu raised with


and was called by two players, one on the button and a new player in the big blind who had just come to the table.
The flop came



and after the big blind checked, Vornicu continued and the button stepped aside. The big blind then check-raised the minimum to 600 and Vornicu called.
The turn was the

, and the big blind led with a bet this time. (In the hand report in the live updates, the amount was 800.)
"A six is still in his range, but it's starting looking more like a queen there," explains Vornicu. "Like he has some sort of queen and he doesn't believe I have the queen."
The river was the

, putting a third diamond on the board (recall that Vornicu has the

in his hand). That's when Vornicu's opponent made what he describes as "a sheepish bet" of 700.
It was a bet that further confirmed for Vornicu his opponent had a queen with a not-so-great kicker, and the small river bet was essentially a blocking bet designed to get to a cheap showdown. So Vornicu pounced, raising big to 3,500.
Listen to his analysis throughout the hand, including what happened and Vornicu's guess of his opponent's hand:
Keep following coverage of all 78 WSOP bracelet events, including live updates, chip counts, photos, results, features, and more videos right here on PokerNews.