Breaking Down Daniel Negreanu's Big Fold in the Super High Roller Bowl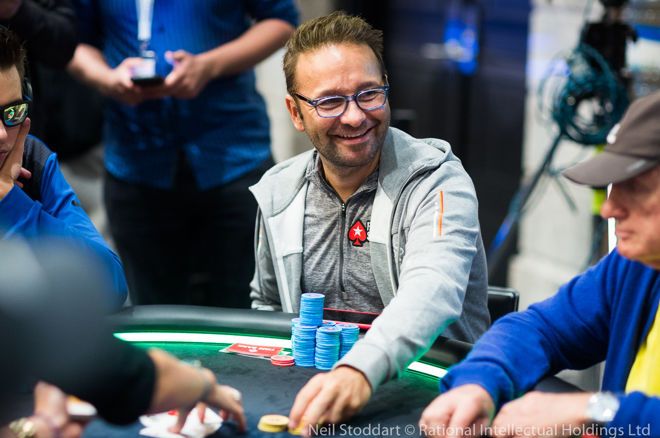 Many of the poker fan feedback on Twitter this week has raved about Daniel Negreanu's entertaining personality and style at the table, a gem that's become more and more rare in the high stakes tournament scene in recent years.
In between making jokes, chatting it up and needling opponents (i.e. entertaining us), Negreanu has been playing some top-notch poker. On Day 1 of the $300,000 buy-in Super High Roller Bowl playing out at the Aria in December, Negreanu made a laydown that has many on Twitter calling him the GOAT.
Nice Fold, Daniel
If you've yet to see the hand that everyone has been talking about from the SHRB, you can watch the clip below.
Does it get any better than this? @RealKidPoker with the PERFECT read at the #SHRBV feature table!

— PokerGO (@PokerGO)
Needless to say, Negreanu felt good about the fold — good enough to share it with his buddy Phil Hellmuth and do a happy dance.
Many people praised the fold, including Phil Galfond, who called it "next-level," which is defined as "surpassing others; uncommonly good or impressive," per the Merriam-Webster definition, as Galfond later pointed out.
Hand Breakdown
After an inquiry, Galfond explained what made it such a good fold:
@Penoyer79 @RealKidPoker It's just that JT is one of the strongest hands Daniel will have in that spot, so if he's… https://t.co/3adsacwgYH

— Phil Galfond (@PhilGalfond)
And Patrick Leonard took it upon himself to run the hand on Piosolver and posted the video, which comes with an added bonus of seeing how the pros use high-level tools to apply theory to their game.
By the end, Leonard concludes that Negreanu's fold is reasonable as would be other ten-x combos, "just because it's so tough to find natural bluffs from Mikita [Badziakouski]."
"I'm happy with how I played. It was a lot of fun." -Negreanu
He explains that most of his river bluffs that play like this (raise flop, check turn, overbet river) are going to be on the more creative side like ace-jack suited or king-jack suited that flopped a backdoor flush draw. The 15-minute video with Leonard's analysis can be viewed on vimeo.
Leonard posted a follow-up tweet explaining: "For those who watched the video, Negreanu having his exact combo blocking the [backdoor flush draw] makes it even more of a fold because he blocks the overcard [backdoor flush draws] that bluffed flop and gave up turn. JTcc (flop was [heart-diamond-spades]) is the 100% call."
All that to say because Negreanu held


and there was one heart on the flop, he blocks some of Baziakouski's potential river bluffs such as


and


. If he held


instead, he would not be blocking any of the flopped backdoor flush hands that could play this way.
Either way, the consensus is: good fold, Daniel.
Daniel's Day 2 Demise
Negreanu was up to his same tricks on Day 2 of the SHRB, playing great and once again getting the best of Badziakouski in the majority of hands they tangled in (including showing him an airball bluff that got through) - but his run would be cut short.
With only the top seven getting paid, the SHRB was down to nine players, and Negreanu's table was playing four-handed. He was the short stack but still quite deep with 72 big blinds. At blinds of 5K/10K/10K BBA, Stephen Chidwick made it 25,000 from the cutoff with ten-nine offsuit and Negreanu called on the button with pocket sevens.
The flop came



and Chidwick continued for 50,000. Negreanu min-raised to 100,000, Chickwick made it 250K and Negreanu called with under a pot-sized bet behind. On the

turn, Chidwick led 150,000 and Negreanu moved it in for his remaining 444,000.
Chidwick thought it over for more than two minutes despite getting four-to-one odds from the pot, and eventually signaled a call with his top pair. Negreanu saw the disappointing news and was left drawing slim, hitting the rail when a blank fell on the river. You can watch the hand play out in the clip below.
Stephen Chidwick just clipped @RealKidPoker on the #SHRBV bubble! How'd it all happen? @MariaHo has the answers aft… https://t.co/FpOOuGPZOT

— PokerGO (@PokerGO)
In the post-mortem interview with Maria Ho, Negreanu discusses the hand, explaining he felt Chidwick was weak on the flop and saw the nine turn as a blank, deciding to get it in over Chidwick's small turn bet. With his spot-on flop read, he was satisfied with how he played the hand, and also with his play in the tournament as a whole.
"I'm happy with how I played. It was a lot of fun," Negreanu told Ho.
And fortunately for Negreanu, when you're madly in love, not even soft-bubbling a $300K can get ya down…
Had a blast once again in the SHRB. Wasn't meant to be with a 9th place finish but I'm more than happy with my play… https://t.co/d2JIcMya3Y

— Daniel Negreanu (@RealKidPoker)