Collusion Continued: When to Frown On "Checking It Down"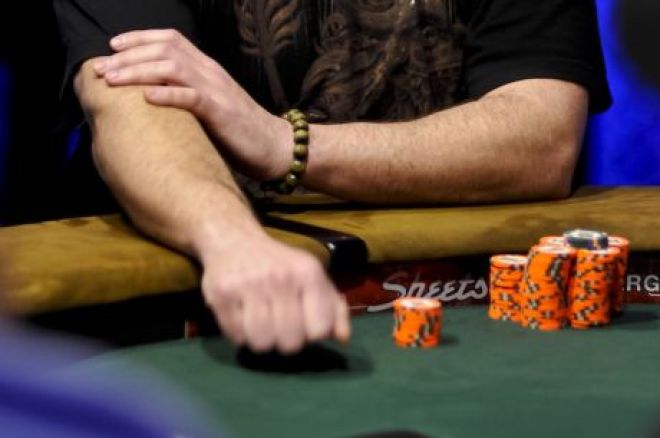 Last week Robert Woolley provided an important reminder to novice players in an article for Learn.PokerNews warning them against collusion when playing live poker with friends.
Continuing with a similar theme, Robert returns this week with a discussion of a different example of collusion, one that sometimes will spontaneously occur between players who might be strangers to one another — and strangers to the inappropriateness of "checking it down" when a third player is all in.
Robert begins with a story from his own play, one that begins with him having unfortunately endured a losing cash game session that had left him short-stacked. A situation subsequently arose in which he found himself caught in the middle of some impromptu colluding by a couple of opponents. He begins as follows:
I'd had a bad session, was getting tired, and was about to go home when I looked down at . The two players to my right were extremely loose, involved in almost every pot. So when the first of them raised it to $12 and the other called, moving all in for my last $30 or so seemed the obvious move.

The action was folded around back to the original raiser and caller, both of whom called. Then one asked, "You want to just check it down?" The other agreed.

I protested to the dealer. He said, "What's wrong with that?"

(Which, by the way, tells you that not knowing rules sometimes afflicts not just players, but the dealers, too!)

Let me explain what's wrong with it....
Those who are new to poker may not immediately see the problem — or unfairness — with two players openly deciding to check down a hand after a third has pushed all in such as was the case for Robert. Even some experienced players may not realize some of the implications of this type of colluding.
As promised, Robert goes on to explain just how doing so harms the all-in player, as well as what happened in this particular instance. He additionally talks about a couple of special circumstances when "checking it down" isn't necessarily as problematic as in the case of his example.
Head over to Learn.PokerNews and read what Robert has to say in "Casino Poker for Beginners: The 'Let's Check It Down' Problem."
Get all the latest PokerNews updates on your social media outlets. Follow us on Twitter and find us on both Facebook and Google+!