Can You Fold Pocket Kings on the WSOP Final Table Bubble?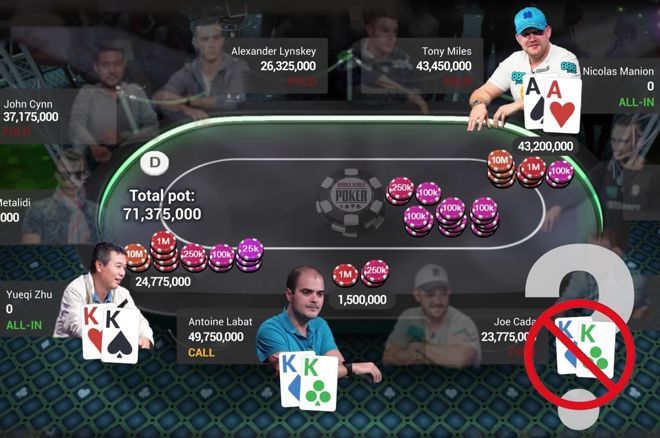 It was one of the most talked about hands from last year's World Series of Poker Main Event, and the hosts of The Chip Race podcast have chosen it for their latest strategy discussion.
In the video below, Dara O'Kearney and David Lappin analyze that memorable and excruciating spot faced by Antoine Labat with 10 players left — just one elimination shy of the official WSOP Main Event final table.
The pair begin with a helpful discussion ICM (the "Independent Chip Model") and the relevance of current stack sizes and remaining payouts are to decisions like the one Labat faced. The hand discussion comes next.
To recap, Nicolas Manion had a bit more than 43 million when he was dealt


under the gun at the 10-handed table. He raised to 1.5 million (2.5x the big blind), and it folded to Labat in middle position. With about 50 million to start, Labat had been dealt


and called the raise.
Those two were among the many "middling" stacks at that point — all far behind the big chip leader Michael Dyer who had over 109 million, and well ahead of the table's short stacks who were in the 15-19 million chip range.
Next to act was Yueqi Zhu who as it happened had been dealt


and shoved all in for almost 25 million. It folded to Manion who reraised all in as well, and that's where Labat had to decide whether to call and put most of his stack at risk or fold his kings.
As O'Kearney points out, in this highly unique spot — the final table bubble of the WSOP Main FT — the ranges for Zhu and Manion would have to be especially tight here, even without considering the ICM implications (which make them even tighter).
Listen to the discussion and hear what O'Kearney and Lappin have to say about the situation, and consider again whether you could have found a fold if you were in Labat's spot.
The Chip Race is a weekly podcast sponsored by Unibet Poker, and can be heard on iTunes and anywhere else you listen to podcasts. Follow David Lappin on Twitter @dklappin and Dara O'Kearney @daraokearney.