Can Jamie Kerstetter Lay Down Jacks on Poker After Dark?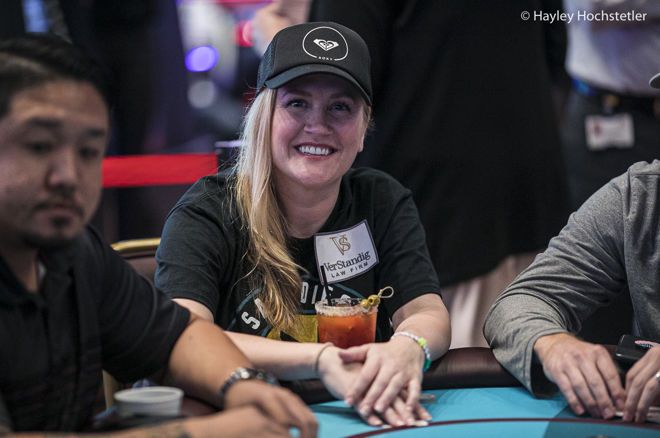 Taking a shot in a bigger cash game than you're used to can make you scared money, especially when the straddles go on.
This is the situation in which WSOP commentator and $5/$10 regular Jamie Kerstetter found herself on an episode of Poker After Dark in a line-up that included Matt Berkey, Brandon Cantu and the 2019 WSOP Main Event final table winner and runner up Hossein Ensan and Dario Sammartino.
Never one to shy away from her mistakes, Jamie brings the lads from The Chip Race podcast a hand where she makes an emotional decision to keep the pot small pre-flop, a choice which puts her in a guessing game versus the maniacal Cantu and ultimately ends up costing Jamie her whole stack.
The hand begins with Jamie in the big blind for $50 and 'wild animal' Brandon Cantu putting on a $200 straddle. Matt Berkey in the hijack raises to $600 with the


. Jamie just calls in the big blind with


and Cantu comes along with


. Jamie, Dara and David discuss in depth the problems with this decision to flat rather than 3-bet.
The flop comes



, Jamie checks and Cantu leads $1100 in the pot of $1875. Berkey folds and Jamie calls. The trio discuss what types of hands Cantu might have in this spot.
The turn brings the

, Jamie again checks and this time Cantu bets $2800 into a pot of $4075. There is general agreement that, as played, Jamie must call again as they discuss the possible straight draws, flush draws and combo draws that Cantu could have.
The river brings the

, Jamie checks, the pot is $9675 and Cantu puts her all-in for effectively $5425. Jamie explains her thought-process, confused by Cantu's lead on the flop. They contemplate the blocker importance of the Jack of Clubs being in her hand. Dara explains what a solver would do.
In the end, Jamie makes the call and gets the bad news. A good sport about it all, she jokes about how she normally likes to leave right after a hand like that like the building is on fire.
The Chip Race is a weekly podcast sponsored by Unibet Poker, and can be heard on iTunes and anywhere else you listen to podcasts. Follow David Lappin on Twitter @dklappin and Dara O'Kearney @daraokearney. You can also follow @thechiprace.