Call, Reraise, or Move All In? Pocket Eights vs. a Short Stack Shove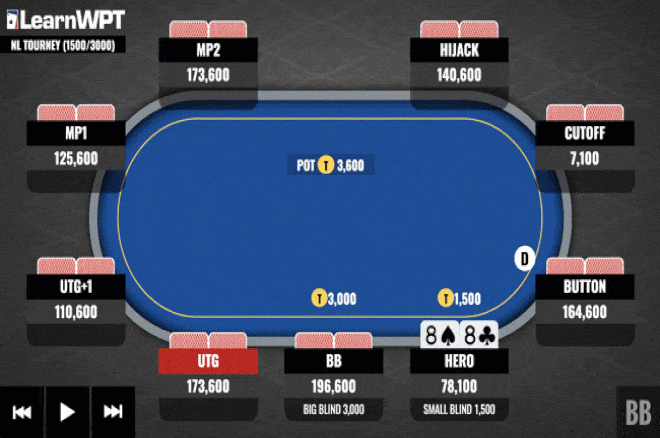 DECISION POINT: In a no-limit hold'em tournament, it folds to a short stack who shoves from the cutoff. The button folds, and you are in the small blind with


. Action is on you...
PRO ANSWER: This short-stacked player moved all in from the cutoff seat for only 2.4 big blinds. This hand range should be very wide. We are well ahead of that range with pocket eights, so folding is not an option. The only question is whether we should call, reraise, or move all in.
Calling this all-in sets up an opportunity for the big blind to squeeze-shove to isolate the initial all-in. If we call, there are many hands with two overcards to our


that will shove from the BB.
With hands that have lots of equity but are vulnerable to overcards (such as pocket eights), it's crucial to avoid multi-way all-ins and isolate the short stack. We do not want to induce a shove from the big blind behind us by calling.
After deciding to raise, we must choose between reraising a smaller amount or moving all in.
We do not want to give the big blind perceived fold equity on a shove for the same reasons that we don't want to induce a shove from the big blind by flat-calling the short stack all-in. Our


is too vulnerable to induce further action.
Moving all in is the best play.
LearnWPT is a poker training site dedicated to transforming the poker games of rank beginners, skilled amateurs, and aspiring professionals. Offering both Live Workshops and Online Training, is a one-stop shop for poker education, designed to provide all the tools a player needs to become a winner. Visit LearnWPT.com today and get 2 Free Strategy Episodes that will immediately impact how you play. LearnWPT.com - Think Like a Pro!