Bluffing With Nothing: Barrel Again or Give Up?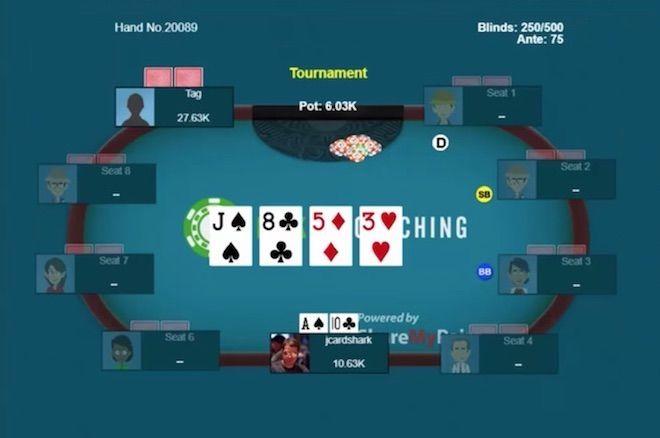 Happy New Year, everyone. Today I wanted to share and discuss a hand I played during a $5,000 buy-in World Series of Poker event last summer, an interesting one that saw me bluffing postflop from out of position with nothing but ace-high.
The blinds were 250/500 with a 75 ante. It folded to me in early position (UTG+1) where I'd been dealt


, and with a stack of about 13,000 I opened with a raise to 1,100. As I talk about on the video below, looking back on this hand I would prefer just folding from early position with this hand and stack.
It folded around to the cutoff where a tight-aggressive player who had me well covered called my raise, and the two of us saw a flop come



. With about 3,600 in the middle, I made a continuation bet of 1,200 and was called once more.
The turn brought the

— a complete blank. Should I barrel again, or give up? The answer to that question depended a lot on how often I expected my opponent to float and how often I thought he might fold to an additional bet.
Take a look at what I decided to do, listen to my explanation for why I did it, and see what happened:
How would you have played this hand? Would you have fired again on the turn?
Jonathan Little is a professional poker player and author with over $6,600,000 in live tournament earnings. He writes a weekly educational blog and hosts a podcast at JonathanLittlePoker.com. You can follow him on Twitter @JonathanLittle.