Big River Decisions in GPL Playoffs as Montreal Takes Title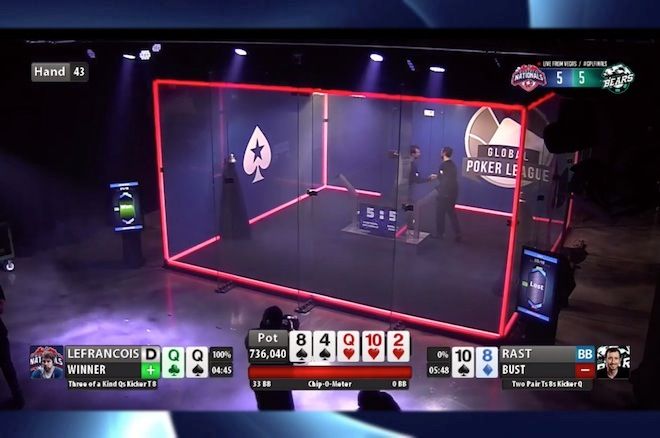 It took just over eight months, with more than 170 regular season matches culminating in an eight-team playoff, but the Global Poker League has at last crowned its first season's champion. After winning the Americas Conference title, the Montreal Nationals defeated the Eurasia Conference-winning Berlin Bears in a tight match yesterday, winning six games to five in the best-of-11 final.
As always in these GPL matches involving some of the game's best tournament players, there was a lot of interesting strategy to consider along the way. One intriguing hand from last night occurred during the fifth game of the series pitting Jason Lavallee of the Nationals against Brian Rast of the Bears.
It was just the fourth hand of the match, by which point Lavallee had a slight chip lead. Rast raised from the button with


, Lavallee three-bet with


, and Rast called.
The flop came



, giving Rast a set, and both players checked. The

fell on the turn, and after Lavallee checked, Rast bet and Lavallee called.
The river was the

, leaving Lavallee with his pair of jacks while Rast remained best with his set of deuces. Lavallee checked again, and Rast shoved all in — a bet representing more than twice the pot and nearly 100 big blinds.
Lavallee thought for a long time as commentator Joe Stapleton made reference to Rast's bet being "polarized" — a concept that came up in a hand from the day before involving Rast.
Part of the context for this hand was an earlier one played during Game 3 between the same two players. In that one Lavallee shoved the river with pocket aces and Rast tanked for some time with second pair of queens. Eventually Rast folded, saying he might have called if if not for some of the talk between them during his long tank.
Here Lavallee does all the talking, thinking out loud while Rast remains quiet. Take a look at what happens:
Lavallee's pocket jacks, a strong hand preflop, had very much been reduced to a "bluff catcher" by the river here (a concept Lavallee references during his tank). Having won the earlier game between them Lavallee would lose this game, but would win another later on versus Rast as the championship continued.
The Nationals were up 5-3 when the Bears' Sorel Mizzi won two straight elimination games to even things up at five games apiece, setting up a deciding 11th game between Montreal's Pascal Lefrancois and Rast who again represented the Bears.
They'd battle for 43 hands total, with Rast taking a lead early, then Lefrancois seizing the advantage before the season-culminating hand took place.
The last hand was a bit of a "cooler," with Lefrancois flopping top set of queens, then Rast turning two pair (tens and eights). There were still some interesting choices made in the hand, however, including Lefrancois only calling the turn and Rast pushing on the river, although Lefrancois's decision to call that last push was an easy one. Take a look:
Congratulations to the Montreal Nationals, the first Global Poker League champions. You can review highlights of the action from this week's playoffs here on PokerNews, and every hand of every match can be rewatched over on the GPL site.