Ari Engel on How to Manage Expenses Traveling the Tournament Circuit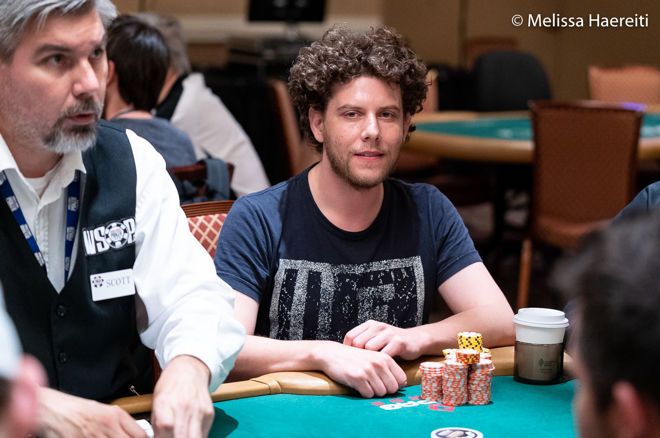 The 2019-20 World Series of Poker Circuit is well underway with the Harrah's Cherokee stop coming to a conclusion on Monday before the WSOP-C travels to Foxwoods in Connecticut next week.
One player who will no doubt be seen at many WSOP-C events again this year will be Ari Engel. Originally known as "BodogAri" online, Engel has earned nearly $6.7 million throughout his career in live tournament play, including capturing nine WSOP Circuit circuit rings.
Other highlights for Engel have included a victory in the 2016 Aussie Millions Main Event for a first prize worth over $1.1 million, the largest score of his career. Then this past summer, Engel achieved a milestone by finally winning his first WSOP bracelet in Event #48: $2,500 No-Limit Hold'em.
Recently, I sat down with 35-year old poker pro to discuss his experience constantly traveling from event to event and to gather advice for amateur players who are also looking to travel the WSOP-C.
PokerNews: Throughout the year you travel so frequently, going from one tournament series to the next all over the world. Do you actually have a home base?
Ari Engel: I really don't. I consider myself a person of the world. I'm really a nomad as I do a lot of traveling. I don't stay in one place more than a couple of weeks and sometimes in one place for just a few days. I'm constantly on the move.
What advice can you give to novice players regarding traveling to poker tournaments?
Many players leave their travel plans up until the last minute. With this pattern, the cost of their plane tickets is significantly more.
I look at the tournament schedules, such as the WSOP Circuit, way in advance. I buy my tickets early, which is definitely key to help reducing the cost of travel. Of course, you may have to pay a change fee later on if you want to leave early.
Additionally, some items such as hotel and car rentals can sometimes be canceled within 24 hours of arrival, so you can book these at a reduced rate well in advance with no penalty.
However, I will say that to do all of this, you really have to be well organized. I typically put a reminder in my phone for all my future reservations.
Would you agree that saving money on these expenses is truly key in surviving in the world of tournament poker?
Absolutely, but many players don't look at it this way. Let's say you have $400,000 in buy-ins and $500,000 in cashes, so you made $100,000 in profit at the poker table. A lot of players are trying to increase their cashing amount to like $550,000 to make more money.
However, I think it would be a lot easier for them to just work on keeping their expenses down. At the end of the day, the bottom line is the bottom line, which includes all of your expenses. I think this is something that a lot of players could work on.
There are all sorts of ways to keep your travel expenses down. For some people, this might mean staying in a hotel away from the casino and/or rooming with someone. For others, it could mean driving to the tournament instead of flying.
You definitely do an excellent job saving money on travel as this is a key expense of playing tournament poker. Is there any area that you will splurge on?
First, I want to explain that while I try to save money, I use the rule of thumb of good value, not just the cheapest one. I try to avoid the low cost airlines, but some people don't mind them, especially if they are direct flights.
Having said that, one area I tend to splurge on is traveling internationally. The trips can be long and tiring, so I often save up my miles and use them to get a business or first-class seat. If you purchased this international ticket, it would cost four to five times the amount of a coach ticket, but if you do it through miles, the business class seat is only double the miles as economy. So, I tend to do almost all of my travel internationally using miles.
Recently, the WSOP Circuit began incorporating another element into many of their events that can add additional cost to players — re-entries. What are your thoughts or advice for amateur players regarding re-entries?
First, before we get to re-entry topic, I believe that the players should be focused on bankroll management. To be honest, many players shouldn't even be entering an event for the first time based on their bankroll. Even though the event may seem like a low buy-in such as $400 on the WSOP Circuit, some players really don't have the bankroll to play in this event.
However, if the event is within your bankroll, another re-entry shouldn't affect you that much. You have already traveled to the event and probably have the hotel room that night, so there will be no additional cost except the re-entry cost. As long as you are in a good mindset, I would definitely consider re-entering, as long as your bankroll is sufficient.
However, realistically, players are not going to be as sharp after they re-enter, especially if they are re-entering multiple times.
Personally, if the tournament has multiple flights, I may consider not re-entering that same day and re-entering on a different flight.
Thanks for your words of wisdom and good luck on the tournament circuit.
Thanks, Bernard. See you soon.