Introduction
Omaha High/Low is a very popular poker variation that can be played in almost every poker room in the World. Especially online, the fan base of this poker variation is growing day by day. Beginner Omaha Hi/Lo players might have some trouble with the "Low" hands. There is often confusion about which "Low" hand is the best, and therefore, being able to recognize the best "Low" hand is an essential skill that new players will have to learn. As with everything in poker, the fastest way to learn is by playing.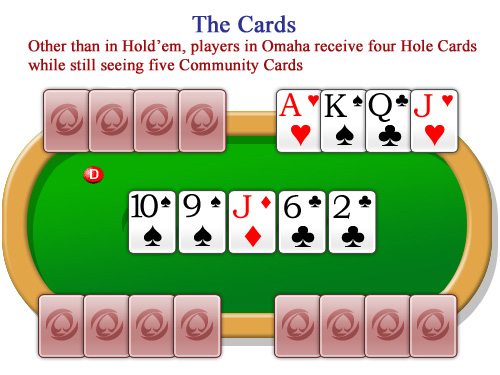 Low Hands
To find out which player has the best Low hand, the first thing you look at is the highest card, then the next highest card, and so on. If both players have a

as their highest card, then you look at the next highest card of both players. If both players have a

as their next highest card, you again look at the next card. In this case one of the players could be holding a

and wins against his opponent who is holding a

.
Example Hands:
Hero:




Villain:




Board:





Although Hero has an Ace as his lowest card here, he will still lose both the High and the Low hand to Villain in this case.
Hero's Low hand:





Villain's Low hand:





Many new players often think that


will automatically secure them the Low hand and will often raise and re-raise on a board like this because they believe that they will "scoop" the pot (win the Low and the High hand). This is where things often go wrong. Villain, in this case, wins the High with his straight 2-3-4-5-6, and he also wins the low because his highest card is the

while Hero's highest card is the

.
As you can see, being able to read Low hands correctly is very important. In the example above, A-3 would be the nut low hand, followed by A-5 and 2-3.
Omaha Basics
Just like in Omaha High, Omaha Hi/Lo requires you to make the best five-card hand while using two of your Hole Cards and three Community Cards. Seeing as you have to make two different hands in Hi/Lo, you are allowed to use different cards for the High and the Low, as long as you always use 2 Hole Cards.
Example:
Your hand:




Board:





In this case you would use


for your Low hand and use


for the High hand. As you can see you don't have to stick with two cards for both hands.
Starting Hands
The most important decision you have to make in every poker variation is: which hands am I going to play? Every game starts with hands selection. In Omaha Hi/Lo you should always try and go for the scoop, which means you always want to win the High and the Low pot.
Ideal starting hands will always have an Ace and another low card in it. For example:
















The Ace is very important in Omaha Hi/Low because the nut-Low will always involve an Ace (since the nut-Low is A-2-3-4-5, also known as a 'wheel').
Conclusion
Try to avoid playing hands with which you can only go for the High, such as




. With a hand like this you will often end up splitting the pot with a low hand, which means you win little or lose big. Hands like




are also real problem hands. You can never make the best low with this hand and often hit the wrong side of the straight.