Win The Ultimate McLaren F1 Experience With McLaren Card Rush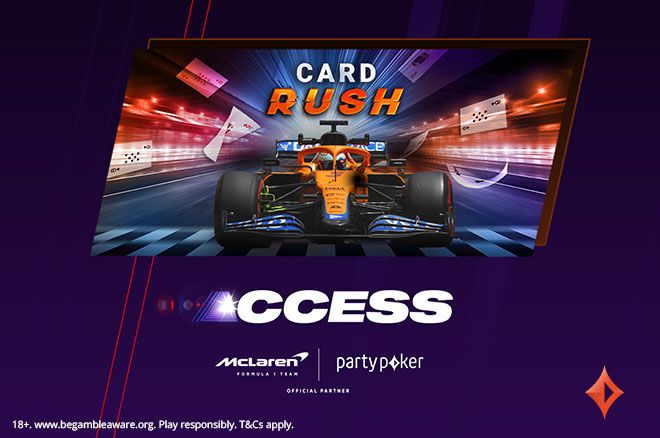 The partnership between partypoker and Formula One racing outfit McLaren continues bearing fruit with an unbelievable prize up for grabs in the new McLaren Card Rush promotion that is in-play now.
McLaren Card Rush sees partypoker players receive a click card when they earn just 0.40 cashback points playing cash games or fastforward 0.40 points is the equivalent o a mere $0.40 in rake, meaning everyone has the chance to open at least one click card. Up to four additional cards can be opened each day, once predetermined cashback points totals are hit.
The cards contain various prizes, including cash from $0.50 up to an impressive $1,000, and McLaren Miles, which are used to climb up the month-long leaderboard where one lucky partypoker player will win the $1,000 cash top prize. The top 1,000 points earners also receive cash prizes.
McLaren Racing partners With partypoker and PartyCasino
You receive one prize draw ticket for each McLaren Mile you earn, so the more McLaren Miles you have, the better your chances of winning what is an incredible prize. The top prize is an amazing package for two to the F1 Emirates Grand Prix De France in 2022! The package contains two VIP hospitality tickets, and $5,000 for travel and accommodation expenses! it will be an unforgeable experience for whoever wins this epic prize, even more so if the winner is a F1 fan.
Start Your McLaren Card Rush Quest With £40 of Free Play
The McLaren Card Rush promotion is only available to partypoker players, which means you are going to need a partypoker account if you do not already play at the site.
Download partypoker via PokerNews, create your free account, then decide how much you want to deposit because you only need to deposit £10 to receive the free play offer, but the bonus comes with a matched bonus, too.
partypoker Has a Superb Prize For McLaren Superfans
Deposit £10 to receive £40 worth of SPINS and MTT tickers during your first week. SPINS are partypoker's take on jackpot sit & Go games. The $5 buy-in level has a jackpot of $1 million!
Day 1: 5x $1 SPINS tickets +1x $5.50 MTT ticket
Day 2: 1x $3 SPINS tickets +1x $3.30 MTT ticket
Day 3: 1x $3 SPINS tickets +2x $3.30 MTT ticket
Day 4: 4x $0.25 SPINS tickets +1x $5.50 MTT ticket
Day 5: 1x $5 SPINS tickets +1x $3.30 MTT ticket
Day 6: 5x $1 SPINS tickets +1x $5.50 MTT ticket
Your first deposit also comes with a 100% matched welcome bonus; you need to deposit £400 to receive the full amount. The bonus releases into your playable balance in 10% increments each time you generate 10% of the total loyalty points required. To clear the full bonus, you need to accumulate four-times the bonus amount in loyalty points.