Don't Miss Run It Once's Awesome Euro 2020 and Poker Promotion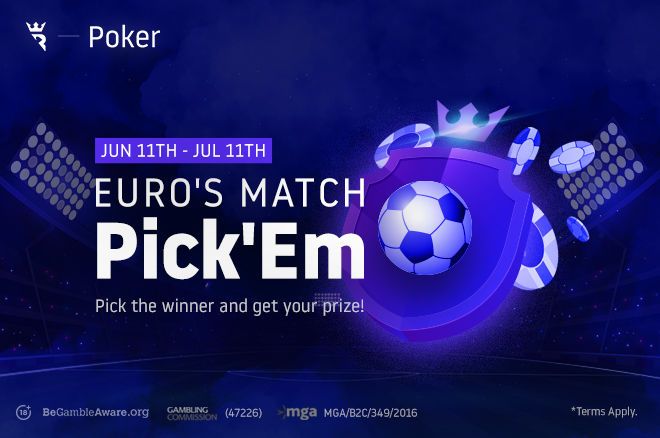 The delayed European Championships (Euro 2020) has reached the knockout stages and the excitement is building fast. Excitement is also reaching fever pitch at Run It Once Poker where Euro's Match Pick'Em promotion is building up steam.
Run It Once Poker invites its players to make bold predictions on the outcome of some key Euro 2020 fixtures. Correctly predict the result of the pre-selected games and you enjoy some awesome prizes, including double Splash the Pot winnings, 25% extra direct rakeback, and Cash Booster prizes worth up to €750. Check out this article for a more detailed look into how the prizes work.
More than 40% of Run It Once Poker's customers have made at least one prediction, and it is fair to say they know their football. Some 58% of predictions have been correct, meaning they are enjoying plenty of rewards. Add up all the money given back by Run It Once Poker from this promotion so far and you discover participating players have received an average of 16.5% extra rakeback each day, which is on top of the rich rewards they already enjoy at the site.
Check out what you can win in the Euro's Match Pick'em promo
Matches Waiting For Your Predictions
Run it Once has added some key Euro 2020 matches up to June 29. All matches are handicapped, with one team enjoying a 0.5 goal start. For example. Italy vs. Austria has Austria at +0.5. This means if you choose Austria to win and Austria draw, you still win!
The Italy vs. Austria match is one you simply have to make a prediction for even if you do not want to make any others. This is because it is a triple award match, meaning it determines if you receive double Splash the Pot rewards from all your play from June 24-26.
| Date | Fixture | Promotion |
| --- | --- | --- |
| Sat 26 Jun | Italy vs. Austria (+0.5) | Double Splash the Pot Winnings |
| Sun 27 Jun | Belgium vs. Portugal (+0.5) | 25% Extra Direct Rakeback |
| Mon 28 Jun | France vs. Switzerland (+0.5) | Cash Booster |
| Tue 29 Jun | Sweden vs. Ukraine (+0.5) | 25% Extra Direct Rakeback |
Making a prediction takes less than a minute, and you are essentially 50-50 to receive some extra rewards. Furthermore, if you are a new depositing player, your rewards are double each day you put your neck on the line and correctly predict the outcome of a game.
Five Amazing Reasons Why You Should Play SNGs on Run It Once
Fancy a Welcome Bonus That Never Expires?
You should know by now that Run It Once Poker has its players interests at heart. Where some online poker sites place limits on how long you have to release your welcome bonus, Run It Once Poker allows you to take however long you like.
Download Run It Once Poker via PokerNews, create your free account, and make your first deposit. Run It Once Poker matches your deposit, and every subsequent deposit for the first 30-days, up to a combined maximum of €600. Your bonus never expires so long as you play at least one raked hand every 30 days! The table below shows how and when your bonus is released into your playable balance.
| Bonus Progression | Rake This | Get This |
| --- | --- | --- |
| €0-€100 | €25.00 | €5 |
| €100-€200 | €57.10 | €10 |
| €200-€300 | €66.50 | €10 |
| €300-€500 | €100 | €10 |
| €500-€600 | €200 | €10 |