partypoker Tournament Dollars, Satellites With a Twist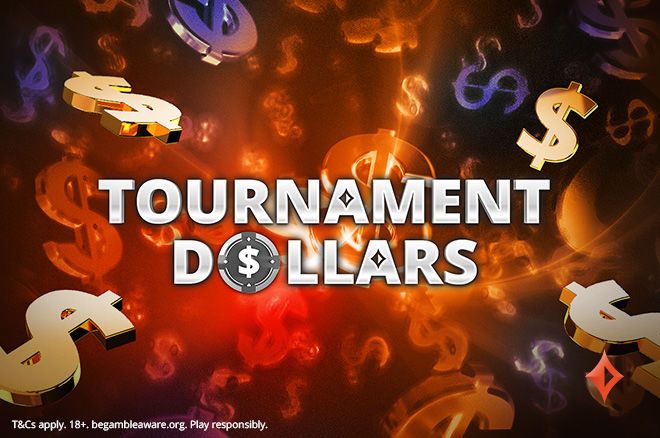 Satellite tournaments are extremely popular in the online poker world because they give players the opportunity to play in events they would not ordinarily be able to afford. Tournament dollar satellites take these tournaments to the next level by giving players the ultimate in flexibility. T$ satellites are available at partypoker.
Tournament dollar satellites play the same way as a traditional satellite but with one key difference. They pay out tournament dollars (T$), hence the name, instead of seats into specific tournaments and events.
This virtual currency gives you more flexibility when it comes to playing in higher stakes tournaments because you can spend them on multi-table tournament entries, to buy into Sit & Go tournaments, partypoker's jackpot SPINS, and even the site's online tour events. You can even use T$ to enter more satellites, including satellite dollar satellites!
James "James23C" Carmichael Wins $1 Million in $5 partypoker SPINS Tournament
What Buy-In Levels and Prizes Are There?
The tournament dollar satellites at partypoker come with five buy-in levels. Each pays out in T$ worth 10-times the satellite's buy-in. For example, the $1.10 games pay out T$10 with the $22 buy-in level awarding tournament dollars in $200 chunks.
| Buy-in | Pays Out |
| --- | --- |
| $1.10 | $10 tournament dollars |
| $2.00 | $20 tournament dollars |
| $5.50 | $50 tournament dollars |
| $11 | $100 tournament dollars |
| $22 | $200 tournament dollars |
Each tournament dollar satellite comes with a guaranteed prize pool, which is usually three-times the prizes awarded. For example, the $5.50 buy-in games tend to have 3x T$50 guaranteed.
Play Some Tournament Dollar Satellites With Your partypoker Welcome Package
The partypoker welcome package is made up of tournament tickets and SPINS entries, giving you the chance to play some tournament dollar satellites for free.
Download partypoker via PokerNews, create your free account, before depositing at least £10. Doing so rewards you with £40 worth of MTT and SPINS tickets over the course of a week.
Day 1: 5x $1 SPINS tickets +1x $5.50 MTT ticket
Day 2: 1x $3 SPINS tickets +1x $3.30 MTT ticket
Day 3: 1x $3 SPINS tickets +2x $3.30 MTT ticket
Day 4: 4x $0.25 SPINS tickets +1x $5.50 MTT ticket
Day 5: 1x $5 SPINS tickets +1x $3.30 MTT ticket
Day 6: 5x $1 SPINS tickets +1x $5.50 MTT ticket
The $5.50 MTT tickets can be used for tournament dollar satellites in addition to other multi-table tournaments. You may find the SPINS tickets more exciting, however, because the $5 version makes it possible to play for a $1 million top prize!
Good luck!