Free SNG Select Tickets in YOUR Run It Once Poker Account!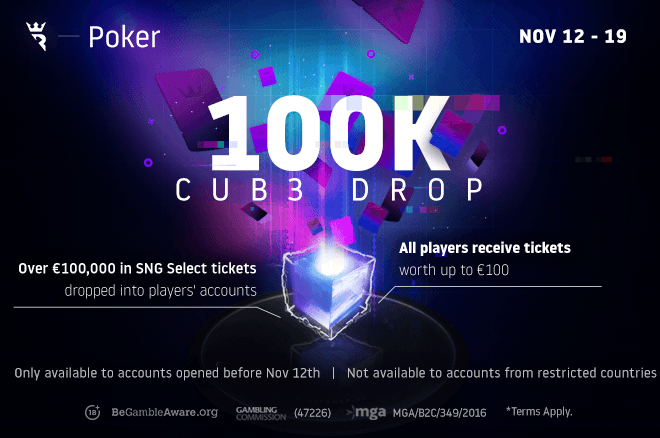 Have you heard the big news at Run It Once Poker?
No - this has nothing to do with the Galfond Challenge, which we admit is also amazing but nothing new.
What's new is that Run It Once recently launched sit-and-go tournaments dubbed SNG Select to supplement its cash game offerings!
The games have a unique style which we will get into later in this article.
To help celebrate, Run It Once has given all players dropped over €100,000 worth of SNG Select Tickets into its players' accounts.
Simply log into Run It Once Poker to see what your bundle is. It could be anywhere from €1 all the way up to €100 in SNG Select tickets!
Collect Your Free SNG Select Ticket Bundle!
What is SNG Select?
SNG Select combines the two most popular forms of sit-and-go tournaments in the same game.
The games are three max affairs with each player independently deciding whether they want to play a SNG Select Classic game with standard payouts or the lottery-style SNG Select CUB3D which will pay out random prizes up to 1,500-times the buy-in for the winner.
The SNG Select CUB3D is a bit different than other lottery-style games. As we already mentioned, players will play in the same SNG Select games whether they chose Classic or CUB3D but this isn't the only difference.
Another big difference is that you won't know what you are playing at the start of a lottery-style game like every other online poker network that offers these games does. Instead, you will crack a CUB3 after you win that will tell you what you have won.
In addition, you don't have to win to necessarily get a CUB3 as they are also randomly awarded to other places in what Run It Once refers to as Glitch Prizes. These prizes are unraked and just an added benefit to choosing the SNG Select CUB3D format.
Here is a quick rundown of how to enter SNG Select games:
Players go into the "SNG Select" lobby and move a slider at the top to either Classic or the proprietary "CUB3D," RIO's take on the lottery format.
They pick their chosen buy-in level.
They'll be seated for a three-handed hyper-turbo — other formats will be added down the road.
If they win and they selected Classic, they win a fixed prize posted from the start. If they selected CUB3D, they win a randomized prize that can be up to 1,500-times the buy-in.
---
Read More: Learn what Phil Galfond had to say about SNG Select.
---
How to Claim Your FREE SNG Select Bundle
Run It Once has given away early Holiday presents to all its players in its 100k CUB3 Drop on Nov. 12.
If you are already playing at Run It Once, the tickets should already be in your account.
One out of every 100 players will receive a bundle of €100 tickets and every player will be awarded at least a €1 ticket. Here are the odds of receiving specific ticket bundles.
| Ticket Value | Distribution % |
| --- | --- |
| € 100 | 1% |
| € 50 | 2% |
| € 25 | 5% |
| € 10 | 6% |
| € 5 | 17% |
| € 2 | 25% |
| € 1 | 44% |
Two things you should note is that the tickets are only good for SNG Select CUB3D and not for SNG Select Classic and that the tickets expire on Nov. 19 at 11:59 p.m. UTC.
So don't wait forever to use your tickets! Head to Run It Once Poker today to check out the SNG Select CUB3D tournaments for FREE!