Three Promos to Watch: Bubble Bonus, UOS Slot, and the Summer Showdown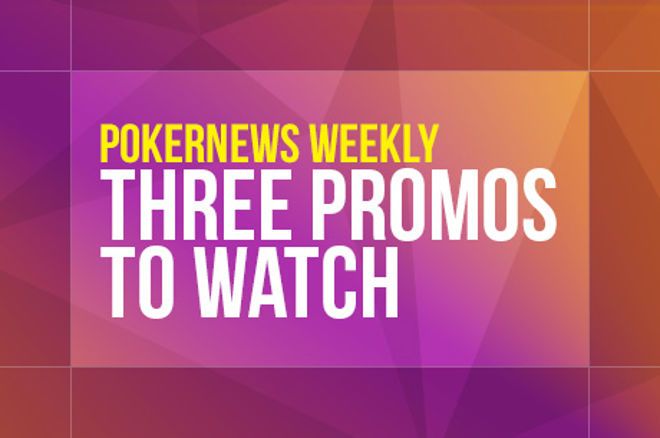 Are you ready to feast your eyes on some excellent online poker promotions? We've found a trio of promos that are dripping with value and are super-easy to get involved with. They take place at bet365, Unibet Poker, and Betsafe and are all detailed below.
Win Up to €100 When You Bubble a bet365 Tournament
Bursting the money bubble in a poker tournament is never fun, in fact it's quite the opposite. Being the unfortunate bubble boy at bet365 Poker can result in a €100 cash prize finding its way into your account.
There are nine eligible Sunday featured tournaments that have the Bubble Bonus active. Finish a single place outside the prize money in any of these tournaments to receive a free spin on the bubble bonus wheel.
The Sunday Takedown
The Sunday Sensei
The Sunday Senpai
The Sunday Shuriken
Way of the Dragon
The Main Sunday Sweat
The Mini Sunday Sweat
The Sunday Rumble
The Black Belt
Prizes come in the form of tickets and cash prizes. €0.20 and €0.50 general tickets are waiting to be won, along with cash prizes ranging from €1 to €100. Never fear bubbling a tournament ever again at bet365 Poker.
Find out more about the bet365 bubble bonus
Receive Up To Three Prizes Per Day in the Unibet Online Series Slot
You've got until September 21 to win free spins on the Unibet Online Series Slot. Every Unibet poker players receives a free spin on the Unibet Online Series Slot each week, meaning you're guaranteed to receive at least one prize each week. Those prizes range from freeroll entries right up to a €1,100 Unibet Open Online ticket.
It's possible to receive up to three more prizes every day by completing the daily challenges. There are challenges for cash game players, sit & go tournament grinders, and HexaPro experts. They're all easy to complete and you can read all about them here.
Don't forget to sign up to Unibet Poker via PokerNews for an awesome welcome package that includes a €200 bonus and a slew of tournament tickets.
Win a €1,100 Unibet Open Online ticket for free!
Showdown Pocket Pairs at Betsafe And Win Up To €1,000
The Summer Showdown at Betsafe is frighteningly simple to get involved with despite the promotion making it possible to win up to €1,000 cash.
Showing down specific pocket pairs on different days of the week is all that's required to get your hands on a prize. Prizes start with 50 Reward Points and there are also cash sums from €1 to €1,000.
Perhaps the best thing about this promotion is the cards you need to showdown are hands that you're likely to get to showdown with. Don't worry about having to bluff with seven-deuces, you'll be trying to showdown jacks, queens, kings, and aces!
| Day | Mission |
| --- | --- |
| Monday | Showdown AA |
| Tuesday | Showdown KK |
| Wednesday | Showdown QQ |
| Thursday | Showdown JJ |
| Friday | Showdown QQ |
| Saturday | Showdown KK |
| Sunday | Showdown AA |
Just make sure you start each day's mission before you hit the tables otherwise you won't be eligible to a prize wheel spins. Told you it was simple!
Showdown pairs and you could win €1,000