Three Promos To Watch: Cash Games, Fishy MTTs, and Norse Gods!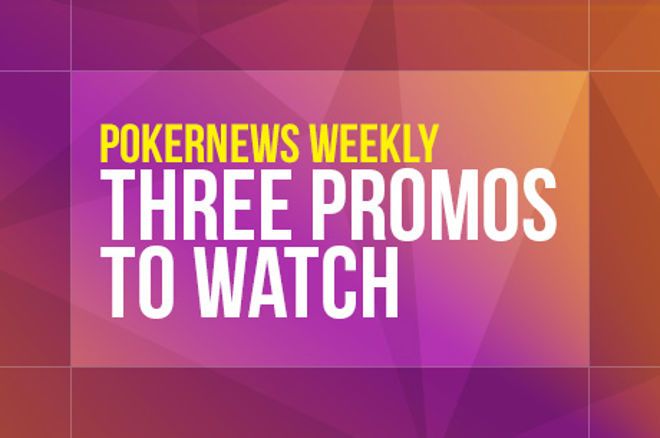 There's a real mixed bag for you in this week's Three Promos To Watch piece that includes cash game grinding, fish-related tournaments, and a sprinkling of Norse Gods. Yes, really! Continue reading to discover why Run It Once Poker, 888poker, and partypoker are the sites to grind at right now.
Six Daily Leaderboard at Run It Once Poker
Run It Once Poker recently launched its leadeRboards promotion and it's fair to say it has been a massive hit with their players. They've been deemed so successful that Run It Once Poker's management team keep extending them and boosting the leaderboards' prizes.
There are three No-Limit Hold'em and a trio of Pot-Limit Omaha leaderboards each day and they each payout the top 10 points earners. Cash prizes worth up to €200 are sat, waiting to be won by those players who get their grind on and rack up points.
Players whose staple game is PLO200 or above can also compete in a weekly leaderboard where the top 15 players win between €100 and a cool €2,000.
Earning points is simple: receive 1 point for every €1 generated in rake. The leaderboards are split based on the stakes you play for, making for a fairer experience because you're battling with opponents playing at the same level as you.
Learn more about the awesome LeadeRboards
Play Some Fishy Tournaments at 888poker
888poker is well-known, almost famous in fact, for having more than its fair share of recreational cash game players, but its tournaments are also fishy. They're literally fishy because some of the site's best tournaments are named after creatures you'd find in the sea!
First, there's the Catfish that runs four times per day. The buy-in for the Catfish is $12 but its guarantees range from $1,500 and $4,000 depending what time of day you're playing.
Two Swordfish tournaments run each day, the Mini Swordfish and Late Night Swordfish. The mini commands a $3.30 buy-in and features a $1,000 guarantee. That late-night edition's buy-in weighs in at $30 and pays out at least $3,000.
Then there's a trio of Starfish events, including a deepstack edition. All three cost $22 to enter and have guarantees up to $2,000.
You may find some of these fish washed up on the shore during Monsoon season, which is another 888poker tournament. Three Monsoon tournaments run every day, each costing $55 to enter. Two have $2,000 guaranteed prize pools, but the main Monsoon, at 7:30 p.m. CET, has a juicy $10,000 prize pool waiting for you to win.
Know your Catfish from your Monsoon?
Take On Norse Gods in $300K Worth of Freerolls
partypoker's latest promotion is giving back $300,000 to its players in the form of freeroll tournaments.
The Ragnarök Party Quests promotion sees 14 freerolls take place throughout the week with combined guarantees worth more than $70,000! Each of the freerolls is named after a figure or place in Norse mythology and has a guarantee ranging from $500 right up to a cool $20,000.
You gain entry to the freerolls via the Ragnarök prize wheel. Everyone receives at least one free spin per day, with each spin guaranteeing either a random freeroll entry or $1,000 in cash. Up to five more spins are your once you complete the tasks unique to your account.
| | | | |
| --- | --- | --- | --- |
| *Day | Time (BST) | Freeroll | Prize Pool |
| Daily | 6:00 p.m. | Asgard | $500 |
| Monday | 7:00 p.m. | Fenrir | $4,000 |
| Tuesday | 7:00 p.m. | Loki | $4,000 |
| Wednesday | 7:00 p.m. | Odin | $15,000 |
| Thursday | 7:00 p.m. | Thor | $10,000 |
| Friday | 7:00 p.m. | Valhalla | $20,000 |
| Saturday | 7:00 p.m. | Surtr | $4,000 |
| Sunday | 7:00 p.m. | Heimdall | $10,000 |
The Friday Valhalla freeroll is special, not only because of its $20,000 prize pool, but because any unused freeroll tickets are converted into bonus chips for your starting stack! Any ticket you land before 11:00 p.m. BST on Thursday lands you a bonus Valhalla ticket. Any unused tickets add 500 chips to your Valhalla stack up to a maximum of 25,000, giving you an advantage over most of the field!
Play in $300K worth of freerolls at partypoker