Double Trouble Week on Run It Once Poker! DOUBLE Splash the Pot + Legends Rewards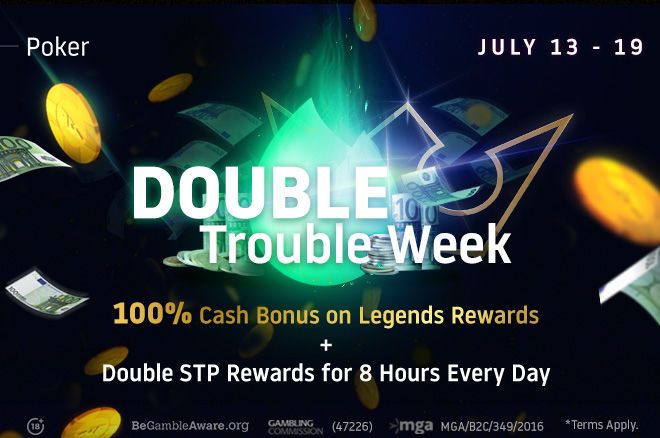 It looks like the already generous people over at Run It Once Poker are feeling extra generous this week, with all Legends and Splash the Pot Rewards doubled this week.
During the week of July 13th-July 19th players are able to cash in on extra value, with every Legends prize worth twice its standard value.
Not only that, but their unique in-game 'Splash the Pot' rewards system will be doubled for eight hours every day! There are four two-hour Double 'Splash the Pot' windows, where 60% rakeback will be splashed across the tables.
Double 'Splash the Pot' Reward Windows
| Rakeback | Time Period (UTC) |
| --- | --- |
| 60% | 05:00-07:00 |
| | 11:00-13:00 |
| | 17:00-19:00 |
| | 23:00-01:00 |
Receive Up to 134% Rakeback!
If you haven't played on Run It Once Poker, then download the client now and make your first deposit. You will receive extra cash rewards from Run It Once's 100% Welcome Bonus!
During Double Trouble Week, all Legends rewards will automatically be worth twice their standard value! Players will be able to follow their progress directly in the client.
For example, if a player reaches Hearts Level 5 under normal conditions, they see that they have earned a €100 cash reward for the week. During this promotion, players that reach Hearts Level 5 will see that they have earned a €200 cash reward!
Start Your Run It Once Poker Career With a €600 Bonus
Run It Once is giving all PokerNews reader a welcome bonus worth up to €600. Download Run It Once Poker via our links, create your account and watch as all your deposits for the first 30-days after making your first deposit are matched 100% up to a combined maximum of €600.
The bonus releases into your account at the rates shown in the table below. Perhaps the best feature of this bonus is it never expires so long as you play at least one raked hand every 30-days. Do this and you can take as long as you wish to clear your bonuses.
| Bonus Progression | Rake This | Get This |
| --- | --- | --- |
| €0-€100 | €25.00 | €5 |
| €100-€200 | €57.10 | €10 |
| €200-€300 | €66.50 | €10 |
| €300-€500 | €100 | €10 |
| €500-€600 | €200 | €10 |