Miss Old School Poker? Play in the Freezeout Series at 888poker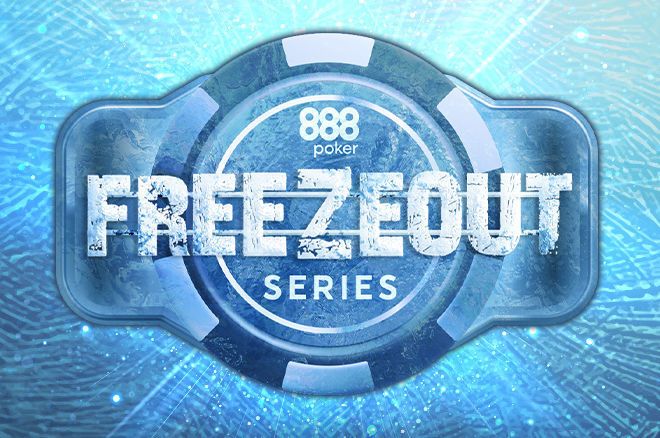 Table Of Contents
Are you tired of eliminating an opponent early on in a tournament only to see them back competing again?
Back in the old days, this was rarely a problem with re-entry and rebuy tournaments being the exception rather than the rule.
While there are benefits to re-entry tournaments for most players, many agree there is nothing purer than a freezeout event putting every player on an even playing field regardless of the size of your bankroll.
This weekend, we travel back in time to the days where online poker tournaments were freezeouts with 888poker hosting it's inaugural Freezeout Series from June 21-29.
Play in the Freezeout Series at 888poker
Nearly $700,000 in Guarantees!
The Freezeout Series features 24 action-packed events with combined guarantees of $665,000.
Of course, it is natural that the guarantees are somewhat lower than in other festivals held at 888poker since those allow players to re-enter while these tournaments only allow one bullet per player.
All of the games are in no-limit hold'em with buy-ins affordable for everyone ranging from $5.50 to $109. Of course, it is possible to qualify into the events of your choosing through feeder and satellite tournaments starting at just $0.01.
This Sunday (June 21) features three big events with total guarantees of $85,000!
| Time | Event | Buy-in | Guarantee |
| --- | --- | --- | --- |
| 6 p.m. | FO Series #1 - $50,000 Tune Up | $55 | $50,000 |
| 6 p.m. | FO Series #2 - $20,000 Mini Tune Up | $16.50 | $20,000 |
| 8 p.m. | FO Series #3 - $15,000 Late Tune Up | $33 | $15,000 |
$200,000 Guarantee Flighted Main Event
The highlight of the festival is easily the $200,000 guaranteed FO Series #24 - $200,000 Main Event featuring a $109 buy-in.
One might argue that this is the only tournament that isn't a pure freezeout as it is a flighted event. On the other hand, with players only allowed one entry per flight, it is at least a freezeout during each opening flight.
Day 1 flights are already running in the 888poker client each night at 6 p.m. GMT.
The tournament features an amazing structure with players starting with 10,000 in chips and blinds increasing every 20 minutes. Each Day 1 flight ends after the sooner of 12 blind levels or when 15 percent of the field remains.
All players that virtually bag chips will return for one final day on June 29 at 6 p.m. GMT when one player will be crowned the first-ever champion of the FO Series #24 - $200,000 Main Event.
888poker Freezeout Series Schedule
| Date | Time | Event | Buy-in | Guarantee |
| --- | --- | --- | --- | --- |
| June 21 | 6 p.m. | FO Series #1 - $50,000 Tune Up | $55 | $50,000 |
| | 6 p.m. | FO Series #2 - $20,000 Mini Tune Up | $16.50 | $20,000 |
| | 8 p.m. | FO Series #3 - $15,000 Late Tune Up | $33 | $15,000 |
| June 22 | 6 p.m. | FO Series #4 - $20,000 8-Max | $55 | $20,000 |
| | 6 p.m. | FO Series #5 - $15,000 Mini 8-Max | $16.50 | $15,000 |
| | 8 p.m. | FO Series #6 - $10,000 Late 8-Max | $33 | $10,000 |
| June 23 | 6 p.m. | FO Series #7 - $30,000 9-Max | $109 | $30,000 |
| | 6 p.m. | FO Series #8 - $15,000 Mini 9-Max | $16.50 | $15,000 |
| | 8 p.m. | FO Series #9 - $10,000 Late 9-Max | $55 | $10,000 |
| June 24 | 6 p.m. | FO Series #10 - $30,000 PKO 8-Max | $109 | $30,000 |
| | 6 p.m. | FO Series #11 - $20,000 Mini PKO 8-Max | $22 | $20,000 |
| | 8 p.m. | FO Series #12 - $15,000 Late PKO 8-Max | $33 | $15,000 |
| June 25 | 6 p.m. | FO Series #13 - $30,000 PKO | $109 | $30,000 |
| | 6 p.m. | FO Series #14 - $20,000 Mini PKO | $22 | $20,000 |
| | 8 p.m. | FO Series #15 - $15,000 Late PKO | $33 | $15,000 |
| June 26 | 6 p.m. | FO Series #16 - $20,000 DeepStack | $55 | $20,000 |
| | 6 p.m. | FO Series #17 - $15,000 Mini DeepStack | $16.50 | $15,000 |
| | 8 p.m. | FO Series #18 - $10,000 Late DeepStack | $33 | $10,000 |
| June 27 | 6 p.m. | FO Series #19 - $30,000 6-Max | $109 | $30,000 |
| | 6 p.m. | FO Series #20 - $15,000 Mini 6-Max | $16.50 | $15,000 |
| | 8 p.m. | FO Series #21 - $10,000 Late 6-Max | $55 | $10,000 |
| June 28 | 6:30 p.m. | FO Series #22 - $40,000 Mini Main Event | $33 | $40,000 |
| | 7 p.m. | FO Series #23 - $10,000 Micro Main Event | $5.50 | $10,000 |
| June 29 | 6 p.m. | FO Series #24 - $200,000 Main Event - DAY 2 | $109 | $200,000 |