Want to Win A Free Entry to the SCOOP Main Event? Here's How!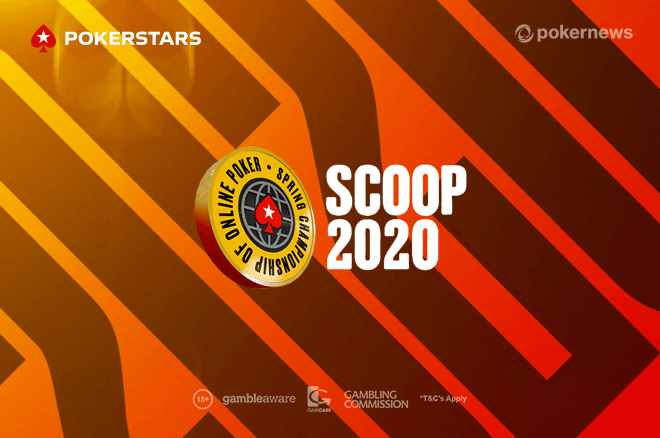 Update May 15: Thank you all for signing up! The PokerNews exclusive freeroll has reached its maximum capacity and is now full. Make sure to subscribe to our newsletter to be the first to receive any future exclusive offers and good luck on Friday!
The 2020 Spring Championship of Online Poker (SCOOP) is in full swing, with $95,000,000 in guaranteed prizes. On Sunday, May 17, all eyes of the poker world will turn to PokerStars as the Main Events get underway, each with millions of dollars in guaranteed in prizes!
The Low edition especially, with a buy-in of $109 and a mouth-watering guarantee of $3,500,000, is a fantastic opportunity to turn a reasonable buy-in into a massive, six-figure prize.
And you can get in for free, exclusively through PokerNews!
How? It's easy, all it takes is these three steps:
Step 1: Sign Up For The PokerNews Mailing List
The first thing you need to do is sign up for the PokerNews mailing list. If you haven't subscribed yet, make sure to fill in the box below to not miss out on this freeroll! Being on the mailing list, you'll be the first to receive the latest news and exclusive offerings specifically tailored to poker enthusiasts like you.
Once you're on the list, make sure to keep a keen eye on your email box in the next week as we'll whisper the password to you before the tournament gets underway.
If you're already a subscriber: great! There's nothing else you need to do.
Want to subscribe to the PokerNews mailing list? It's easy: fill out your email address below and check the box.
Step 2: Register for the PokerNews SCOOP Freeroll on Friday, May 15
After signing up, it's time to showcase your poker talents against other PokerNews readers!
On May 15 at 8 p.m. CET (7 p.m. UK / 2 p.m. EDT), you'll duke it out in an exclusive $1,090 freeroll with ten $109 SCOOP tickets awarded to the top finishers.
Make your way to the final ten? Congratulations, the free ticket is yours!
The tournament ID on PokerStars is 2887964132. Use [Tools > Find a Tournament], enter the tournament ID and locate the exclusive PokerNews freeroll. Sign up with the password you've received and you're good to go!
Follow all the latest from the SCOOP - LIVE!
The PokerNews live reporting team is on top of all things SCOOP. Don't miss a beat!
Step 3: Play the SCOOP 74-L $109 Main Event on Sunday, May 17
Are you one of the ten winners of the PokerNews freeroll? Congratulations, you're battle-tested and have proven you're ready to go. Get ready for the big one!
On Sunday, May 17 at 7 p.m. (6 p.m. UK / 1 p.m. EDT), the SCOOP 74-L $109 Main Event will begin with tens of thousands of players taking a shot at life-changing money. With your ticket, you'll play for a slice of the $3,500,000 guaranteed prize pool for free!
That's not all: the ten winners will also be followed in the PokerNews live coverage, making your name stand out while all eyes of the poker world are glued to the screen. This is your time to shine, are you up for the task?
What are you waiting for? Subscribe to the mailing list, play the freeroll and win one of the ten free $109 tickets for the SCOOP 2020! Will you be poker's next big winner?
Download PokerStars and start playing today
Don't Miss the Exclusive PokerNews Freeroll!
Date: Friday, May 15
Time: 8 p.m. CET (7 p.m. UK / 2 p.m. EDT)
Tournament ID: 2887964132
Buy-in: Freeroll
Password: [received by email before registration starts]
Prizes: 1-10 will receive a free $109 Ticket to SCOOP 74-L: NLHE Main Event
Registration for the PokerNews SCOOP freeroll opens on May 14th at 8 p.m. CET / 2 p.m. EDT. The tournament is exclusive to PokerNews readers. Sign up for the PokerNews mailing list to receive the password, which will be sent out before registration opens. Make sure to register in time!
The Stars Group is a majority shareholder in Oddschecker Global Media, the parent company of PokerNews