Double Cash Rewards For The Rest of May at Run It Once Poker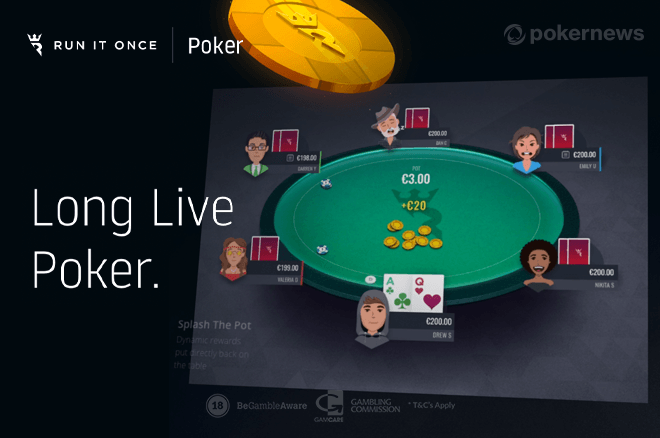 The fifth month of the year is almost done and dusted but now is not the time to take your foot off the gas, especially at Run It Once Poker. Phil Galfond's online poker site is offering all its players double cash rewards for the final week of May. Continue reading then start grinding!
Run It Once's Legend rewards program makes it possible to earn up to 75% rakeback every week. Until May 31, Run It Once Poker players can increase their rakeback even further with a 100% cash bonus on all Legends rewards.
The promotion is simple: hit the Run It Once Poker tables and whatever the amount you earn from the Legends rewards program will be matched 100% directly into your account.
For example, if you're a Run It Once Poker player who usually reached Hearts Level 5, normally you'd receive a €100 cash reward. For the final week of May, however, you'll receive €200 instead!
You'll receive your Legend rewards payment and this 100% boost within 48-hours of May concluding. What you spend your extra money on is entirely up to you.
Six ways to earn Legends points at RIO
Ways To Earn Legends Points
There are several different ways you can earn points for the Legends rewards program. You'll earn the bulk of them by playing in Run It Once Poker's action-packed cash games. But did you know you receive points just for logging into your account, or by playing a rake hand?
Be sure to check out this article that shows you six different ways you can boost your Legends rewards points tally.
A €600 Welcome Bonus That Never Expires?
The welcome bonus at Run It Once Poker is superb and you can tell Galfond and Co. designed it with the players in mind.
All your deposits for the first 30-days of you holding a Run It Once Poker account are matched 100% up to a combined total of €600. This bonus is then released into your account balance when you hit specific rake milestones show in the table below:
| Bonus Progression | Rake This | Get This |
| --- | --- | --- |
| €0-€100 | €25.00 | €5 |
| €100-€200 | €57.10 | €10 |
| €200-€300 | €66.50 | €10 |
| €300-€500 | €100 | €10 |
| €500-€600 | €200 | €10 |
Learn more about the Legends reward program
Perhaps the best feature of the Run It Once Poker welcome bonus is it doesn't expire. Simply play at least one rake hand every 30-days and your bonus will be there waiting for you to fully release. This is great because it doesn't pressurize you into playing a large volume of poker in one chunk. You can take your time knowing you'll eventually get your hands on the full bonus amount.
Download Run It Once Poker via PokerNews and see why hundreds of budding poker players are making this their first choice for online poker.