Earn An Extra €500 in the Run It Once Cash Booster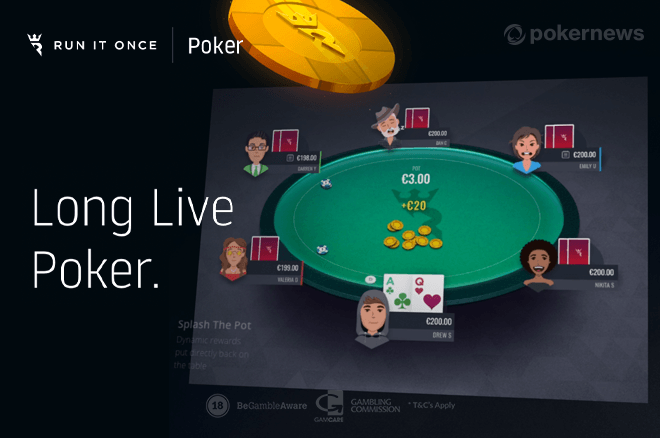 The guys over at Run It Once Poker are in a generous mood, probably because of Phil Galfond's epic comeback in his heads-up challenge, and have launched the Cash Booster promotion.
Cash Booster runs through until 11:59 p.m. UTC on April 19 and it gives you the chance to earn between €5 and €500 extra from the Run It Once Poker Legends cashback program. Your reward depends on which rank of the Legends program you manage to achieve this week.
Those reaching clubs bank an additional €5, Diamonds earn €20, Hearts secure €125, with Spades walking away with an additional €500.
| Booster | Cash Reward |
| --- | --- |
| Clubs | €5 |
| Diamonds | €20 |
| Hearts | €125 |
| Spades | €500 |
You can only earn one of the Cash Booster bonuses. Run It Once Poker awards you the highest booster that you achieve all five levels of. For example, if you manage to clear three levels of Spades, you will receive €125 because Hearts was the last level you fully completed.
All payments are scheduled to be in your account within 48-hours of the Cash Booster promotion ending.
Six Ways to Earn Legends Points
---
Earn Up to 75% Cashback
Run It Once Poker makes it possible to earn up to 75% cashback on your real money play with its Legends program.
Everyone receives 30% cashback via the awesome Splash The Pot feature. Splash The Pot randomly awards players by dropping extra cash into pots in real-time. Thirty per cent of all rake collected is put back onto the table, literally, by Splash The Pot.
Players can then earn up to an additional 45% cashback by climbing up the Legends VIP scheme.
Clubs members receive 10% cashback with Diamonds receiving up an additional 12.5% on top of Splash The Pot. Those in Hearts secure 15% cash back with Spades receiving 20% on top of the 30% Splash The Pot. Anyone making Legends status receives 30% extra cash back.
Players also receive up to 15% extra cashback if they hit Legends status for four consecutive weeks, meaning you can get your hands on 75% cashback!
---
Help Yourself to a €600 Welcome Bonus
/run-it-once-poker/download/Download Run It Once Poker via PokerNews and you're eligible for a 100% up to €600 first deposit bonus. In fact, all your deposits for the first 30-days are matched 100% up to a combined maximum of €600.
The bonus releases into your available cash balance when you hit specific rake milestones, as shown in the table below.
| Bonus Progression | Rake This | Get This |
| --- | --- | --- |
| €0-€100 | €25.00 | €5 |
| €100-€200 | €57.10 | €10 |
| €200-€300 | €66.50 | €10 |
| €300-€500 | €100 | €10 |
| €500-€600 | €200 | €10 |
You have forever to clear the bonus as long as you play at least one raked hand every 30-days!
---