Limited Time Only! Get a Free Training Course, Boosted Rewards, & Big Bonus at Run It Once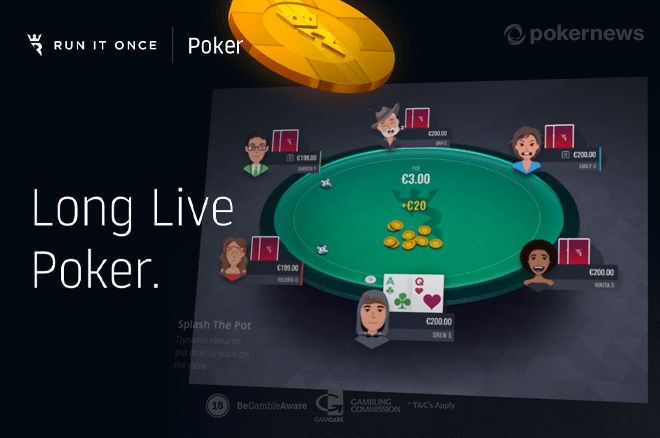 The online poker room Run It Once Poker has been getting its share of attention from the poker world these days with the site's founder Phil Galfond attempting to mount a comeback in the highly publicized Galfond Challenge heads-up match against "Venividi1993" after being down almost seven-figures.
Now is the perfect time for you to join Galfond and many others with Run It Once boosting its welcome package between now and March 31 in its Legend of the Green promotion.
Grab Your 100% Deposit Bonus up to €600 at Run It Once!
Bonus, Boosted Rewards, and Free Training!
The Legend of the Green promotion allows new players at Run It Once to be rewarded with a well-rounded welcome package that includes a spectacular bonus, boosted rewards in their Legends Rewards program, and a free lifetime training package from the online poker room's sister site Run It Once Training.
Grab a Your Bonus Up to €600
Everyone always wants to know about the bonus when they sign-up for a new online poker room and you will be pleased to learn that the welcome bonus at Run It Once is perhaps the most flexible bonus available anywhere.
Simply download Run It Once through PokerNews and you will automatically be eligible for a 100 percent bonus up to €600.
The amount is just part of what makes it good as it isn't just on your first deposit. In fact, you can deposit smaller amounts for the first 30 days and your bonus will be cumulatively matched up to €600.
One problem many players have is clearing a bonus within a specific amount of time. This won't be a problem at Run It Once as their bonus never expires provided that you play at least one hand within a 30 day period.
Up to 90 Percent Rakeback!
You can practically play rake-free during the first four weeks after making your first deposit with Run It Once offering boosted rewards in its Legends Rewards program.
After you create your free Run It Once account and make your first deposit, you will automatically have your Legends Rewards boosted by 100 percent for the first two weeks.
This can add up fairly quickly, so get ready to play as much as possible after your first deposit.
The boosted rewards don't end there. The two weeks following this period you will also be rewarded with a 50 percent boost to your Legends Rewards.
This can all add up to up to 90 percent in rakeback, making this a can't miss promotion.
SEE ALSO: The Legends Rewards program completely explained.
Free Cash Game Training
You should consider brushing up on your poker skills while stuck at home during the coronavirus outbreak.
The good news is you can do so for free as Run It Once Poker is offering all players that make their first deposit between now and March 31 free lifetime access to the Run It Once Training's No-Limit Hold'em cash game course, From the Ground Up.
This is a free $49.99 in value that you can have absolutely for free!
Run it Once Essential Pro Peter "Carroters" Clarke will walk you through all the no-limit hold'em cash game essentials. Topics include thinking like a pro about equity and EV and learning to develop a simple and effective preflop gameplan. In addition, you will be provided free access to downloadable preflop charts.
You will, of course, need an account at Run It Once Training to be able to access this free course.
After you have made your first deposit on Run It Once Poker, simply send an email to [email protected] with your Run It Once Training username with the subject line "Free FTGU Course" and the From the Ground Up training course will be yours for free.
Download Run It Once Today!
There is no better time than now to sign-up to Run It Once Poker with a great welcome package including a big bonus, up to 90 percent rakeback, and free poker training.
Remember you only have until March 31, so hurry up before time runs out.
In case you breezed through the article quickly, here is a quick summary of what could be yours if you download Run It Once Poker and make a deposit before March 31.
100% deposit bonus up to €600 on all your deposits for 30 days that potentially never expires.
100% rewards boost in the Legends Rewards program for the first two weeks.
50% rewards boost in the Legends Rewards programs for the next two weeks.
Free access to the From the Ground Up poker training course at Run It Once Training valued at $49.99.