Grab Up to €500 This Week in the Cash Booster at Run It Once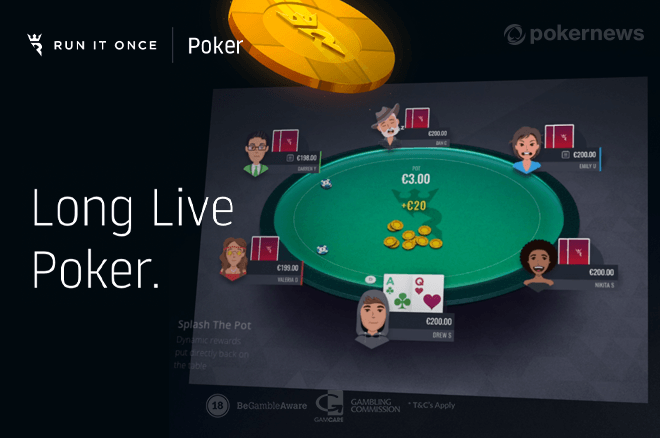 With live poker on the backburner temporarily due to safety measures aimed to stem the spread of the coronavirus, the poker world is becoming increasingly focused on online poker.
One of the biggest stories going on right now is the Galfond Challenge with Run It Once founder Phil Galfond showing signs of life by putting together a string of winning seasons against "Venividi1993" after being down almost seven-figures.
Although the competition is very captivating, now is the perfect time to hop onto Run It Once yourself as the online poker room has made its rewards system extremely lucrative for the next week with its Cash Booster promotion running from March 16-22.
How Cash Booster Works
Before we hop into the Cash Booster promotion, it is important to know about the unique rewards system at Run It Once dubbed Legends Rewards which combines both splashed pots and standard rakeback.
The rewards system features five ranks (Legends, Spades, Hearts, Diamonds, and Clubs), each with five levels where depending on your status you will be rewarded anywhere from 40 percent to 75 percent in rakeback.
Figures can differ slightly from player to player within tiers with Splash the Pot awarding about 30 percent in rakeback. Of course, this figure could be higher or lower depending on your luck when these pots show up and the frequency you win it.
The remainder of the rakeback depends on which tier you are on and is a flat amount ranging from 10 to 30 percent. Another flat 15 percent can be achieved by maintaining the highest status of Legend for four straight weeks or more to bring your total potential rakeback up to 75 percent.
The majority of the points you will achieve will be through playing with each €0.05 in rake contributed awarding you one point. You can also get extra points with your first log-in of the week and playing your first hand of the day.
These great rewards are available all the time. But this week only, you can grab even more with the Cash Booster promotion. If you complete all five levels of the lower four ranks of Spades, Hearts, Diamonds, and Clubs between March 16-22, you will get a cash reward between €5 and €500 depending on the level completed as follows.
| Booster | Cash Rewards |
| --- | --- |
| Clubs | €5 |
| Diamonds | €20 |
| Hearts | €125 |
| Spades | €500 |
SEE ALSO: The Legends Rewards program completely explained.
Completing the five levels in the Clubs rank in a week is even something the smallest stakes player can do with targets on bigger prizes if you are up to the grind.
Why not grab some free money for yourself. Sign-up to Run It Once through PokerNews and not only can you claim some big rewards in the Cash Booster promotion but also get your hands on a 100 percent first deposit bonus up to €600!
Run It Once Poker is open to players residing in qualifying jurisdictions now. Check it out here!