10 Players Will Win Free Trips to Las Vegas in the WSOP Vegas Guest List Promotion for the WSOP 50th Anniversary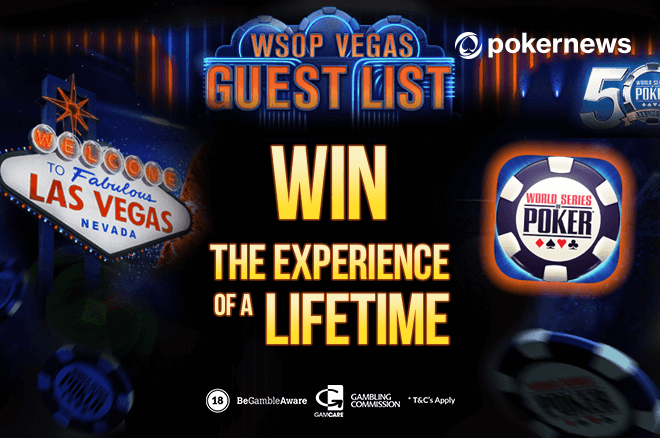 The World Series of Poker (WSOP) has a fantastic social poker site that allows you to play poker cash games and tournaments. Until Apr. 20, players at the WSOP social poker site have the chance to win one of 10 free trips to fabulous Las Vegas!
Check out the 2019 WSOP Vegas Guest List Sweepstakes promotion today and see if you can win yourself a free trip for two to Las Vegas during the upcoming WSOP festival. Vegas trip winners will have flights and transportation paid for by WSOP, get to stay in the world-renowned Caesars Palace, get to meet WSOP champions and the legendary commentators Lon McEachern and Norman Chad, and gain backstage access to the WSOP Main Event!
The luxury all-inclusive package includes and allows you to:
Two-night weekend stay for two guests at the world-renowned Caesars Palace
Flights, meal and transportation expenses for two guests provided
Backstage access to the WSOP Main Event
Hang out with WSOP champions
Meet legendary commentators Norman Chad and Lon McEachern
Players from the 50 United States and the District of Colombia, plus all of Canada with the exception of the Province of Quebec are eligible to enter the WSOP Vegas Guest List Sweepstakes.
Once you've headed to the WSOP Guest List website, you are invited to fill in some personal details and confirm you are a resident of the US or Canada and are 21-years of age or older. Once these few details have been entered, you will receive a sweepstake entry.
It's possible to earn more sweepstake entries than the allotted once per day, by playing at the Play WSOP social poker site, with more entries awarded for ranking up, clubbing up, or purchasing more chips. The more entries you have in the sweepstake, the better your chances are of winning a Las Vegas trip!
One sweepstake takes place every day and there are 10 draws in total. Do not miss out on the chance to win your way to Las Vegas, it is completely free after all and who wouldn't love a free trip to the wonderful place they call "Sin City"?