Win Fast at PokerStars in the New "Time Tourneys"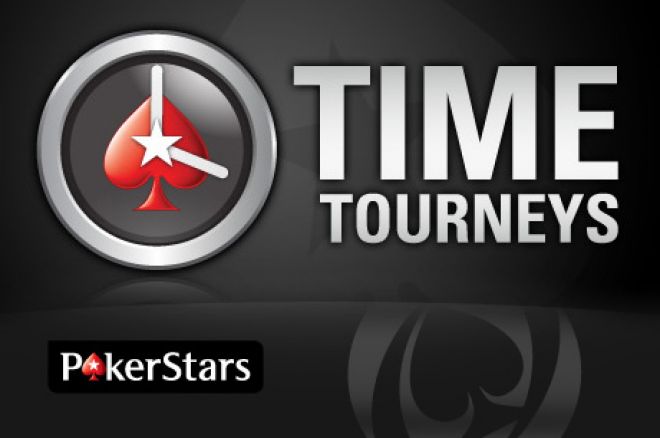 Download PokerStars and be the first to try the fast paced new tournament format called 'Time Tourneys'!
Play Fast, Finish Fast, Win Fast
To add to the excitement of a standard poker tournament, PokerStars have just introduced an innovative new format of tournament poker which they have named the "Time Tourney".
In Time Tourneys, instead of playing until one player has all the chips like in a traditional tournament, play will only last for a set period of time. Once this time limit is reached, the tournament is stopped and the entire prize
pool is divided among the remaining players, with the earnings based on players' stack sizes.
The new tournament format is available in a range of different buy-ins, starting at $1 and are also available in a range of different tournament lengths with Time Tourneys lasting anywhere from a minimum of 15 minutes to a maximum of 180 minutes.
The Time Tourneys can be located in the PokerStars lobby via the 'Tourney' tab and will feature a unique stopwatch icon to distinguish them from regular tournaments.
While Team PokerStars Pro Betrand 'ElkY' Grospellier is known for crushing standard format tourneys, even he is getting behind the exciting new tournament format, stating that: "Time Tourneys are going to be so much fun. I often want to play a tournament but don't have hours to spare, so these are just perfect. I think Time Tourneys are also going to be intense, because as the clock ticks down there's going to be even more action. I can't wait to get playing them!"
Claim a Free Time Tourney Ticket
PokerStars knows that this exciting new format is unlike any other and wants every player to experience the unrivalled action of a Time Tourney and as such will be giving away free time tourney tickets.
A free tournament ticket worth $5.50 will be given away to every player who makes a deposit of $30 or more between now and Oct. 28 , using the bonus code TIME. Players must use the ticket to play in a Time Tourney before 23:59 ET on Oct. 28.
It will be a quick tourney and could earn you some quick cash, and as your first Time Tourney could be free, there are no excuses to not give them a try!
Time Tourney Becomes a Saturday Major
PokerStars is celebrating the launch of the Time Tourney with the addition of the Saturday Countdown to their Saturday Majors line-up. The Saturday Countdown is a two-hour Time Tourney with a $20+$2 buy-in and a $10,000 guarantee. The event runs every week at 1300 ET from this coming Saturday (Oct. 22) and PokerNews is going to give you more reason to try the new tournament format by offering the exclusive PokerNews Countdown Satellite.
The satellite is scheduled for Friday Oct. 28 at 1500 ET and will award a guaranteed 100 x $22 Saturday Countdown tickets for the $2 +0.20 buy-in. The event, ID 457830202, is open to players regardless of where they signed up for a PokerStars account, with players only needing the password POKERNEWS to participate in the tournament.
PokerNews Saturday Countdown Satellite
Buy-in: $2+0.20
Added prizes: 100 x $22 Saturday Countdown tickets
Date: Friday Oct. 28
ID:457830202
Time: 15:00 ET
Password: POKERNEWS
If you want to give the new Timed Tourneys a try but don't have an account, be sure to sign up to PokerStars through PokerNews and use our 100% up to $600 first-deposit bonus when using the marketing code UKPOKERNEWS and the bonus code STARS600.
If you experience any problems with this or any of our promotions, please contact our Ticketed Promo Support System.