Europe's Biggest PLO Event Returns to King's Resort This September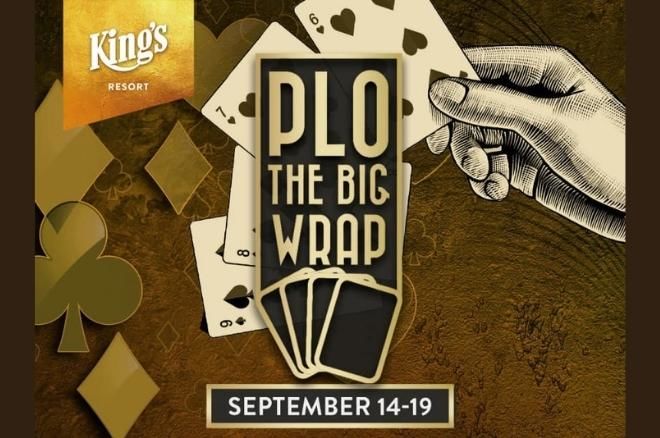 Table Of Contents
It's been three years since Adon Ursu took down the 2019 Big Wrap €2,350 Main Event beating a 474-player field in what was Europe's biggest-ever PLO event.
And now the Big Wrap PLO returns to King's Resort in Rozvadov, Czech Republic for the 2022 edition of the popular four-card festival from 13-19th September.
---
Related: Adon Ursu Wins King's Resort's The Big Wrap, Europe's Biggest PLO Event
Two High Roller Tournaments Scheduled
A whole host of big names are already confirmed for the €10,000 Big Wrap PLO High Roller which comes with a €500,000 guarantee.
They include: Leon Tsoukernik, Joni Jouhkimainen and Fernando "JNandez" Habegger as well as WSOP bracelet-winners Bertrand "ElkY" Grospellier, Lukas Zaskodny, Jan-Peter Jachtmann and Emil Bise.
There is also an extra €5,000 PLO event on the schedule, meaning that players with bigger buy-ins won't miss out on the chance to win some huge money!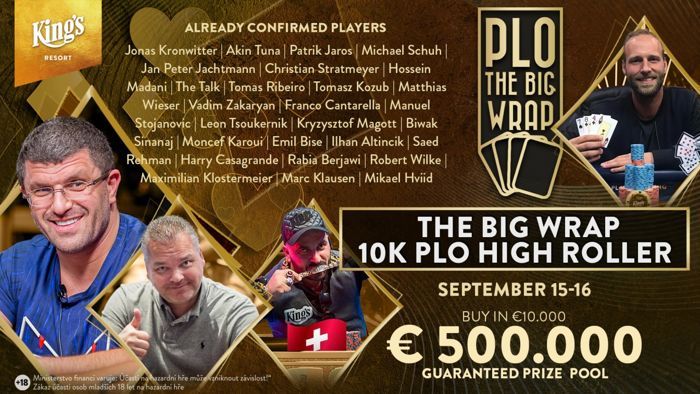 ---
€500,000 GTD Big Wrap PLO
The highlight of The Big Wrap PLO is of course the€500,000 GTD Main Event. The €2,200 buy-in tournament has two starting flights on Friday 16th September and Saturday 17th September.
There are also a whole host of satellite opportunities taking place at King's Resort, Turbo and Bounty side events and a special 5-Card PLO event on Sunday 18th September to close out the festival.
2022 Big Wrap PLO Schedule
| Date | Time | Event | Buy-in + Fee | Guarantee |
| --- | --- | --- | --- | --- |
| 13th September | 19:00 | $ZTO$ Opening Event | € 150 | € 10,000 |
| 14th September | 12:00 | NLH Morning Turbo | € 115 | € 5,000 |
| 14th September | 15:00 | The Big Wrap PLO Master | € 5,000 | |
| 14th September | 18:00 | $ZTO$ Fall Edition Day 1a | € 230 | € 200,000 |
| 15th September | 12:00 | Turbo Morning Bounty | € 170 | € 10,000 |
| 15th September | 16:00 | The Big Wrap PLO High Roller Day 1 | € 10,000 | € 500,000 |
| 15th September | 18:00 | $ZTO$ Fall Edition Day 1b | € 230 | € 200,000 |
| 16th September | 12:00 | NLH Morning Turbo | € 170 | € 10,000 |
| 16th September | 14:00 | The Big Wrap PLO High Roller Day 2 | | |
| 16th September | 15:00 | $ZTO$ Fall Edition Day 1c | € 230 | € 200,000 |
| 16th September | 16:00 | The Big Wrap PLO Day 1a | € 2,350 | € 500,000 |
| 16th September | 22:00 | King's Saturday Night Turbo | € 115 | € 10,000 |
| 17th September | 11:00 | $ZTO$ Fall Edition Day 1d | € 230 | € 200,000 |
| 17th September | 16:00 | The Big Wrap PLO Day 1b | € 2,350 | € 500,000 |
| 17th September | 18:00 | $ZTO$ Fall Edition Day 1e | € 230 | € 200,000 |
| 18th September | 11:00 | $ZTO$ Fall Edition Day 1f | € 230 | € 200,000 |
| 18th September | 14:00 | The Big Wrap PLO Day 2 | | |
| 18th September | 16:00 | $ZTO$ Fall Edition Day 2 | | |
| 18th September | 17:00 | The Big Wrap 5-Card PLO | € 1,100 | € 80,000 |
| 18th September | 18:00 | $ZTO$ High Roller | € 550 | € 40,000 |
| 19th September | 13:00 | The Big Wrap PLO Final Day | | |
| 19th September | 15:00 | $ZTO$ Fall Edition Final Day | | |
| 19th September | 18:00 | $ZTO$ Closer | € 150 | € 10,000 |