The Million Dollar Mystery Bounty Event is the Craziest Online MTT Ever!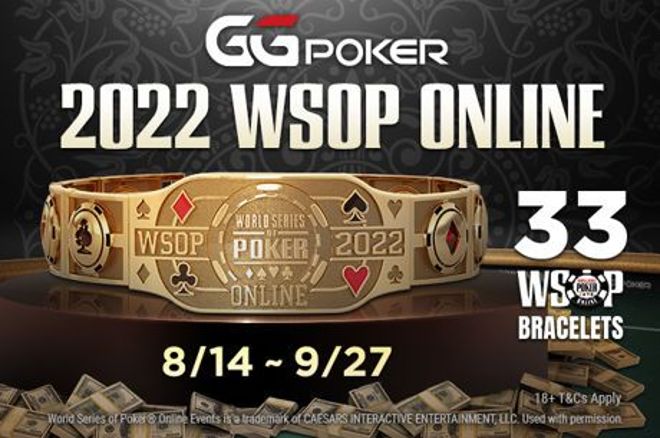 GGPoker has pushed the boundaries of online poker yet again with the creation of what is the craziest online poker tournament, perhaps ever. Event #7 of the 2022 GGPoker WSOP Online will go down in online poker history.
The Million Dollar Mystery Bounty gives the impression that the event is a $1 million guaranteed PKO tournament, but it is far much more than that. GGPoker gave the event this name because the top mystery bounty prize tips the scales at $1 million! That's correct, one lucky GGPoker player will be walking away with a $1 million mystery bounty prize! Remember the excitement surrounding Matt Glantz when he found the $1 million mystery bounty prize at the 2022 WSOP in Las Vegas? Well that same furore is coming to a computer screen in the next few days.
2022 GGPoker WSOP Online to Award 33 Bracelets; Runs August 7-September 27
As if having a $1 million mystery bounty up for grabs wasn't enough to have you clambering for your mouse and registering for the $210 buy-in tournament, GGPoker has slapped a $10 million guarantee on the event's prize pool! We told you this is a crazy tournament. Better still, there are dozens of satellites feeding into the Million Dollar Mystery Bounty from as little as $1! Imagine turning $1 into a $1 million bounty, a shedload of cash from the prize pool, and a WSOP bracelet to boot.
How Does the Million Dollar Mystery Bounty Work?
The Million Dollar Mystery Bounty has a few dozen flights remaining. They run several times per day up to and including August 22, which is the date of the final day's action, too. Each Day 1 costs $210 to enter, with $100 going into the prize pool, $100 into the bounty prize pool, and $10 in tournament fees. GGPoker guarantees the bounty prize pool will weigh in at $5 million with the top prize being a cool $1 million.
The tournament plays out like any other you have played on GGPoker; your ultimate goal is to reach Day 2 on August 22. You can play as many Day 1s as you wish and re-enter an unlimited number of times until the end of the 14th level of each flight. It is worthwhile taking as many shots as your bankroll allows because all your qualifying stacks are combined and taken through with you to Day 2; you could have a mega stack as the final phase kicks off!
Matt Glantz Finds the $1 Million WSOP Bounty
Bust as many people as you can on your Day 1s so that you build a deadly stack for the business end of the tournament. Only eliminations on Day 2 award a mystery bounty, so do everything you can to reach this crucial stage of the Million Dollar Mystery Bounty.
What's more, be the last player standing in the Million Dollar Mystery Bounty, and you will walk away with a coveted gold WSOP bracelet for your efforts; this is on top of any bounty payments and what will be a six-figure top prize!
Some tournaments are billed as "must-play events" but the GGPoker Million Dollar Mystery Bounty is the very definition of a must-play event. The real question is: can you afford not to play it?