DTD Regular Adam Maxwell Wins the UKIPT Nottingham Main Event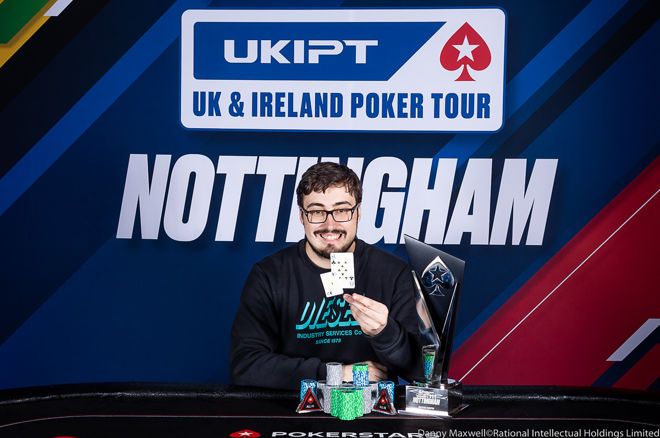 Table Of Contents
Head to Dusk Till Dawn, and there is every chance you will find Adam Maxwell sat grinding a tournament there. All of Maxwell's 39 live poker tournament scores stem from the Nottingham-based club, including a career-best score of £98,150, Maxwell's reward for becoming the 2022 PokerStars UKIPT Nottingham Main Event champion.
Maxwell would have captured his first six-figure prize had he not struck a deal with Jonathan McCann when play was heads-up. However, he will not be too bothered about that because this result beats Maxwell's previous best score by more than three-times.
PokerStars UKIPT Nottingham Main Event Final Table Results
| Place | Player | Prize |
| --- | --- | --- |
| 1 | Adam Maxwell | £98,150* |
| 2 | Jonathan McCann | £74,500* |
| 3 | David Ledden | £47,460 |
| 4 | Michael Howard | £36,500 |
| 5 | Daniel Gormley | £28,080 |
| 6 | Fabio Sperling | £21,610 |
| 7 | Alex Montgomery | £16,610 |
| 8 | Philip Clarke | £12,780 |
| 9 | Tom Simm | £10,250 |
*reflects a heads-up deal
Tom Simm doubled with pocket jacks early into the final table action, but it was the same hand that sent Simm home on ninth with £10,250 to show for his efforts. With blinds at 30,000/60,000/60,000a, David Ledden opened to 125,000 before calling the 900,000 shove from Simm. Ledden flipped over pocket jacks, Simm the ace-queen, and a jack on the flop all but sealed the deal for Ledden.
Philip Clarke cracked aces and had aces cracked on Day 2 of the £1,100 UKIPT Nottingham Main Event in what was a rollercoaster of a day. He was terribly short-stacked when he busted. Daniel Gormley opened to 175,000 with the big blind now at 80,000, and Clarke jammed for a mere 300,000. Gormley called and his queen-ten connected with the board on the turn to beat Clarke's pocket deuces.
Clarke later went in to chop the £1,100 6-Max event for £18,620.
Seventh place went to Alex Montgomery, who open-shoved for 12.5 big blinds from the small blind with king-ten. Michael Howard looked him up with ace-nine, and Howard's ace proved enough to reduce the player count once again.
The finalists gained a little more elbow room when former WPT500 champion Fabio Sperling ducked out in sixth. Sperling committed his last 11 big blinds with ace-trey from the small blind, and Maxwell called with pocket threes. A king-high board sent Sperling to the showers and guaranteed the UKIPT Nottingham Main Event would have a British champion.
A large pot went Ledden's way after a clash with Gormley. The latter limped in from the small blind with ace-ten before three-betting all-in for 22 big blinds after Ledden stuck in a raise from the big blind, doing so with pocket queens. Ledden put in the calling chips, and his ladies held to eliminate Gormley in fifth.
Howard came unstuck in a hand with McCann that saw McCann hit 10 million chips. Howard limped from the small blind, and McCann checked in the big blind. The ace-ten-five flop, with two diamonds, saw Howard lead for 100,000 and McCann call. Howard bet 175,000 on the seven of spades turn, and McCann called. The queen of diamonds completed the board, and Howard checked. McCann paused for a while before betting 1,800,000, enough to set Howard all-in. Howard eventually called and showed a pair of red kings in the hole, but those kings were crushed by McCann's jack-tree of diamonds that had improved to a flush.
Three-handed play lasted for almost an hour and ended with Ledden heading to the showers. Maxwell opened with pocket tens before snap-calling when Ledden jammed for 18 big blinds with what turned out to be ace-nine. The tens held, Ledden busted, and the tournament progressed to heads-up.
The heads-up duo played a couple of hands before pausing the clock and discussing a deal. Maxwell held a near two-to-one chip over McCann, but a deal was struck that saw Maxwell lock in £81,010, McCann £74,500, leaving £17,140 and the trophy to play for.
Free from the stress of a massive pay jump, Maxwell put his foot on the gas and emerged as a worthy champion. The final hand saw Maxwell limp-call an 18 big blind shove with ace-eight, which held against king-four of McCann. Maxwell hit an unlikely straight on the turn, and it was enough to get his hands on the UKIPT Nottingham Main Event title and a £98,150 top prize.
Gary Miller Takes Down the £2,200 High Roller
Gary Miller ended toe 2022 UKIPT Nottingham festival on a high by outlasting 165 opponents in the £2,200 High Roller. Miller navigated his way to heads-up against Tan Luan Le, leaving the likes of Tom Hall, Keith Johnson, and third-place finisher Alex Goulder in his wake. Miller then defeated Le heads-up to secure a £51,730 prize, leaving Le to bank a consolation score worth £33,390.
| Place | Player | Prize |
| --- | --- | --- |
| 1 | Gary Miller | £51,730 |
| 2 | Tan Luan Le | £33,390 |
| 3 | Alex Goulder | £23,840 |
| 4 | Rehman Kassam | £18,340 |
| 5 | Vikrum Mehta | £14,670 |
| 6 | Lei Wang | £11,740 |
| 7 | Keith Johnson | £9,390 |
| 8 | Tom Hall | £7,510 |
| 9 | Aaron Khera | £6,010 |