Golden Nugget to Host $1,100 Buy-In, $1,000,000 GTD PokerNews Cup June 24-28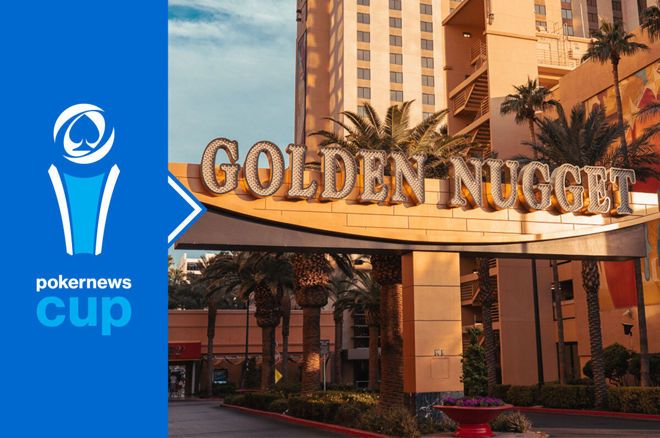 This summer, Golden Nugget Las Vegas will play host to the 14th Annual Grand Poker Series, which features 81 events and offers over $3 million in guaranteed prize money from May 31-July 3. One of those events is the $1,100 buy-in, $1,000,000 Guaranteed PokerNews Cup that will run from June 24-28.
The tournament will feature three starting flights beginning with Day 1a at 11 a.m. PT on Friday, June 24. Days 1b and 1c will take place at the same time on Saturday, June 25, and Sunday, June 26 respectively. The surviving players from each flight will return at Noon on Monday, June 27 to play down to the final table, which will play out at 2 p.m. on Tuesday, June 28. PokerNews will be on-site throughout the duration to offer live updates, videos, social media content, and more.
"We're very excited to partner with our friends at Golden Nugget this summer to offer the PokerNews Cup in Las Vegas for the first time," said Head of PokerNews Mark Powell-Bevan. "Not only will players have the opportunity at a seven-figure prize pool for an affordable buy-in, but they'll also get to experience everything PokerNews has to offer including live updates, giveaways, videos, a live podcast, and more. It's going to be one of the premier tournaments of the summer."
"We're especially excited about taking our partnership with PokerNews to the next level," said Andy Rich, Golden Nugget Las Vegas Director of Poker Operations. "This is huge news for poker players, and we couldn't be happier that all the action is right here at Golden Nugget during Grand Poker Series."
For those looking to get into the PokerNews Cup event cheaper, there will be a $200 buy-in Mega Satellite guaranteeing 10 seats at 11 a.m. on Thursday, June 23.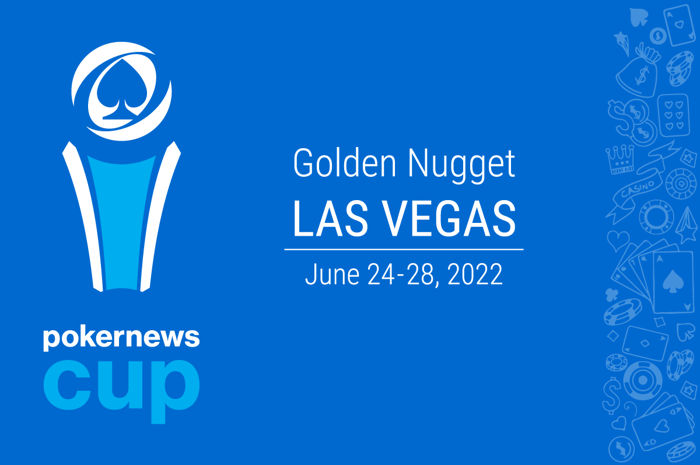 History of the PokerNews Cup
The first-ever PokerNews Cup took place in 2007 at Australia's Crown Casino and saw Dory Zayner become the inaugural champion. The following year, Nali Kaselias won the same event while Darren Kramer claimed the title in the 2008 PokerNews Cup South African Poker Open. In 2009, it was Con Tsapkounis winning the third edition of PokerNews Cup Australia while Marc Naalden was victorious in the PokerNews Cup Alpine (Austria).
The next PokerNews Cup wouldn't take place until 2015 with its first stop at King's Casino Rozvadov, where Daniel Can was crowned champion. Timur Caglan won the same tournament in 2016, which was also the first time the PokerNews Cup was held in the United States (Ryan Van Sanford won the PokerNews Cup Borgata).
In 2017, Holger Bansner claimed victory in the PokerNews Cup King's Casino Rozvadov, and after no event in 2018, the PokerNews Cup returned in 2019 with a stop at Casino Finix in Bulgaria. Panagiotis Panagiotidis emerged victorious in that tournament, which was the last PokerNews Cup to date.
Will you be the next player to win the prestigious PokerNews Cup?
Best Free to Play Slots
2022 Golden Nugget Grand Poker Series Full Schedule
| | | | | | |
| --- | --- | --- | --- | --- | --- |
| | Date | Time | Event # | Tournament | Buy-In |
| | 5/31/2022 | 11am | 1 | Dealer's Choice - 6 Handed $5K Guarantee | $250 |
| | | 1pm | 2 | Daily No Limit Hold'em $10K Guarantee | $150 |
| | | 6pm | 3 | Big-O | $200 |
| | | 7pm | 4 | Nightly No Limit Hold'em $3K Guarantee | $125 |
| | 6/1/2022 | 11am | 5 | HORSE $5K Guarantee | $250 |
| | | 1pm | 6 | Daily No Limit Hold'em $10K Guarantee | $150 |
| | | 6pm | 7 | Pot Limit Omaha - Fire Til You're Tired! ($100 Rebuys) | $200 |
| | | 7pm | 8 | Nightly No Limit Hold'em $3K Guarantee | $125 |
| | 6/2/2022 | 10am | 9 | Omaha Hi/Low 8 or Better $10K Guarantee | $250 |
| | | 11am | 10A | No Limit Hold'em $250K GUARANTEE (Flight A) | $200 |
| | | 3pm | 10B | No Limit Hold'em $250K GUARANTEE (Flight B) | $200 |
| | | 7pm | 10C | No Limit Hold'em $250K GUARANTEE (Flight C) | $200 |
| | 6/3/2022 | 11am | 10D | No Limit Hold'em $250K GUARANTEE (Flight D) | $200 |
| | | 3pm | 10E | No Limit Hold'em $250K GUARANTEE (Flight E) | $200 |
| | | 7pm | 10F | No Limit Hold'em $250K GUARANTEE (Flight F) | $200 |
| | 6/4/2022 | 11am | 10G | No Limit Hold'em $250K GUARANTEE (Flight G) | $200 |
| | | 3pm | 10H | No Limit Hold'em $250K GUARANTEE (Flight H) | $200 |
| | | 7pm | 10I | No Limit Hold'em $250K GUARANTEE (Flight I) | $200 |
| | 6/5/2022 | 11am | 11 | Omaha Hi/Low 8 or Better / Stud 8 $20K Guarantee | $300 |
| | | 12pm | 10Day2 | No Limit Hold'em $250K GUARANTEE - DAY 2 | |
| | | 1pm | 12 | Daily No Limit Hold'em $25K Guarantee | $200 |
| | | 7pm | 13 | Nightly No Limit Hold'em $5K Guarantee | $125 |
| | 6/6/2022 | 11am | 14 | Mixed PLO/8; Omaha 8/B; Big-O $20K Guarantee | $300 |
| | | 1pm | 15 | Daily No Limit Hold'em $25K Guarantee | $200 |
| | | 7pm | 16 | Nightly No Limit Hold'em $5K Guarantee | $125 |
| | 6/7/2022 | 11am | 17 | Mixed Triple Draw Lowball Limit (A-5; 2-7; Badugi) | $300 |
| | | 1pm | 18 | Daily No Limit Hold'em $25K Guarantee | $200 |
| | | 6pm | 19 | Limit 2-7 Lowball Triple Draw | $200 |
| | | 7pm | 20 | Nightly No Limit Hold'em $5K Guarantee | $125 |
| | 6/8/2022 | 11am | 21 | Pot Limit Omaha 8-Handed $10K Guarantee | $300 |
| | | 1pm | 22 | Daily No Limit Hold'em $25K Guarantee | $200 |
| | | 6pm | 23 | Night HORSE $5K Guarantee | $200 |
| | | 7pm | 24 | Nightly No Limit Hold'em $5K Guarantee | $125 |
| | 6/9/2022 | 10am | 25 | No Limit Hold'em 6 Handed $10K Guarantee | $300 |
| | | 11am | 26A | NL Hold'em $250K GUARANTEE Ultimate Re-Entry | $200 |
| | | 3pm | 26B | NL Hold'em $250K GUARANTEE Ultimate Re-Entry | $200 |
| | | 7pm | 26C | NL Hold'em $250K GUARANTEE Ultimate Re-Entry | $200 |
| | 6/10/2022 | 11am | 26D | NL Hold'em $250K GUARANTEE Ultimate Re-Entry | $200 |
| | | 3pm | 26E | NL Hold'em $250K GUARANTEE Ultimate Re-Entry | $200 |
| | | 7pm | 26F | NL Hold'em $250K GUARANTEE Ultimate Re-Entry | $200 |
| | 6/11/2022 | 11am | 26G | NL Hold'em $250K GUARANTEE Ultimate Re-Entry | $200 |
| | | 3pm | 26H | NL Hold'em $250K GUARANTEE Ultimate Re-Entry | $200 |
| | | 7pm | 26I | NL Hold'em $250K GUARANTEE Ultimate Re-Entry | $200 |
| | 6/12/2022 | 11am | 27 | Seven Card Stud Hi-Lo 8 or Better $10K Guarantee | $300 |
| | | 12pm | 26Day2 | NL Hold'em $250K GUARANTEE - DAY 2 | |
| | | 1pm | 28 | Daily No Limit Hold'em $25K Guarantee | $200 |
| | | 7pm | 29 | Cheap and Deep No Limit Hold'em | $125 |
| | 6/13/2022 | 11am | 30A.1 | Bar Poker Open Championship Day 1A (Flight 1) | Invitational |
| | | 5pm | 30A.2 | Bar Poker Open Championship Day 1A (Flight 2) | Invitational |
| | | 7pm | 31 | Tag Team No Limit Hold'em | $200 |
| | 6/14/2022 | 11am | 30B | Bar Poker Open Championship Day 1B | Invitational |
| | | 1pm | 32 | Daily No Limit Hold'em $25K Guarantee | $200 |
| | | 7pm | 33 | Green Chip Bounty No Limit Hold'em | $125 |
| | 6/15/2022 | 11am | 30Day2 | Bar Poker Open Championship DAY 2 | Invitational |
| | | 1pm | 34 | Daily No Limit Hold'em $50K Guarantee | $300 |
| | | 7pm | 35 | Nightly No Limit Hold'em $5K Guarantee | $125 |
| | 6/16/2022 | 11am | 36 | Black Chip Bounty No Limit Hold'em $10K Guarantee | $300 |
| | | 1pm | 37 | Daily No Limit Hold'em $25K Guarantee | $200 |
| | | 2pm | 30FT | Bar Poker Open Championship FINAL TABLE | Invitational |
| | | 7pm | 38 | Nightly No Limit Hold'em $5K Guarantee | $125 |
| | 6/17/2022 | 11am | 39A | Mystery Bounty NLHE $250K GUARANTEE (Flight A) | $300 |
| | | 3pm | 39B | Mystery Bounty NLHE $250K GUARANTEE (Flight B) | $300 |
| | | 7pm | 39C | Mystery Bounty NLHE $250K GUARANTEE (Flight C) | $300 |
| | 6/18/2022 | 11am | 39D | Mystery Bounty NLHE $250K GUARANTEE (Flight D) | $300 |
| | | 3pm | 39E | Mystery Bounty NLHE $250K GUARANTEE (Flight E) | $300 |
| | | 7pm | 39F | Mystery Bounty NLHE $250K GUARANTEE (Flight F) | $300 |
| | 6/19/2022 | 11am | 39G | Mystery Bounty NLHE $250K GUARANTEE (Flight G) | $300 |
| | | 3pm | 39H | Mystery Bounty NLHE $250K GUARANTEE (Flight H) | $300 |
| | | 7pm | 39H | Mystery Bounty NLHE $250K GUARANTEE (Flight I) | $300 |
| | 6/20/2022 | 11am | 40 | Black Chip Bounty Pot Limit Omaha $10K Guarantee | $300 |
| | | 12pm | 39Day2 | Mystery Bounty NLHE $250K GUARANTEE - DAY 2 | |
| | | 1pm | 41 | Daily No Limit Hold'em $25K Guarantee | $200 |
| | | 7pm | 42 | Nightly No Limit Hold'em $5K Guarantee | $125 |
| | 6/21/2022 | 11am | 43 | 8 Game Mix (NLH, LH, R, ST, ST8, PLO, O/8, 2-7TD) $10K Guarantee | $300 |
| | | 1pm | 44 | Daily No Limit Hold'em $25K Guarantee | $200 |
| | | 6pm | 45 | Mixed PLO/8; Omaha 8/B; Big-O $5K Guarantee | $200 |
| | | 7pm | 46 | Nightly No Limit Hold'em $5K Guarantee | $125 |
| | 6/22/2022 | 11am | 47 | BIG-O $20K Guarantee | $300 |
| | | 1pm | 48 | Daily No Limit Hold'em $25K Guarantee | $200 |
| | | 6pm | 49 | Limit Hold'em | $200 |
| | | 7pm | 50 | Nightly No Limit Hold'em $5K Guarantee | $125 |
| | 6/23/2022 | 11am | 51 | NLHE Mega Satellite - 10 Seat Guarantee | $200 |
| | | 1pm | 52 | Daily No Limit Hold'em $25K Guarantee | $200 |
| | | 7pm | 53 | Nightly No Limit Hold'em $5K Guarantee | $125 |
| | 6/24/2022 | 10am | 54 | Seniors No Limit Hold'em (50+) $100K GUARANTEE | $400 |
| | | 11am | 55A | PokerNews Cup $1,000,000 Guarantee Day 1A | $1,100 |
| | | 3pm | 56 | Daily No Limit Hold'em $25K Guarantee | $200 |
| | | 7pm | 57 | Nightly No Limit Hold'em $5K Guarantee | $125 |
| | 6/25/2022 | 11am | 55B | PokerNews Cup $1,000,000 Guarantee Day 1B | $1,100 |
| | | 1pm | 58 | Daily No Limit Hold'em $50K Guarantee | $400 |
| | | 7pm | 59 | Nightly No Limit Hold'em $5K Guarantee | $125 |
| | 6/26/2022 | 11am | 55C | PokerNews Cup $1,000,000 Guarantee Day 1C | $1,100 |
| | | 7pm | 60 | Nightly No Limit Hold'em $5K Guarantee | $125 |
| | 6/27/2022 | 11am | 61 | Mixed NL Hold'em / Pot Limit Omaha 8-Handed $20K Guarantee | $300 |
| | | 12pm | 55 Day2 | PokerNews Cup $1,000,000 Guarantee DAY 2 | |
| | | 1pm | 62 | Daily No Limit Hold'em $25K Guarantee | $200 |
| | | 7pm | 63 | Nightly No Limit Hold'em $5K Guarantee | $125 |
| | 6/28/2022 | 11am | 64 | Ladies No Limit Hold'em $10K Guarantee | $200 |
| | | 1pm | 65 | Daily No Limit Hold'em $25K Guarantee | $200 |
| | | 2pm | 55 FT | PokerNews Cup $1,000,000 Guarantee Final Table | |
| | | 6pm | 66 | Omaha Hi/Low 8 or Better $5K Guarantee | $200 |
| | | 7pm | 67 | Nightly No Limit Hold'em $5K Guarantee | $125 |
| | 6/29/2022 | 10am | 68 | Super Seniors (60+ or played Seniors) $50K Guarantee | $400 |
| | | 1pm | 69 | Daily No Limit Hold'em $25K Guarantee | $200 |
| | | 6pm | 70 | Triple Stud | $200 |
| | | 7pm | 71 | Nightly No Limit Hold'em $5K Guarantee | $125 |
| | 6/30/2022 | 10am | 72 | Seniors Championship NLHE (50+) $50K Guarantee | $600 |
| | | 11am | 73A | Championship NL Hold'em $500K Guarantee Day 1A | $600 |
| | | 1pm | 74 | Daily No Limit Hold'em $25K Guarantee | $200 |
| | | 7pm | 75 | Nightly No Limit Hold'em $5K Guarantee | $125 |
| | 7/1/2022 | 11am | 73B | Championship NL Hold'em $500K Guarantee Day 1B | $600 |
| | | 1pm | 76 | Daily No Limit Hold'em $25K Guarantee | $200 |
| | | 7pm | 77 | Nightly No Limit Hold'em $5K Guarantee | $125 |
| | 7/2/2022 | 11am | 73C | Championship NL Hold'em $500K Guarantee Day 1C | $600 |
| | | 7pm | 78 | Nightly No Limit Hold'em $5K Guarantee | $125 |
| | 7/3/2022 | 11am | 79 | Super Deep Stack Turbo No Limit Hold'em $5K Guarantee | $200 |
| | | 12pm | 73Day2 | Championship NL Hold'em $500K Guarantee DAY 2 | |
| | | 1pm | 80 | Daily No Limit Hold'em $25K Guarantee | $200 |
| | | 7pm | 81 | Nightly No Limit Hold'em $5K Guarantee | $125 |
Click here to see all 2021 Grand Poker Series winners