Alex Peffly Wins Largest 2022 Irish Open Prize So Far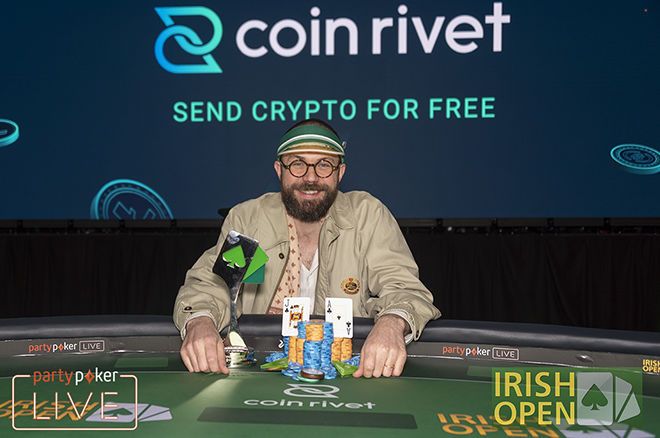 Alex Peffly will look back on his trip to the 2022 Irish Open with find memories even if he does not manage to cash in another event before he heads home. Why? Because Peffly padded his bankroll with €111,835 by taking down the €5,000 Coin Rivet High Roller event, which is by far the largest cash awarded at the 2022 Irish Open so far.
2022 Irish Open High Roller Final Table Results
| Place | Player | Prize |
| --- | --- | --- |
| 1 | Alex Peffly | €111,835 |
| 2 | Christos Xanthopoulos | €77,710 |
| 3 | Nadeem Majid | €51,385 |
| 4 | Joseph Field | €40,225 |
| 5 | Robert Kaggerud | €32,430 |
| 6 | Niall Farrell | €25,270 |
| 7 | Jani Tuovinen | €20,005 |
| 8 | Andrew Hulme | €15,585 |
Peffly came out on top of a 90-strong field to bank the series' first six figure haul. He started the final table in the best way possible not only by winning a large pot but by eliminating a dangerous opponent in Andrew "Stato_1" Hulme. With blinds at 10,000/20,000, Hulme raised to 40,000 with ace-queen and Peffly called with jack-ten in the big blind. Peffly flopped a queen-high straight while Hulme flopped top pair; both players checked. Peffly led for 30,000 on a three turn, Hulme called, and Peffly set Hulme all-in on the flush-completing five of hearts river. Hulme called all-in and busted in eighth place for €15,585.
Majid Rivers a Full House
Javi Tuovinen crashed out in seventh for €20,005 despite making a flush. He min-raised to 50,000 with queen-jack of clubs, Nadeem Majid called on the button with pocket deuces and flopped a set on the ace-king-deuce flop, which showed two clubs. Both players checked the flop, with Tuovinen leading for 40,000 on the five of clubs turn. Majid raised to 140,000 and called when Tuovinen jammed all-in for 370,000. An ace on the river improved Majid to a full house and sent Tuovinen to the rail.
Niall Farrell, winner of poker's coveted Triple Crown, was the next to bow out. Farrell got his short stack into the middle with ace-ten only to run into the dominating ace-jack of Peffly. A jack on the turn left the popular Scotsman drawing dead and resigned to collecting the €25,270 sixth-place prize.
Fifth place was decided when Robert Kaggerud three-bet all-in with pocket sixes after Majid had opened the preflop betting. Christos Xanthopoulos flat-called in the big blind with what turned out to be pocket aces, and Majid found a fold despite holding a pair of tens in the hole. The aces held, and Kaggerud headed to the cashier's desk to get his hands on €32,430.
Another short stack fell by the wayside, Joseph Field being that shorty. Field got the last of his four big blinds in with king-queen but Majid was there with ace-queen for an easy cold. Majid improved to two pair on the flop, and Field was drawing dead on the turn.
Heads-Up Set After a Relative Cooler of a Hand
Majid ran out of steam after a clash with Xanthopoulos did not go to plan. Majid opened 2.5-times the big blind to 90,000, and Xanthopoulos called in the big blind. Xanthopoulos initially checked the jack-six-four two-club flop but check-raised to 220,000 when Majid took an 80,000 stab. Xanthopoulos led for 200,000 on the seven of clubs turn, which Majid called. He then jammed on the three of spades river, covering Majid's stack. Majid called with a set of sixes, but was destroyed by Xanthopoulos' king-five of clubs which was now a flush.
A hand early into the heads-up battle put the ball firmly in Peffly's court. Peffly looked dead and buried when he got his stack in with pocket eights against Xanthopoulos' pair of tens. However, an eight on the river meant his snowmen remained in tact, and the advantage was his.
The final hand took place soon after, and saw Xanthopoulos open-shove with jack-five of clubs. Peffly called with ace-jack and looked set to double his opponent when a five appeared on the flop. However, an ace on the river busted Xanthopoulous in second-place for €77,710 and left Peffly to reel in a €111,835 score.
Other 2022 Irish Open Results
| Event | Entrants | Prize pool | Champion | Prize |
| --- | --- | --- | --- | --- |
| €350 NLHE 6-Max Championship | 186 | €56,218 | Leo Lombardozzi | €13,395 |
| €350 Mixed 8-Game Championship | 58 | €17,530 | Michael Muldoon | €5,276 |
| €150 NLHE | 160 | €20,280 | Michael Janczarski | €4,710 |
| €150 PLO | 76 | €9,633 | Raphael Verdugo | €2,648 |
| €350 Heads-Up Championship | 64 | €19,344 | Anthony Blaineu | €5,640 |
| €250 The Hendom Mob Championship | 332 | €71,214 | Waheed Ashraf | €10,825 |
| €150 PLO | 98 | €12,421 | Stefan Bittger | €3,190 |
| €350 America's Cup Championship | 191 | €57,729 | Mor Kamber | €12,790 |
| €150 NLHE | 159 | €20,153 | Florian Ahlmer | €3,705 |
| €250 Ladies Event | 51 | €10,939 | Migle Kriksciunaite | €3,345 |
| €350 Short Deck | 53 | €16,019 | Riku Koivurinne | €4,782 |
| €150 PLO | 101 | €12,801 | Tarique Imam | |
Photo credit: Brian O'Eideain of oneeyeopen.ie