KO Series Returns to partypoker With $6M of Guarantees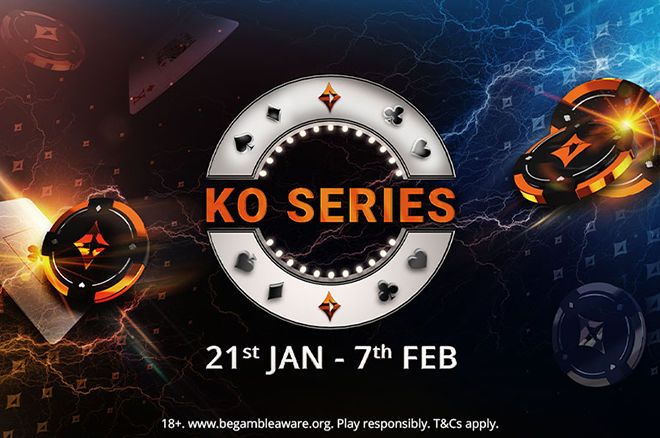 Almost $6 million is guaranteed to be won by partypoker players in the latest edition of the popular KO Series festival. KO Series is the ideal festival if progressive knockout (PKO) tournaments are your forte because each and every event comes with a PKO format.
KO Series shuffles up and deals for the first time on January 21 and continues right through to February 7. Some 209 PKO tournaments across 53 numbered events are crammed into that 17-day schedule, each with buy-ins to suit all budgets.
Buy-ins start at a mere $1.10 and increase up to $1,050. Guaranteed prize pools follow a similar path and range from $1,000 up to an impressive $500,000.
The latest installment of the KO Series kicks off with a trio of Weekender events on January 21. These Weekender events run Friday through Sunday throughout KO Series. The opening Weekender tournaments come with buy-ins of $2.20, $22, and $215, and feature guarantees tipping the scales at $10,000, $100,000, and $150,000 respectively.
partypoker is dedicated to creating a level playing field when it comes to tournament poker. It wants all of its players to have a solid chance of becoming a poker champion based on skill not having a bottomless bankroll. Therefore, all KO Series tournaments come with limited re-entries (most only permit a single re-entry), and reduced late registration time. It does not matter if you play in a $1.10 buy-in event or that event's $109 high edition, you get to enjoy the same, impressive blind structure. Champagne structures at lemonade prices!
$720,000 Guaranteed in the KO Series Main Events
No festival is complete without at least one Main Event headlining the schedule; KO Series has three Main Events. The KO Series Main Events have four flights plus a turbo-structured Day 1, running between January 23 and February 7. They come with buy-ins of $3.30, $33, and $320. Those respective guarantees award $20,000, $200,000, and $500,000.
Phased satellites from only $0.01 feed into the $320 buy-in $500,000 guaranteed Main Event.
Team partypoker Roster Sees Six High Profile Departures
KO Series SPINS Prize Structure
There are also KO Series edition SPINS running around the clock that make it possible to win cash and tickets in a matter of minutes and for only $10. They mostly pay $20 cash but also dish out KO Series tickets worth from $33 right up to $1,050.
| Multiplier | 1st prize | Frequency in 1M Games |
| --- | --- | --- |
| 2 | $20 cash | 652,500 |
| 3.3 | $33 KO Series ticket | 271,000 |
| 5.5 | $55 KO Series ticket | 60,000 |
| 10.9 | $109 KO Series ticket | 10,000 |
| 21.5 | $215 KO Series ticket | 4,000 |
| 32 | $320 KO Series ticket | 2,000 |
| 53 | $530 KO Series ticket | 400 |
| 105 | $1,050 KO Series ticket | 100 |
Now is the Time to Join partypoker
You need a partypoker account if you wish to enter any of the KO Series events or buy into the KO Series SPINS. If you download partypoker via PokerNews, create your free account, and make a deposit of at least £10, you receive a special welcome bonus.
£40 worth of SPINS and tournament tickets land in your new partypoker account across six days, plus your deposit is matched 100% up to a maximum of £400. This bonus money releases into 10% increments each time you accumulate 10% of the total required cashback points. You need four times the deposit bonus in cashback points to release the full bonus.
Day 1: 5x $1 SPINS tickets +1x $5.50 MTT ticket
Day 2: 1x $3 SPINS tickets +1x $3.30 MTT ticket
Day 3: 1x $3 SPINS tickets +2x $3.30 MTT ticket
Day 4: 4x $0.25 SPINS tickets +1x $5.50 MTT ticket
Day 5: 1x $5 SPINS tickets +1x $3.30 MTT ticket
Day 6: 5x $1 SPINS tickets +1x $5.50 MTT ticket